Bring Your Shop to the Next Level with Removal.AI BG Remover
If you are looking for an effective BG remover tool to use for your eCommerce products, then you've come to the right place. Our tool, Removal.AI is an automatic BG remover solution that can automatically remove the backgrounds from your photos in seconds.
As an owner of an eCommerce shop, we surely understand how tedious it can be to remove the background from product images. Perhaps, you've already tried hiring/outsourcing people to do the job for you. We understand this dilemma very well because our team was formed from a group of image editing service professionals who saw the need of many eCommerce owners for just a mere background removal service. That's how we've come up to develop a tool that can easily do the job at a lower price but promises outstanding quality.
Our BG remover tool uses AI technology to help detect a product photo's foreground/subject so it can remove the background efficiently. You typically do not need to do anything, just upload your product photos – and let the magic begin.
Our tool works ideally for eCommerce product photos such as fashion products like shoes, bags, etc; gadgets like phones, laptops, and all other electronic devices, toys, home decors, and more. We're actually sought out and partnered with by custom eCommerce Print-On-Demand service providers!
Related Content: How to Start A Successful Online Shoe Retail Store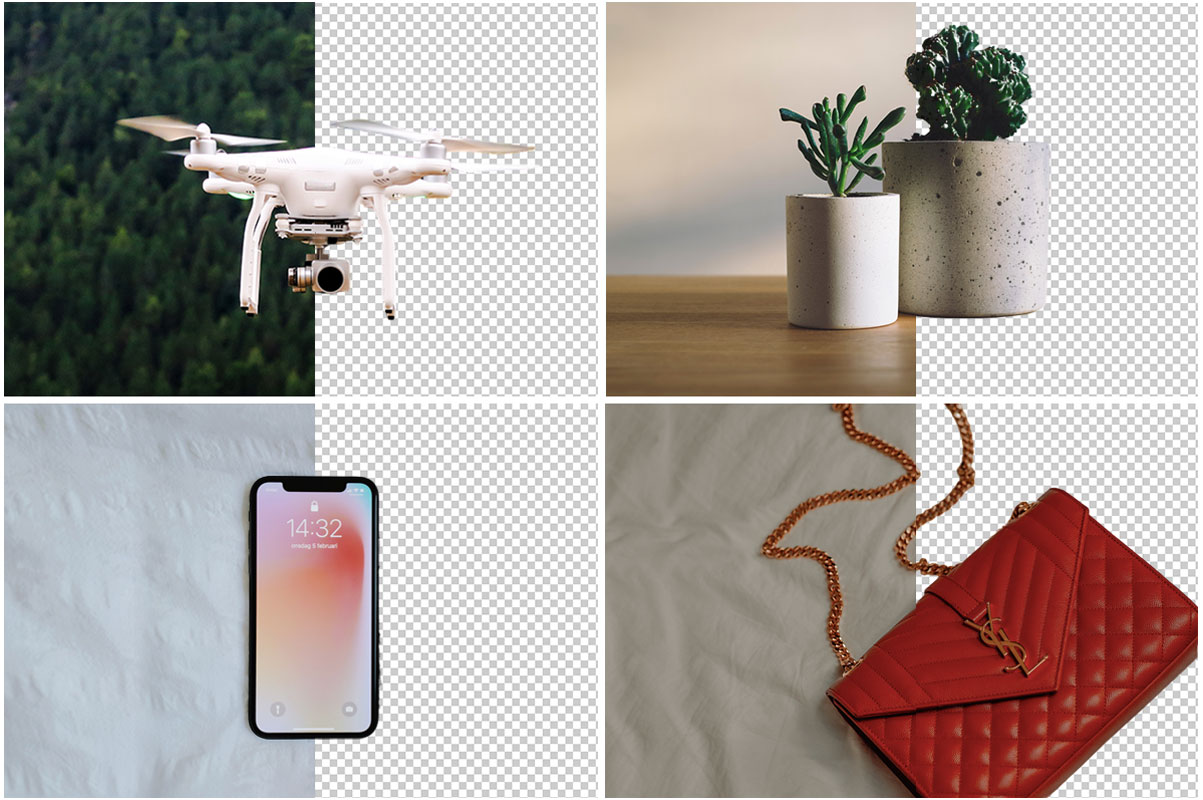 Fast and Efficient
Our background removal method is a game-changer for online stores, e-Commerce shops, online auction sites, and more. It allows the shop owners to present product-centered photos so that potential buyers don't get distracted by the unnecessary backgrounds. It is also both fast and easy so more time is saved for attending to more important business aspects.
Bulk bg remover for desktop
ECommerce industries are usually swamped with thousands of product images daily that need to be edited fast. With our bulk image background removal tool – you can process over thousands of product images per day.
Drag and drop multiple images at once and automatically make a transparent background. You can also change to white or further optimize the setting which is perfect for eCommerce – ready for uploads to your shops or eCommerce platforms.
Enhance your product photos using our built-in photo editor
Easily comply with eCommerce platform requirements like Amazon or eBay.
1. Upload your product photos straight from our browser to remove bg and create a transparent background automatically.
2. You can also use the free photo editor to fine-tune the results by clicking on the edit button.
3. It is also a creative tool to set new image size, add a new background, add shadow to your product to make it look realistic, add text, and other basic photo editing features. Of course you can also download a transparent image if you want to or as per requirement.
Related Post: Product Image Requirements For Ecommerce – Ebay, Shopify And Amazon
API Integration for eCommerce Platforms
If you are already using other eCommerce systems, you can use Removal.AI API to speed up your workflow. With just a few lines of code, we can integrate our bg remover tool into your platforms. That means you can save more time, process more images and sync it to your software without any hassle.

Whether you are using Woocommerce, Shopify, or any other platform, let us help you. Our technical team will assist you in the process. Contact us now!