Remove.bg Alternative: Save Upto 50% on Your Monthly Subscription
We are aware about how it can be challenging, background removal is for some people. It might be that a person is not knowledgeable about editing photos to remove their backgrounds, or there are just too many files to take care of.
Some industries, like ecommerce, are swamped with 1000's of product images daily that need to be edited fast. If you belong to this industry, how much time and money does it cost you just to process great images for your ecommerce daily?
Looking for a Remove.bg alternative?
Utilizing technology such as Remove.bg background remover to automate your photo editing workflow can be of a great help. However, with this in mind, you have to find a more efficient way to speed up your productivity while saving time, money and other resources for more important things to grow your business.
Imagine saving $589 or more on your monthly production costs? Or get 1000s of photos processed in just a few minutes than to wait another day from your photo editors to send you back the results of your images? But how?
Just read on… And learn how Removal.AI is different and is better than Remove.bg and other photo editing services.
What makes Removal.AI background remover unique?
Removal.AI is not only more affordable in terms of price per download but there are tons of other features that elevate the value of your images further. It basically gives you access to all that you need for enhancing your photos apart from removing the background. With its free photo editor, you can create more projects, like banners, right from the site without having to install anything.
So, why choose Removal.AI over Remove BG?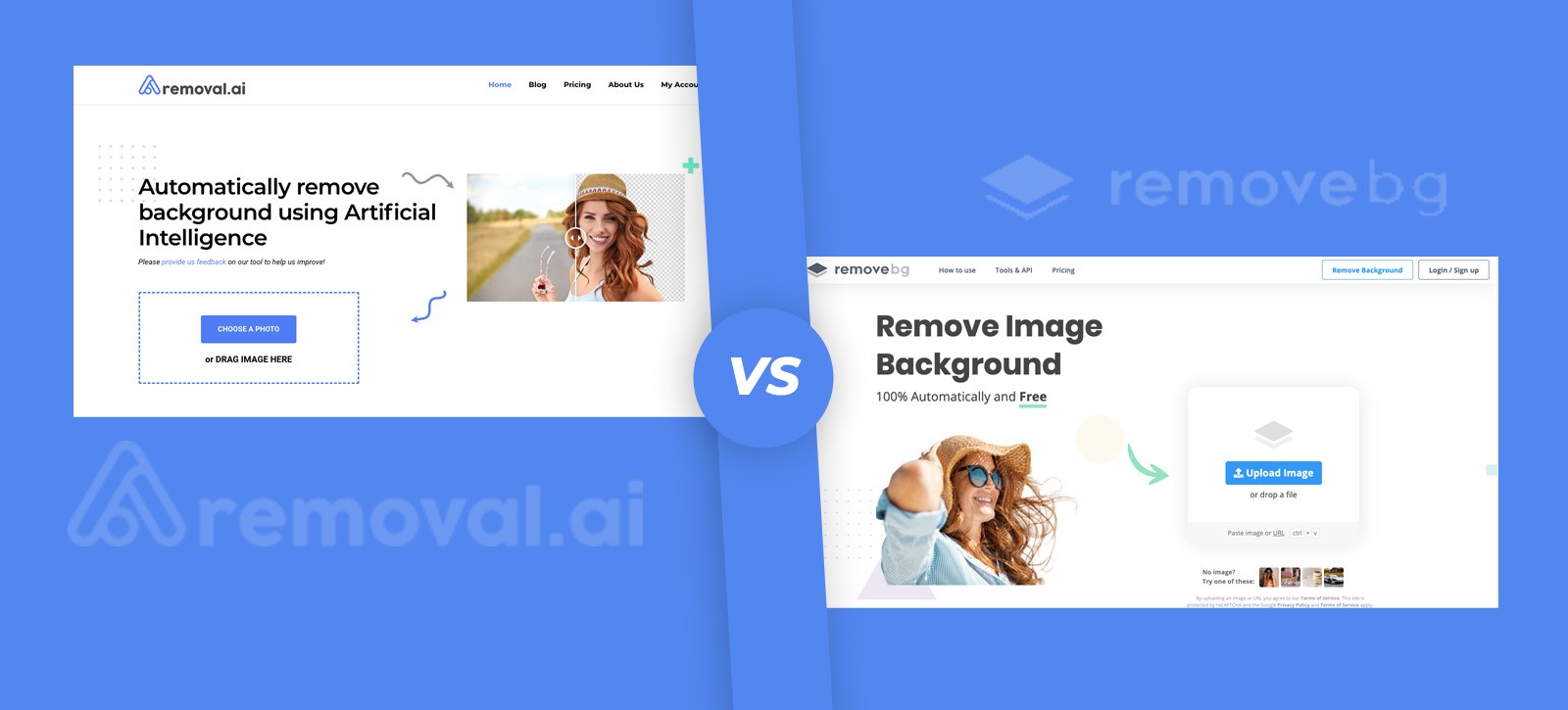 Let's find out! Read about Removal.AI vs Remove.BG — Review and Comparison.
Subscriptions are priced within your budget.
With Removal.AI, you are not forced to sign up for a plan that you do not actually need. You can purchase image credits based on the quantity that you need, for the meantime. What this means is that you will only pay for credits that are within your budget and not waste any of your money over a monthly subscription that is overpriced.
This is a perfect opportunity for those who are just starting out and only need to edit as few as 40 images per month for only $5.99 or at $0.15 per image only.
The beauty of the Removal.AI subscriptions is that it is very scalable. It can grow with you and your company. As you need more credits per month, you can adjust your subscriptions even up to 50,000 image credits at $1,650 or $0.03 per image only.
You can choose to downgrade or upgrade your plan anytime so you can get more value from your money!
Save more with your downloads Upto 50%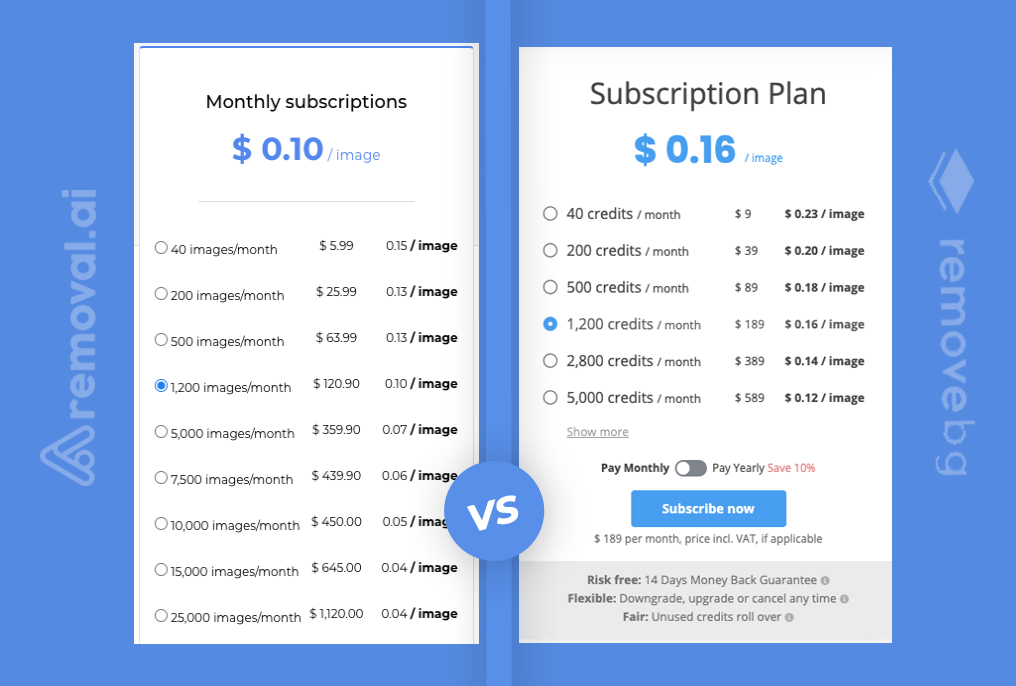 Remove BG charges $0.23 per download for their lowest subscription plan with 40 credits per month. While this may sound cheap, you will be surprised to know that Removal.AI is actually cheaper at only $0.15 per image for the same number of image credits!
At Removal.AI, the download costs reduce further when you are having more photos to remove background. This is really great if you are going to have thousands of photos to edit!
Take this example to show you how much you can save with more affordable options from Removal.AI as compared to that of the Remove.bg's plans: 
Example, for 5,000 images:
Removal.AI = $359.90
Remove.bg = $589!
That's almost $230 saving on every 5,000 images you edit! That's more than 60% savings! 
Now, let's just say your company needs to edit 50,000 product photos:
Removal.AI = $1,650
Remove.bg = $3,950!
You will save $2,300 worth or precious resources which you would rather spend on improving your products and services, right?
Request a Demo!
Flexible subscriptions at your fingertips
Only Removal.AI can truly say that we have the best prices for your needs. Whether you are just starting out in the business or you have established a name in the industry, our unmatched quality is priced according to your needs.
3 Unique Removal.AI features
Unlike other free online background remover, Removal.AI is more than just a tool to remove background from photos. It also has online photo editing features that are essential in creating engaging visuals and can be used by anyone (even non-designers) to create stunning graphic designs.
1. Essential Photo Editor
While the AI feature of the background remover is already excellent as it is in removing image background, Removal.AI still allows you the freedom to manually edit the photos further. We have a new image editor that is so simple to use and yet can work alongside with advanced photo editing apps like Photoshop.
You can erase more details, change the image position, flip the image, add shadow effects, and more! This is such a revolutionary tool because it does not request you to download anything or exhaust yourself with complicated stuff. This makes Removal.AI perfect whether for beginners or experts alike.
2. Complete Text Editor
With Removal.AI's text editor, it is easier to create professional-quality projects that look awesome! This allows you to customize your images with a tagline or anything that you need to add into the photos. The text can also be enhanced by adding shadows, changing the colors, adjusting blurriness, etc.
Removal.AI lets you experiment with what you can do for your images to make the presentation more effective. Non-designers can now create engaging graphics perfect for social media and web banners by just dragging and dropping design elements.
3. Background Editor
The advantage of removing background from photos is that it allows you to explore your creativity aside from making the images perfect for ecommerce. With the background editor of Removal.AI, you can easily upload a new background that you can add to your images. You may also use sample backgrounds that are pre-installed on the editor. Or simply just use solid plain backgrounds like white and light gray as per big ecommerce platforms like eBay and Amazon requires for product photos. 
With this feature, it is so simple to make your photos look more attractive!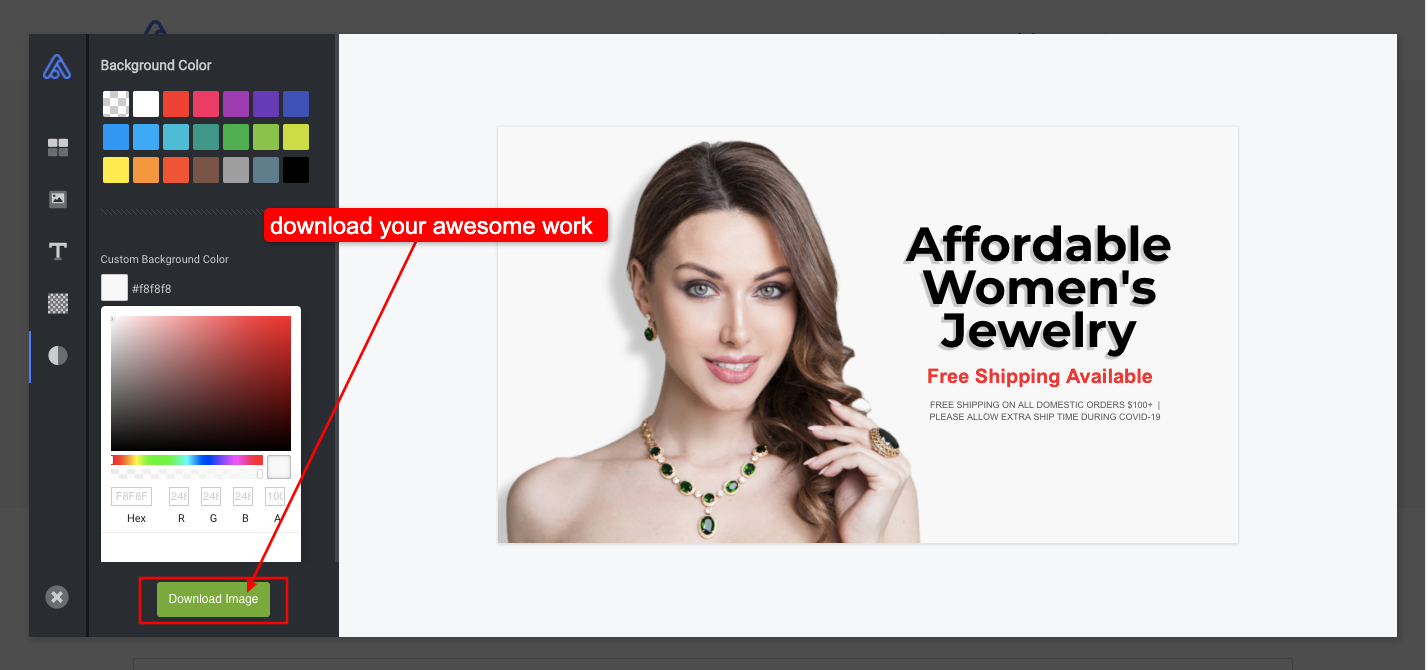 Removal.AI as powerful alternative to Remove BG
We know it can be tough to be faced with the realization that being popular does not always mean better for you. Removal.AI is a powerful alternative to Remove BG and any other image editing sites because we offer more value for your hard-earned money.
We strive to be the best but we do not make our clients pay more simply because we want to work with you and aid you towards reaching your goals.
There's no harm in trying, right? You actually don't have anything to lose if you will choose Removal.AI since you will get to enjoy a professional-quality service at the fraction of the cost! The powerful features from our background remover sounds like a bonus because you will not get to use anything like them from any other photo background remover.
Take advantage of trying out Removal.AI for free even without signing up! Explore our features so you will be convinced at how powerful Removal.AI is for both beginner and advanced photo editing needs.
Contact us if you have further questions so we can assist you right away!
Chat with us