How to Remove Background from Shoe Images?
One of the most often requested editing services in the e-commerce industry is editing shoe images. We've seen and done things we could never have imagined before the advent of digital technology. One of those is shifting all of your shoe marketing ideas to the internet. It happened due to an increase in the number of times consumers spend shopping for products online. Everything is now done online. Baiting clients online is essential to attracting a considerable number of new customers. That's the enticing shoes photoshoot ideas.
When it comes to shoe images, the importance of showcasing a beautiful image grows. When it comes to expressing one's unique style and social standing, shoe images are a great way to go. As a result, when displaying shoe images online, they should be polished and appealing. eCommerce companies enlist the help of shoe images editors to make this a reality. You will have to cover the varieties of shoe images editing tools and their advantages in today's post. Let us now begin with our shoe product photography guide.
Related Content: How to Start A Successful Online Shoe Retail Store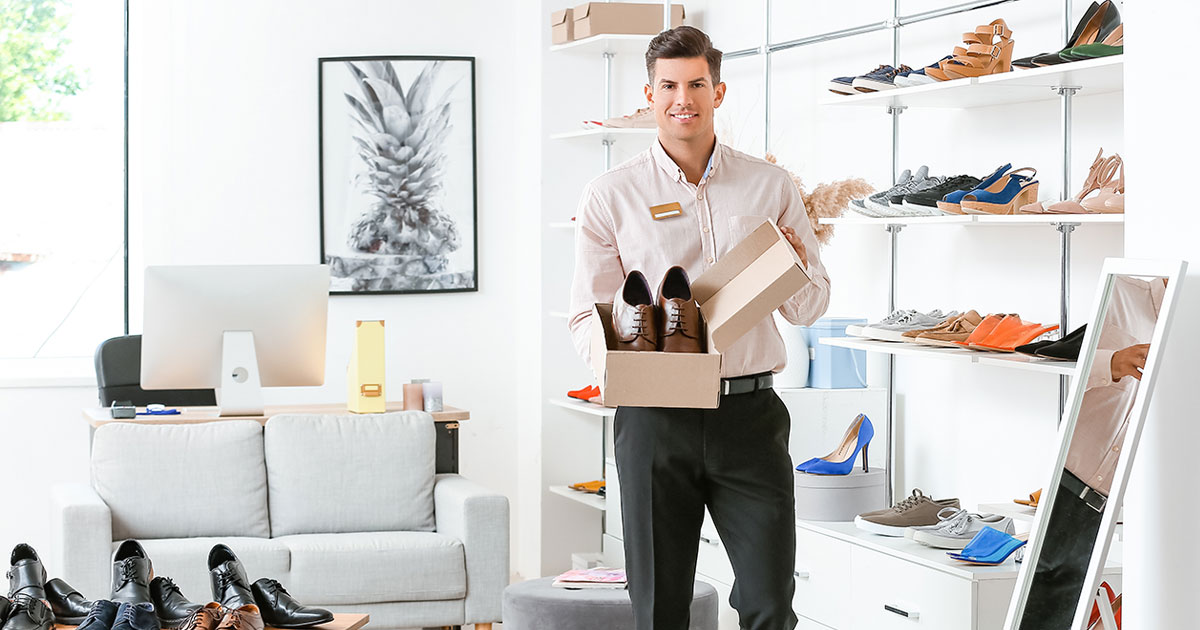 Why is Background Removal Important in the Footwear Industry?
Who wouldn't want to take advantage of the potential to run a business on the internet? Everyone does, of course. However, you must adhere to a set of shoe product photography guides. You should upload product images following the eCommerce sites' rules. It's still possible to find shoe images online if you look hard enough. To post pictures online, shoe companies must first modify the images they take.
They do, however, necessitate distinct shoe images editing techniques. You may not post your shoe images online if you do not use this modification. Background removal and replacement, cropping, resizing, adjusting shadows, etc., are all possible steps in the photo-editing process. You may use shoes photoshoot ideas for various purposes, including showcasing the beauty, preserving memories, and advertising. A stray hair, a bright light source, or even a bit of dust may mar an otherwise perfect shot. The worst-case scenario is that the flaw diverts the viewer's focus. This is why every photographer needs a free backdrop remover along with their shoe product photography guide.
Free backdrop removers are designed to assist bring the emphasis of an image back to its main subject. It's possible to do many intriguing things with a shot once the backdrop has been eliminated.
Tools You Can Use to Remove Background from a Shoe Image
Additionally, removing shoe photography backgrounds allows for easier integration across sales channels, a better emphasis on your items, and faster page loading speeds on your website. If you know how to remove photo backgrounds on your own, you may not know how to do it in a professional setting. It's possible that you'll be surprised to learn that there are many more options for removing photo backgrounds than you previously realized if you're in charge of the design of your shop. Photoshop is a beautiful tool, but it isn't the only one you have at your disposal when creating digital artwork. A wide variety of free and more expensive shoes photoshoot ideas are readily available for your inspection on the internet.
There are three options for removing the backdrop when it comes to product images for your online shoe marketing ideas.
Removal.AI – Automatic
Removal.AI In the field of picture background removal and shoes editing app, AI is an AI-powered application. They use cutting-edge technology to provide picture-enhancing services. Incorporating sophisticated image processing algorithms with knowledge-based tactics, they have built a tool that makes shoes editing a breeze.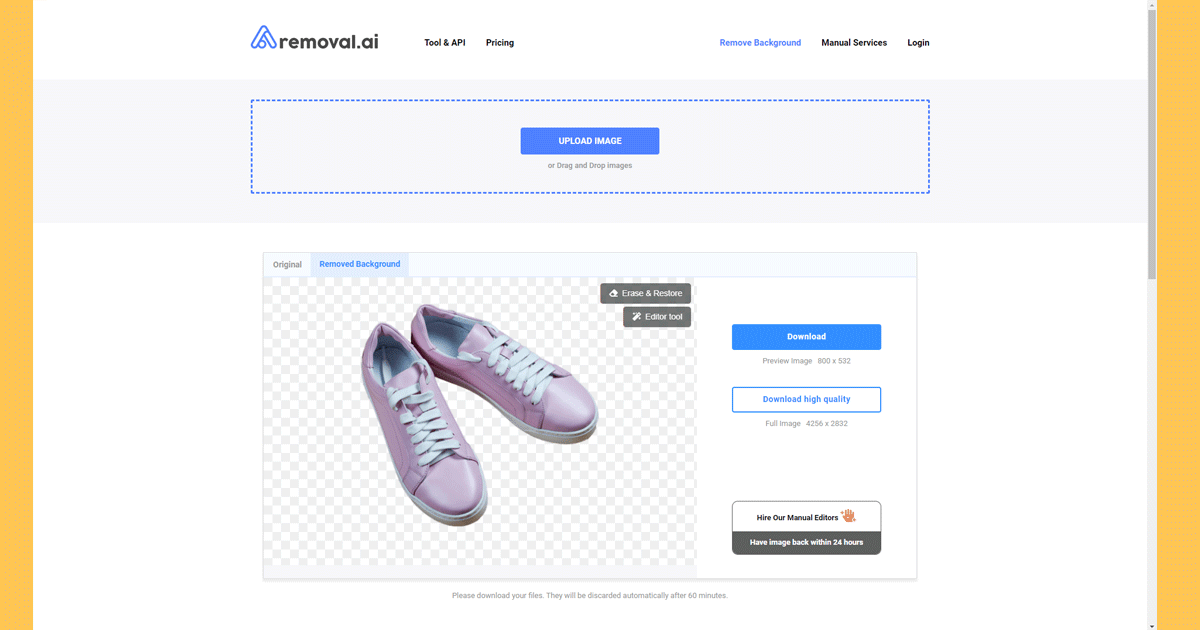 Features:
The most significant purpose of the Background Remover is to remove the background from any image.
Using the Mass Backdrop Remover, you may remove the background in bulk, making the process faster and more efficient.
The Photo Editor is a one-stop shop for all of your shoes editing app.
If you want to keep using the app even when it's not connected to the internet, download it.
Integrate their API to make API access available to your website's visitors.
A talented staff has amassed years of professional expertise in shoes editing, retouching, and AI technologies. The ultimate objective is to facilitate clients' workflow to increase output, innovation, and aesthetics.
Adobe Photoshop – Manual
Adobe Photoshop is a image/shoes editing app that is utilized by graphic designers all over the world. Photographic software such as Photoshop needs a $10 monthly membership to Adobe Creative Cloud, unlike the other free solutions on this list, which are all limited in capability. On the other hand, Photoshop is the best tool for boosting the appearance of your product photographs.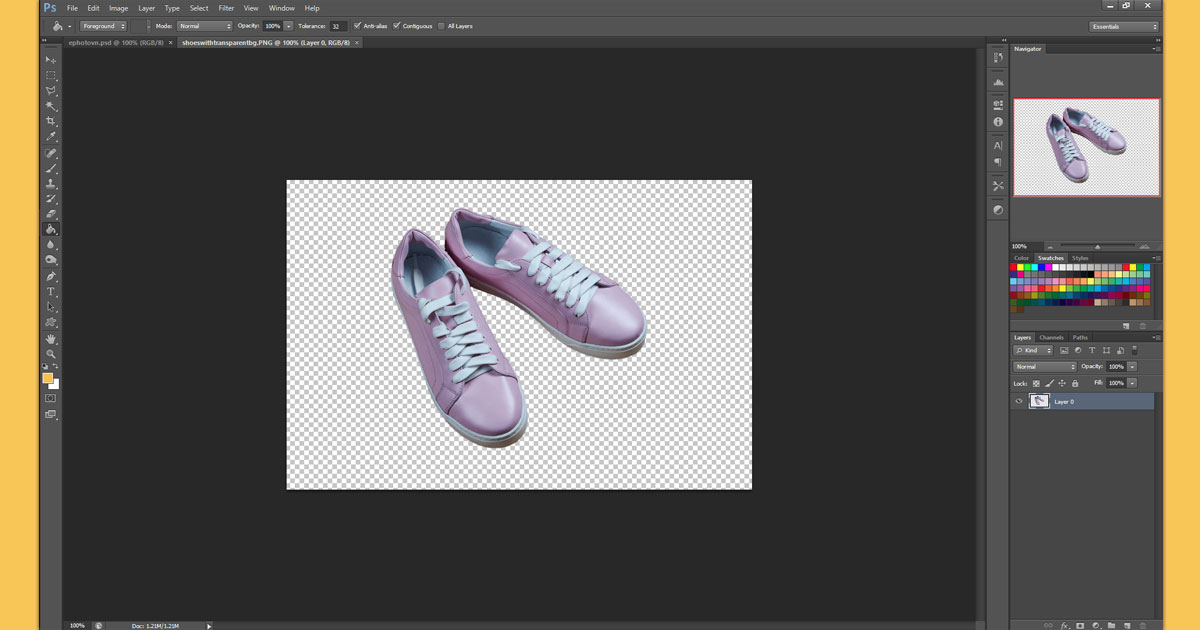 Before we can get started, we'll need to make use of two separate selecting tools:
The Mighty Wand is a powerful tool. You may select the shoe using the magic wand tool (outlined). This can be beneficial when applied over large regions, but it will hide the more delicate features of the shape (like laces, for example).
We have chosen the Pen Tool as the second-best tool in our selection this round. We'll use the pen tool to dig into all of the nooks and crannies of the shoe's sole to make it look as realistic as possible.
Photoshop, Illustrator, and other Adobe products are transforming the digital environment. When innovating new shoe marketing ideas and democratizing creativity, they combine high-quality content with cutting-edge technology to achieve success.
Ephotovn – Outsource
Background removal, picture retouching, image scaling, digital flaw repair, and other tedious and time-consuming operations are typically required before high-quality shoe photography can be published on a website or used in shoe marketing ideas campaigns. These activities need a high degree of expertise in shoe images processing tools and a thorough understanding of their implementation.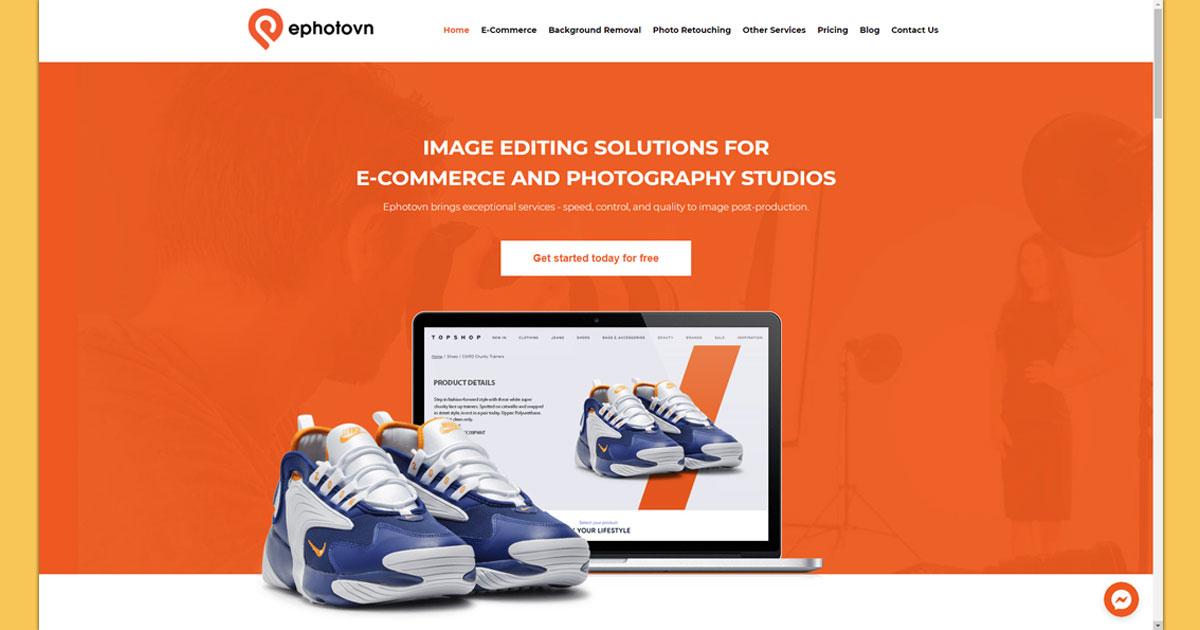 The before and after photos on Ephotovn are pretty remarkable. Background removal and high-end photo editing are among the services it provides. Starting at $0.39 per image, background removal is available. There is a wide selection of styles to pick from in high-end shoes editing.
The company's turnaround time is well-known. For 24 hours, it may erase 1,000 photographs' backgrounds. Portrait retouching and product photography are the only areas of concentration for Ephotovn.
To grow their shoe marketing ideas, most companies are obliged to do picture processing procedures regularly. That's why many companies are choosing to outsource the production of their visual content because it's both cost-effective and reliable.
When you outsource your shoes photoshoot ideas to an offshore service provider like Ephotovn, not only do you get the assurance of a quality result, but you also save money.
How To Remove Background from a Shoe Image Using Removal.AI?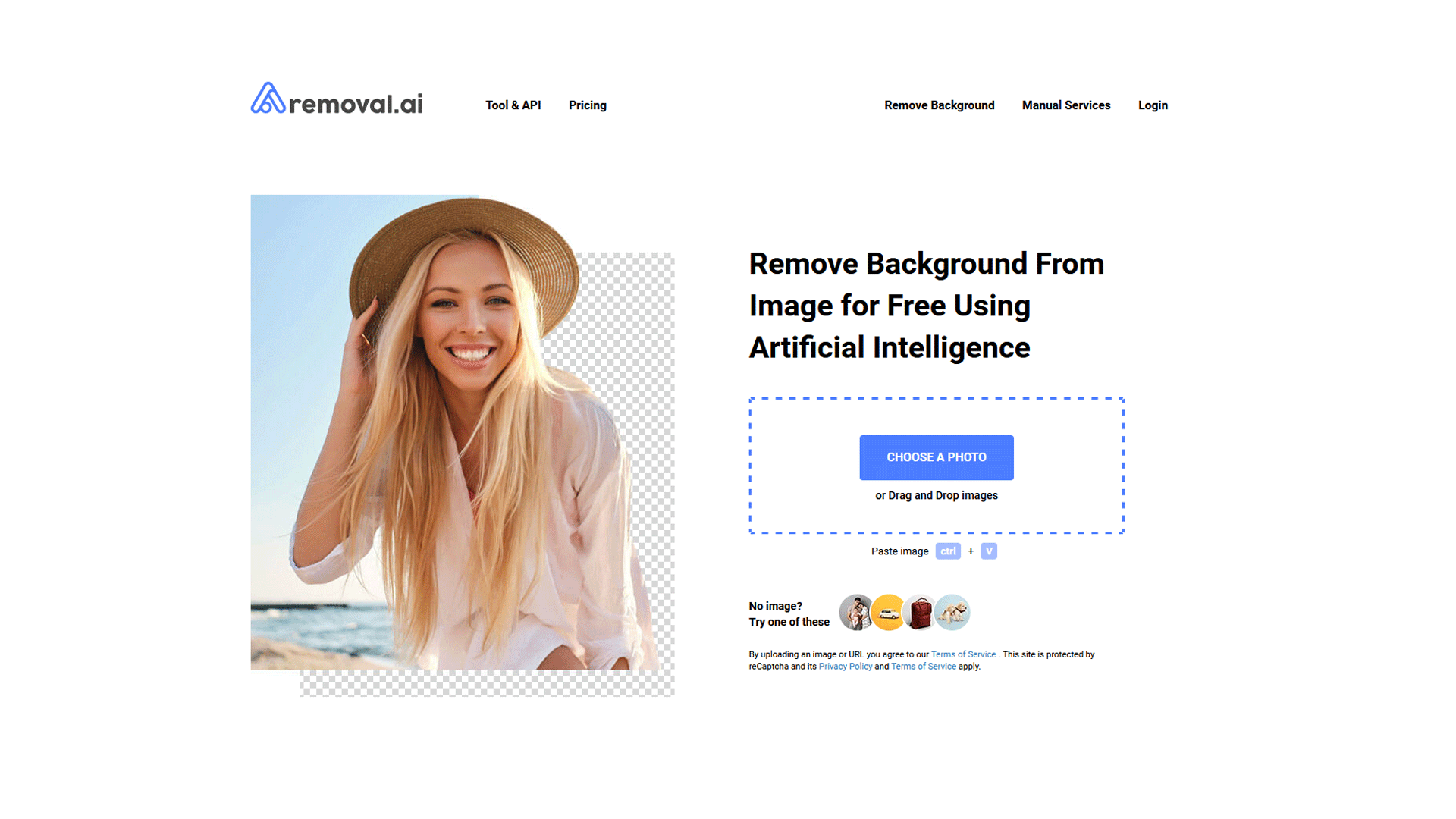 Artificial Intelligence (AI) is defined as the attempt to reproduce and simulate intelligent behavior in machines. In contrast, Machine Learning (ML) is a subfield of AI that focuses on designing systems that learn – or improve performance – based on the data they consume. AI and ML are closely related concepts.
Artificial intelligence (AI) simulates how a human person eliminates the background from a picture. It intelligently distinguishes between the foreground and background and then removes the backdrop. The more information and data you feed into these systems, the more they develop and become more accurate.
While it takes minutes to remove the background from a single image in Photoshop, automatic background remover software can work for one to a hundred photographs in seconds. In other words, if you are in charge of hundreds to thousands of pictures every day, such solutions are ideal for increasing your productivity and making your job simpler.
Removal.AI is a program that allows you to remove backgrounds from photographs automatically. Manually cropping pictures can take up to 3 minutes, while Removal.AI can complete the task in a matter of seconds. It is the most excellent free program for eliminating the background from an image that is currently available. It is completely automated as a result of artificial intelligence. With the AI Background Remover included in the software, you can quickly generate a translucent backdrop for product photos, posters, and banners.
Step 1: Upload an Image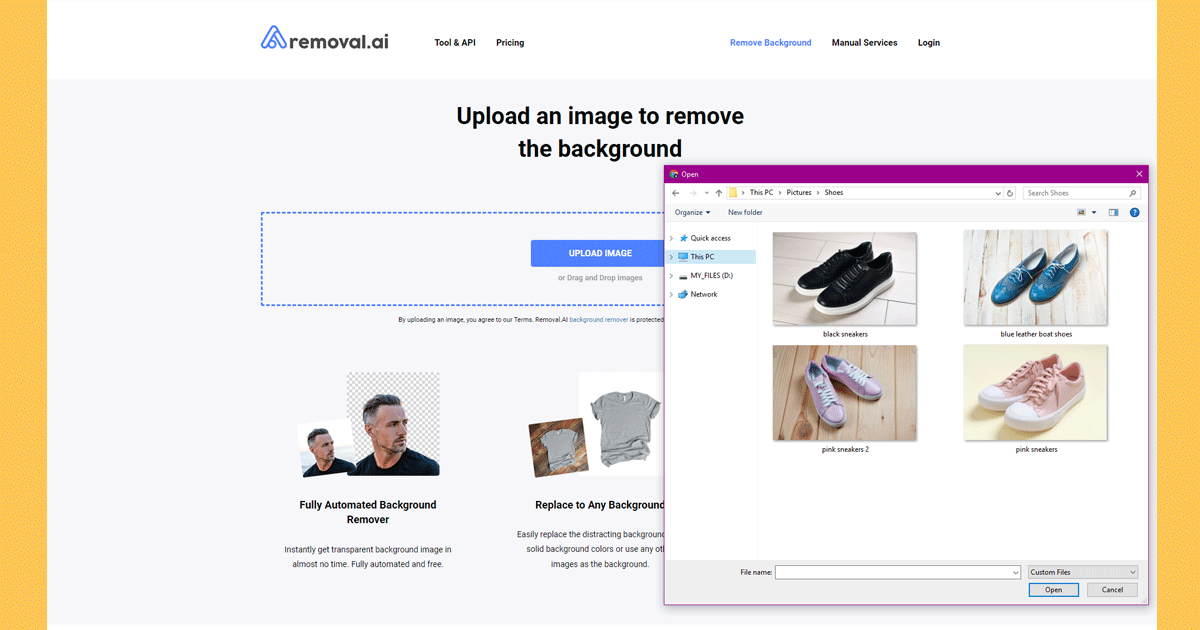 The first step is simple and easy to do. Uploading a picture from your computer's hard drive is as simple as clicking on the "Upload Image" button located on the page. For a less time-consuming shoe product photography guide, you can click and drag the image of your choice from your files to the desired location on the page.
Step 2: Background Removal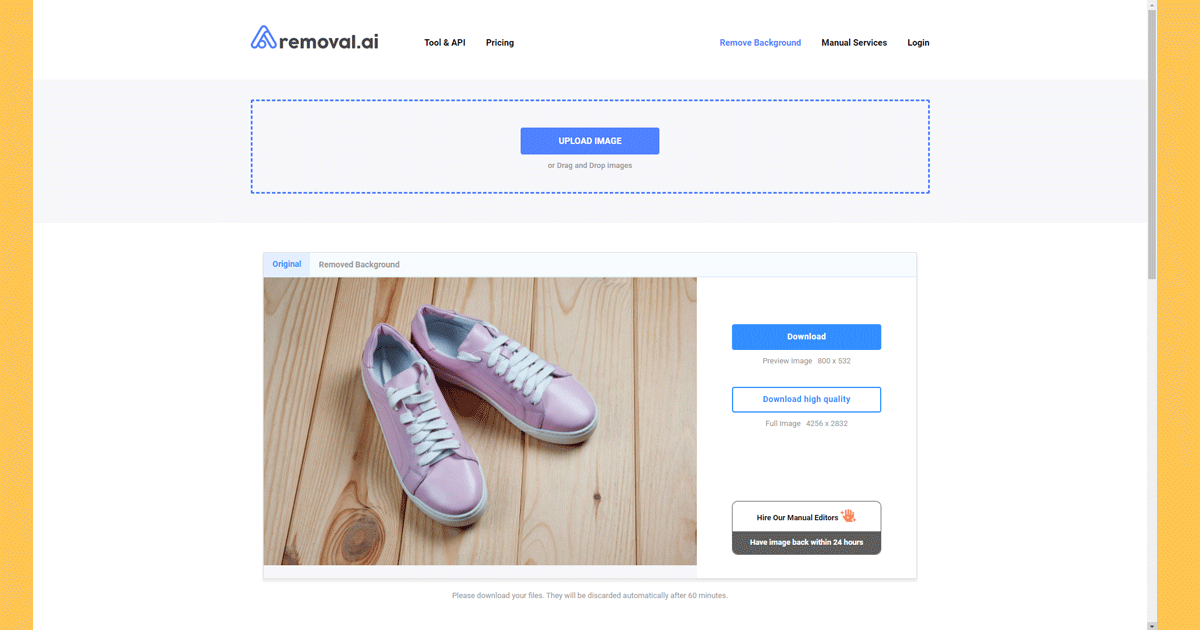 Once you've posted a picture, you can remove it from the site. AI will instantly eliminate the backdrop from the image, allowing you to see the outcome in a matter of seconds! It's as simple as pie!
Step 3: Download
When the process is complete, your shoe photography may be saved as an image file with a transparent backdrop. There is a free version with a resolution of up to 0.25 megapixels and a premium option with a resolution of up to 12 megapixels (e.g., 6250 4000 pixels).
The edit button is available after the backdrop has been removed, so you may go back and make any last-minute changes you want. In addition to adjusting the picture size, you may change the image's location, apply shadows, add text, and so on.
For $2.99 per image, you may hire our editors to manually remove the background from the photographs you've uploaded to your account. Your photos will be hand-edited by a professional within 24 hours and delivered to you.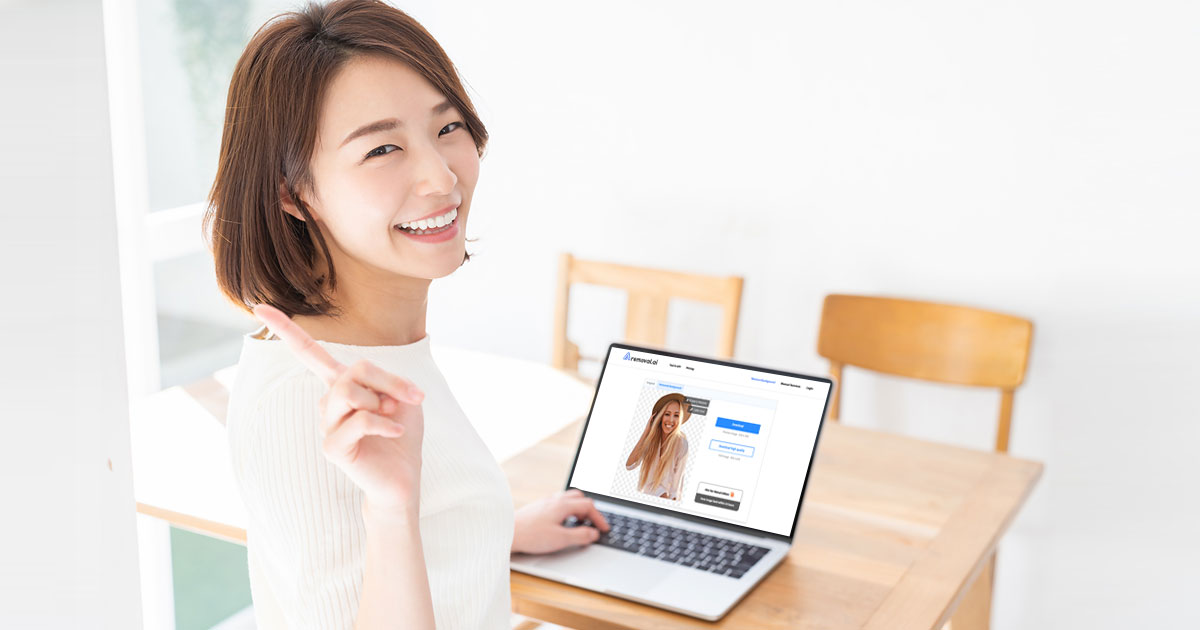 Use Removal.AI to Remove Background from Shoe Images
Free internet tools are an excellent option for fast shoe editing and achieving decent results, but commercial online services provide even better results. Because of their user-friendliness, online tools are enticing, but they require that you hand up your shoe images and upload them to a server via the internet. As a result, the security of your personal information is not always guaranteed when it comes to private shoe images.
Your photos will be processed in a few seconds by Removal.AI. To preserve your privacy and security, all of the photographs you upload to our system are erased within 24 hours of your order being placed.
Read More: How to Sell on Amazon FBA