Perfect Your ECommerce Product Images: 12 Tips to Follow
I think by now, we have all learned some valuable lessons when it comes to online shopping. Lesson number one – always pay attention to eCommerce product images. Pictures and visuals are important, especially in eCommerce.
You may have seen hilarious stories where people expect a beautiful dress but instead, receive a crumpled up nightie or order a carpet for their living room to receive a rug for a dollhouse.
If you want to do better, pay attention to the crucial tips in this blog post to take good product pictures. Whether you have recently set up your e-commerce store, want to improve your sales or conversions through better product images, this guide is for you.
Related Content: How to Start A Successful Online Shoe Retail Store
What can high-quality eCommerce product images do for your sales?
Buying and selling online isn't an easy task. It differs from selling in brick-and-mortar stores, as customers can't physically touch or see the products. When shooting your products, everything from getting the lighting right to displaying pictures from the right angles is important.
High-quality product pictures can increase sales, reduce return rates and increase customer satisfaction rates. The visual aspect that imagery adds is proven to be a crucial factor for customers' purchasing decisions. More than 90% of customers have said that product imagery is the deciding factor for making purchases online.
By showing your products through accurate product imagery, you can avoid dealing with irate customers, prevent bad reviews, and increase your sales and conversions.
This guide will teach the most important aspects to pay attention to when creating product images for eCommerce websites.
Why are product images for eCommerce websites especially important?
Imagery and visuals are vital for online stores and could be one of the apparent reasons why you are making no sales. As customers can't physically see or touch the products, for example, see the material, shape, or size, an accurate representation of these items is necessary.
This can be done through high-quality images, video content, or other visuals like user-generated content (UGC). High-quality content on your site can ensure the customer that you are a reliable seller.
Nearly 67% of customers shopping online rated high-quality images as "very important" when making a purchasing decision. The same survey results showed that imagery was even more important than product descriptions or customer reviews.
And there is a valid reason for that. People process visuals much faster than text. As the saying goes, a picture is worth a thousand words. Research shows that we process 80% of what we see and only 20% of what we read.
If you are wondering how to take good eCommerce product images, then keep reading. We'll look at each aspect to pay attention to when shooting your product range for your e-commerce store.
What to pay attention to when shooting product images for your website?
1. Use only high-quality product images.
The number one rule for e-commerce images is to use high-quality photos. Pictures are the first thing your customers see when visiting an online store and should accurately represent what you are selling. ECommerce images help customers to better understand the materials, functionality, and quality of the products.
It can often be pretty pricey to get good-quality imagery outsourced. However, it is possible to get good images also with at-home equipment. With the proper setup, you can take excellent snaps on your own at home.
2. Use multiple product images from several angles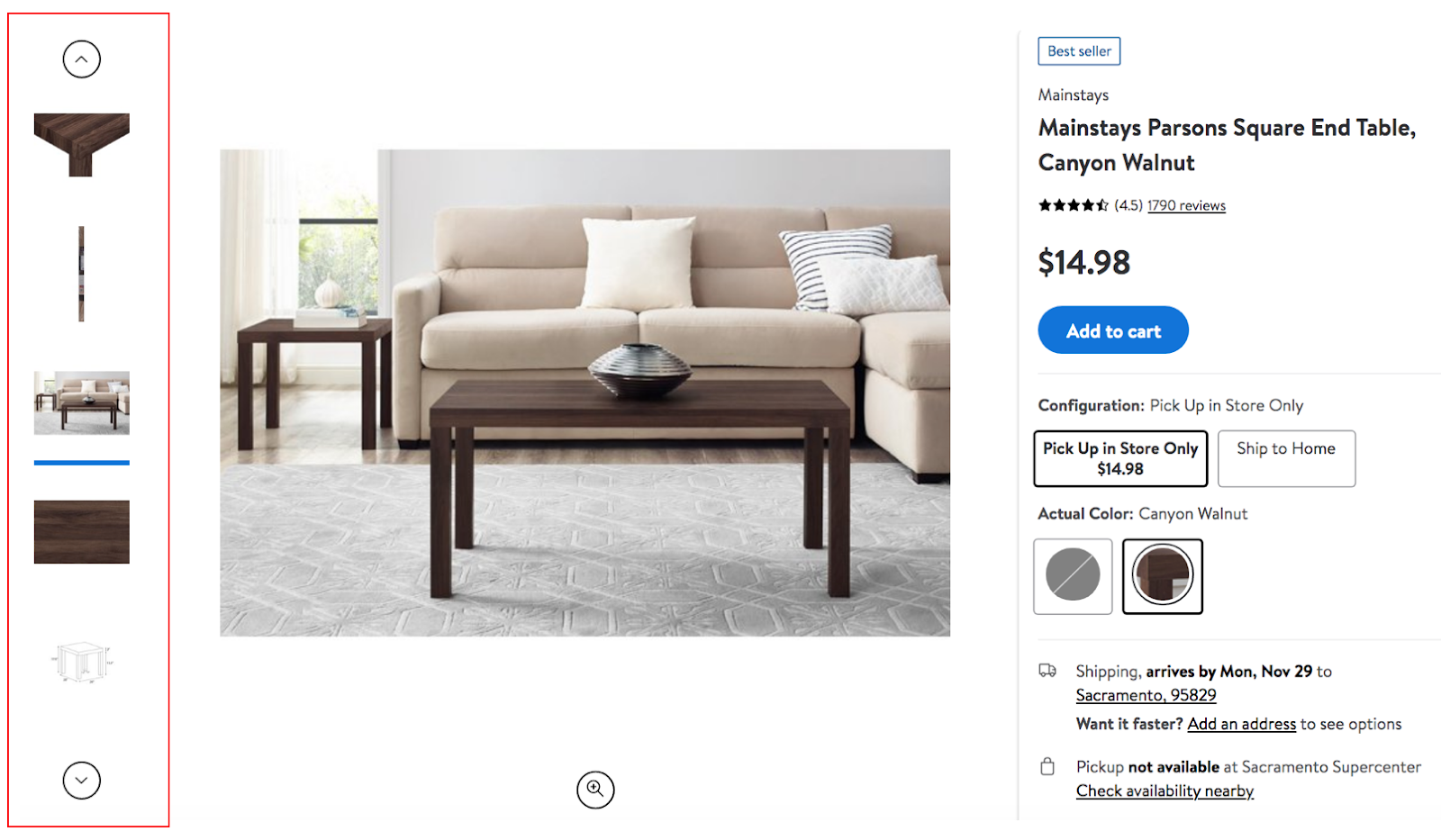 One of the critical things, along with the image quality, is adding multiple pictures from several angles. It enables a holistic view of the products to your customers. It is impossible to get a good overview of the product if you only show one upfront image.
For example, Walmart's e-commerce website uses multiple images. They display one real-life photo, images on white background from several angles, one close-up shot to show how the product looks packaged, and even a sketch with the measurements.
3. Add a 360° spin function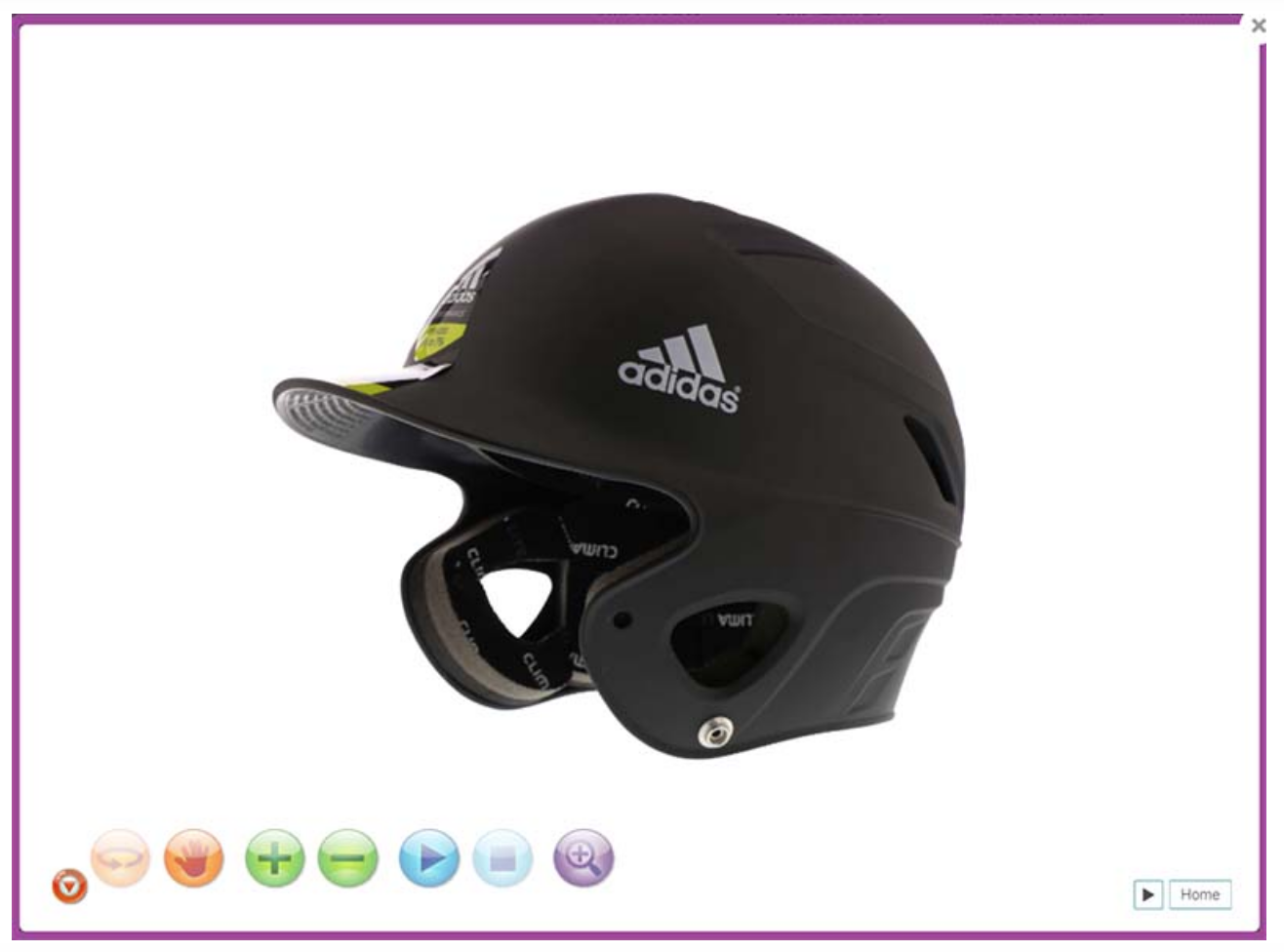 If possible, add a 360° image so customers can rotate and see the item from every angle. According to one research, by adding a 360° spin to products, the conversion rates improved by 27% compared to products with two-dimensional images.
360° images are a series of still photos that are taken in a sequence on a specialized photo turntable. These shots are then displayed in a 360° view software application. Customers can, therefore, rotate and zoom into specific areas of these images.
However, it requires more than just a nice corner with plenty of natural light at home. You would need proper equipment and a standard setup, including lights, stands, and specific camera lenses to make it happen. Alternatively, you could outsource.
4. Zoom-in product image view.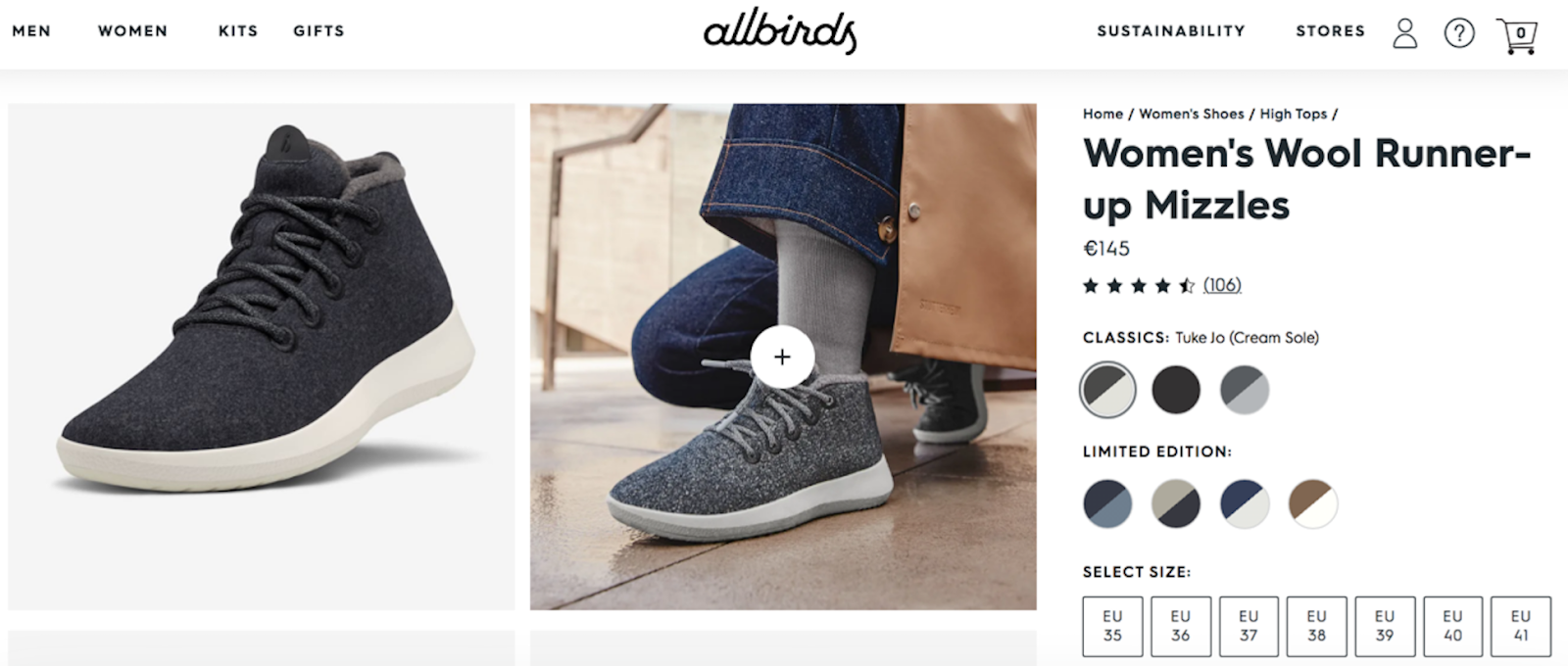 E-commerce platforms like Shopify or Magento hosting provide e-retailers with great tips on perfecting product images on a budget.
One tip is making sure product images have enough detail view options. Consumers want to see close-ups of the items. It is especially important for products like clothing, footwear, bags, or accessories, to see the fabric, the texture, the color, or item material.
After landing on the product page, 56% of customers go directly to the product detail page. And if these product photos are of low quality and don't have a close-up view, customers often abandon these purchases, research by Baymard has shown.
If you want to keep customers on the product page, add a zoom-in option to the images. For this, you could use several excellent free and paid tools. Shopify offers several free and paid apps like Full Page Zoom, Magic Zoom Plus, or Cool Image Magnifier.
Even if your products are amazing, their amazing features won't show unless they reflect on the images. Sustainable footwear brand Allbirds, for instance, uses a zoom-in function to show close-ups to display every detail.
5. Use editing tools to improve picture quality.
If you think about why you need to edit your images at all, pay attention. Even if you have already optimized the lighting and angles and used the best camera, post-production editing is still essential.
And here's why.
Websites need to look professional to appeal to customers and help to stand out from the competition. A professional look can help to compete with the big players.
Post-production editing can include:
Show accurate colors. Edit images to show true-to-life tones.
Remove any background noise. Out-of-studio shots are great, but not without random people in the background. With free tools like removal.ai, you can edit things out quickly with the help of artificial intelligence (AI).
Retouching. Retouch minor blemishes, dust, wrinkles, other imperfections if necessary.
By applying these techniques to your online imagery, you can quickly improve the overall feel and look of your e-commerce website to appear more professional.
The most popular photo editing tools are Photoshop or Adobe Lightroom. However, many more excellent free and paid tools are available, with some specializing specifically in eCommerce product images.
For example, you could use a background remover like Removal.AI to eliminate unwanted background objects, GIMP as a free, open-source image editing tool, Pixlr for photo editing and graphic design, or Pixelz for retouching.
6. Get the styling right
Often, the same colors that work well on a shop window don't work for e-commerce. It is because some colors look too faded online and are best combined with brighter colorways.
It is especially applicable to clothing, footwear, and accessories where outfit styling is possible.
Which image do you think stands out more?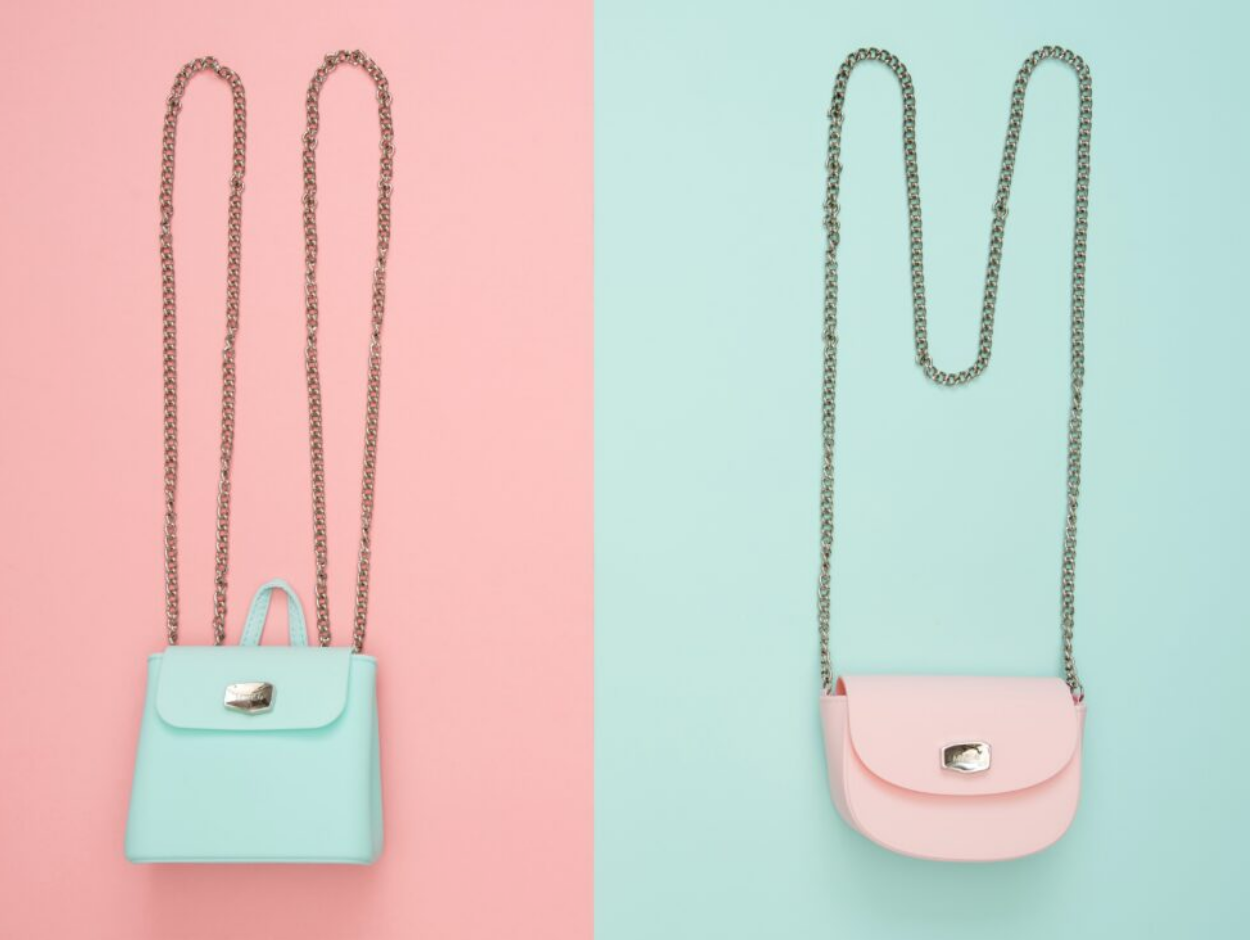 7. Get the lighting right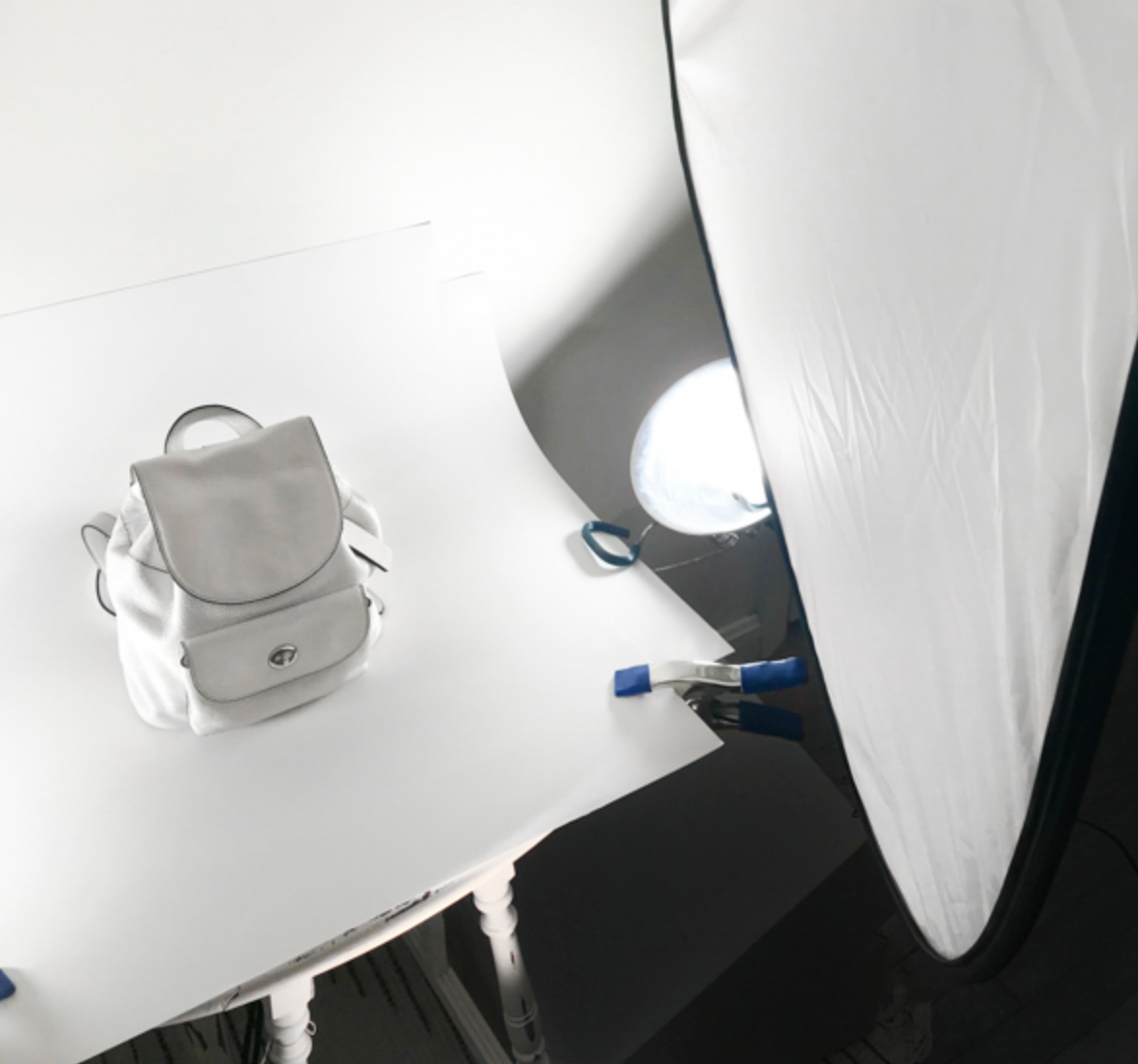 To take high-quality images, lighting is critical. If you have recently set up your store and don't want to outsource photography, you can create excellent imagery yourself.
But the setting is important:
Unless you are an experienced photographer or are shooting in a proper studio, use plenty of natural light and avoid artificial light.
If it is sunny outside, cover direct sunlight with a curtain to soften it and avoid shadows.
Don't let the light fall directly on your products, and this means light is directed unevenly, leaving strange shades.
For consistency, always use the same light/setting to shoot your images. Otherwise, the website look isn't cohesive and doesn't look professional.
The best location and time to shoot is during the day, next to your window. But keep away from direct sunlight.
Use a plain white background to block any background noise.
Use a tripod to avoid shaking to get sharp pictures.
8. Encourage user-generated-content (UGC).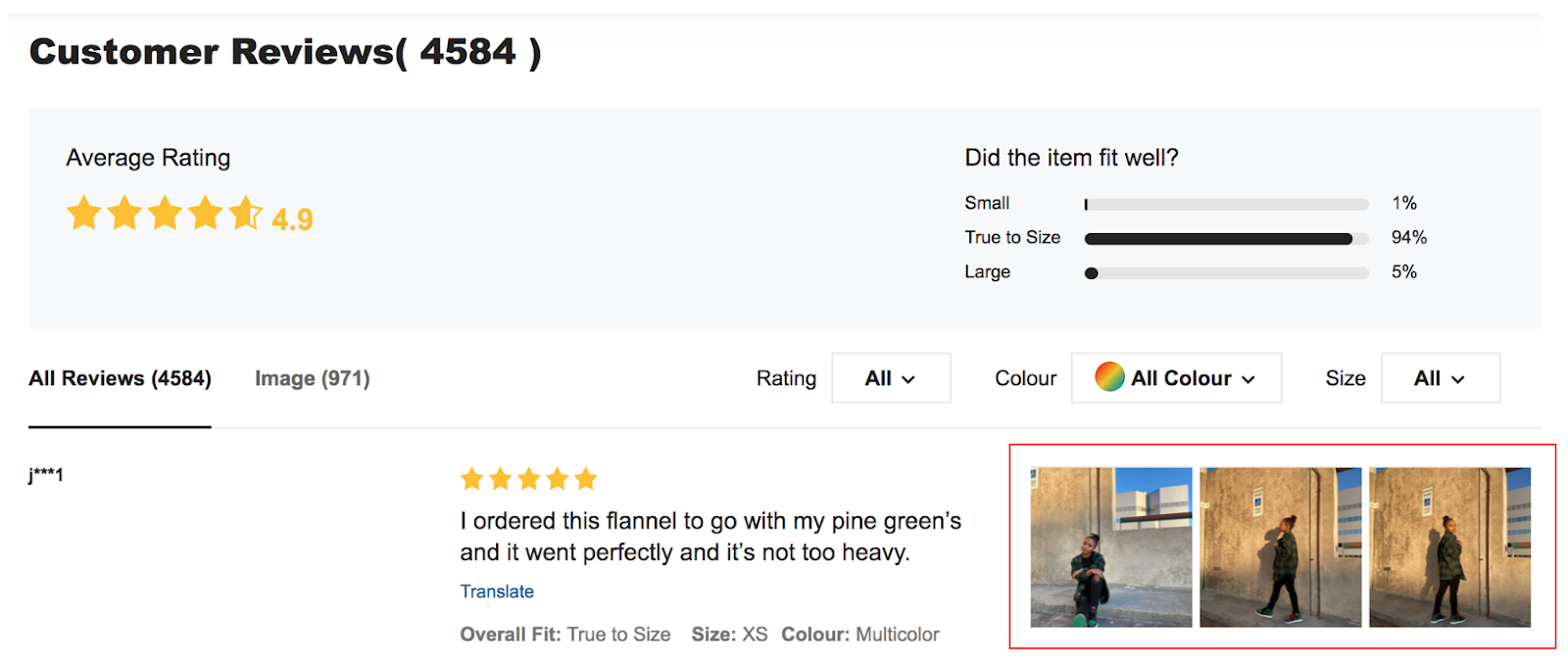 In addition to product images on your product pages, enrich your customer experience with user-generated content. Customers trust each other, so displaying how your product looks in real life can significantly boost sales.
For example, clothing retailer SHEIN displays their user-generated content at the bottom of the product page and reviews. Other customers can then get a better feeling of how it looks.
9. Reflect your brand through product images.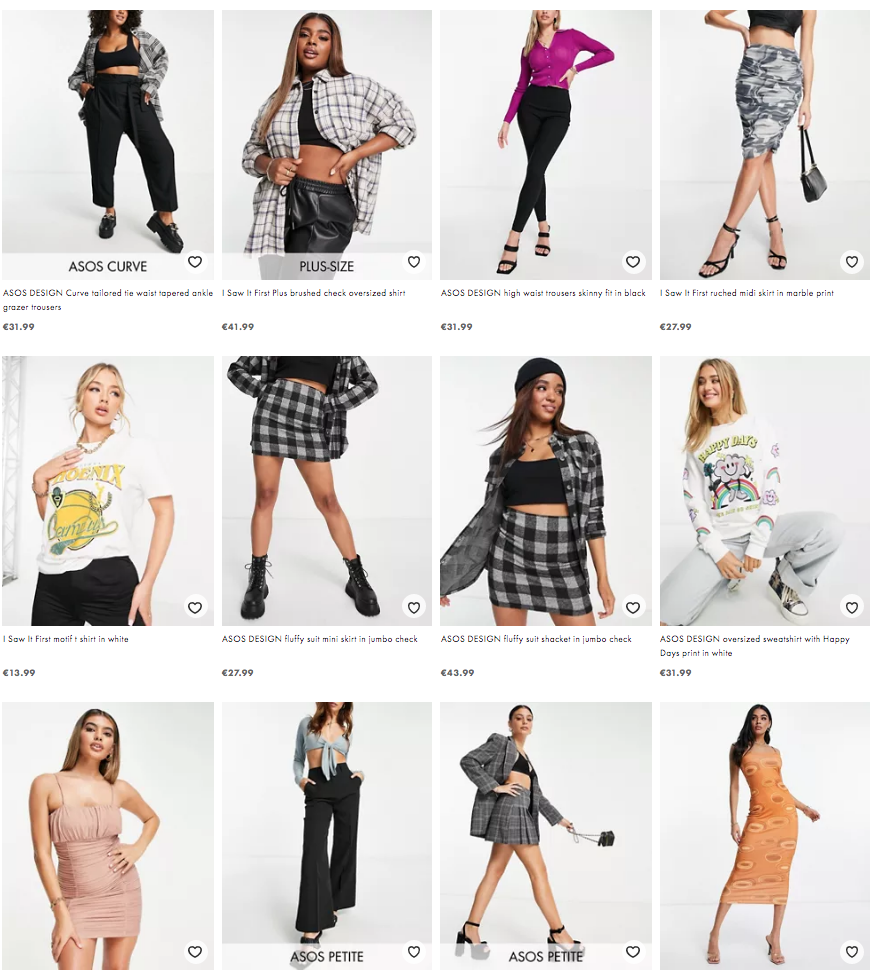 Consistency in your product photos is a great way to show your brand image. On top of your web page content and marketing visuals, product pictures are an excellent addition to help you stand out from the competition.
For example, the online fashion store ASOS has managed to create a consistent styling across their website. ASOS seems to use highly stylized images, reflecting their purpose as a trendy one-stop-shop online for the latest fashion trends
10. Optimize your images for SEO
People use search engines to find specific products. In 2018, over 20% of all Google searches were done through Google Images. Therefore, it is beneficial to optimize product images to come up in the search results pages (SERPs).
Adding an Alt tag, a brief description of what is on the image can help. Search engines aren't like humans and, therefore, can't see what is on the photos. Google my business post-optimization can help to increase traffic and conversion rates.
What is more, leveraging the Google Shopping feature is an excellent way to get your product coming up on SERPs. If your images are optimized and relevant, they are more likely to be identified by search engines. Google does have strict guidelines, for example, photographs have to only have a white background to be indexed, so this is something to look out for.
11. Optimize images on web pages
Common file types for images used on e-commerce marketplaces are JPEGs or PNGs. These are easily compressed and are therefore the standard.
It is important to pay attention to web page load times. Photos that are too large in file size can slow down the website loading speed. Around 40% of users have said to abandon a website if it loads for more than 3 seconds. What is more, a 7% decrease in conversion rates occurred if there was even a 1-second delay.
So keep your file sizes down and make sure they won't harm the website loading speed. But if you are using large e-commerce platforms like Shopify, your images are automatically optimized.
Optimize images on mobile
It includes optimizing your images on mobile. M-commerce has been rapidly growing in recent years. By the end of 2021, more than 70% of total e-commerce sales are expected to be generated through mobile.
When browsing on a mobile device, you'd want the same experience as on a desktop, right?
A slow website not optimized for mobile can be a painful shopping experience. Research shows that 53% of mobile site visits are abandoned if pages take longer than 3 seconds to load.
A great solution for optimizing your mobile pages is responsive design, which checks the device of each visitor and reacts accordingly—for example, changing the image shape and size. Content is adapted to match every individual screen so it would be easier to navigate.
Perfect your e-commerce images to boost revenue, increase conversions and create credibility
High-quality images and visuals make e-commerce an experience. Without pictures and good content, e-commerce wouldn't exist. Excellent product imagery can increase conversions and sales. You can even gain new customers through optimized image content.
Product images are the primary tool for showing your customers your products, as there is no face-to-face interaction. E-commerce product images can help turn traffic into conversions and increase sales, so they are something worth paying attention to.
By following these 12 tips, you can perfect your online product imagery. However, you are still unsure where to start, consider getting advice from eCommerce mentors.
About the Author
Kadi is a Content Writer for the HelpCenter app. She has got extensive knowledge and background in the e-commerce industry gained from working for fashion & retail e-commerce companies. She loves finding ways to help customers grow and enjoys contributing with helpful content and thought leadership articles.