Say hello to the World
The inspiration behind our work
We have witnessed making a transparent background is one of the unpleasant steps for lots of people. This feeling happens with both the editing beginner or amateur and the professional. The beginner wrestles with learning and using Photoshop. Besides, other available background removal tools on the internet still need your hand to remove the background as well. Meanwhile, for the professional, the problems might come from the overload of work that needs to be solved in the quick time or the boring nature of removing background tasks. In other word, Automatically optimizing the deleting background by a tool will be seen as the lifeline to save their time and make their work more effective.
So making your editing life much easier comes out as a vow to inspire our idea of taking advantage of the Artificial Intelligence power to build a passionate and user – friendly service. Our goal is to help everyone – from zero to hero in editing image – alleviate the pain of making transparent background by our 100% automatically AI background removal service. High accuracy, speed, user – friendly and totally for free when trying it.
Why Removal.ai?
As inspired by using the cutting edge of Artificial Intelligence, Removal.ai promises to be a useful and necessary tool in your pocket to boosting your editing work efficiency. With the strong belief in the power of Artificial Intelligence, we're confident in what Removal.ai will bring to our customers.
High accuracy


No matter what the types of your photo are, from your selfies to your professional portrait, Removal.ai will effortlessly ensure to handle every challenging edge to provide you the most professional service quality. Hair … No problem… We're here to deal with this.
User – friendly


Tired of manually drawing clipping paths and clipping masks in Photoshop? Just drag and drop your photos and let's see the magic of Removal.ai in cutting the background in no time and with no single of your touching. So you can do something else more important while Removal.ai separates the foreground and the background effectively. Now the transparent background is no more your business. Moreover, Removal.ai works on multiple devices, regardless of the operating systems or the platforms.
High speed


Why you have to spend time on the time – consuming task like removing background when Removal.ai can do it for you in 5 seconds with Artificial Intelligence. Acting with the promise of 100% automatically service, Removal.ai can help you to spend your time on doing your prior tasks instead of picking pixel to cut the background. Saving time, and boosting your business profit. Time is money. Let's Removal.ai becomes your assistance to speed up the workflow.

Free of charge


You can unlimitedly make transparent background and unleash your creativity with Removal.ai. Here is where removes the image background but also every limitation of creation.
What does Removal.ai offer?
Removal.ai just provides the free background removal service? Is there anything else? Want even higher quality with other special requirements for editing?
Along with free background removal service where you can delete the background with an unlimited number of images, we're glad to provide the premium service to go beyond your satisfaction here. Your images will be processed by our experienced editors. Now we will treat your photos with our full "spa-service" –  background removal, creating shadows, color enhancement, and natural lighting. Let's look forward to seeing the stunning transformation of your picture. This premium service will just charge you from $0.30 per image. More importantly, we will ensure that the edited photos will be delivered to you within 24 hours.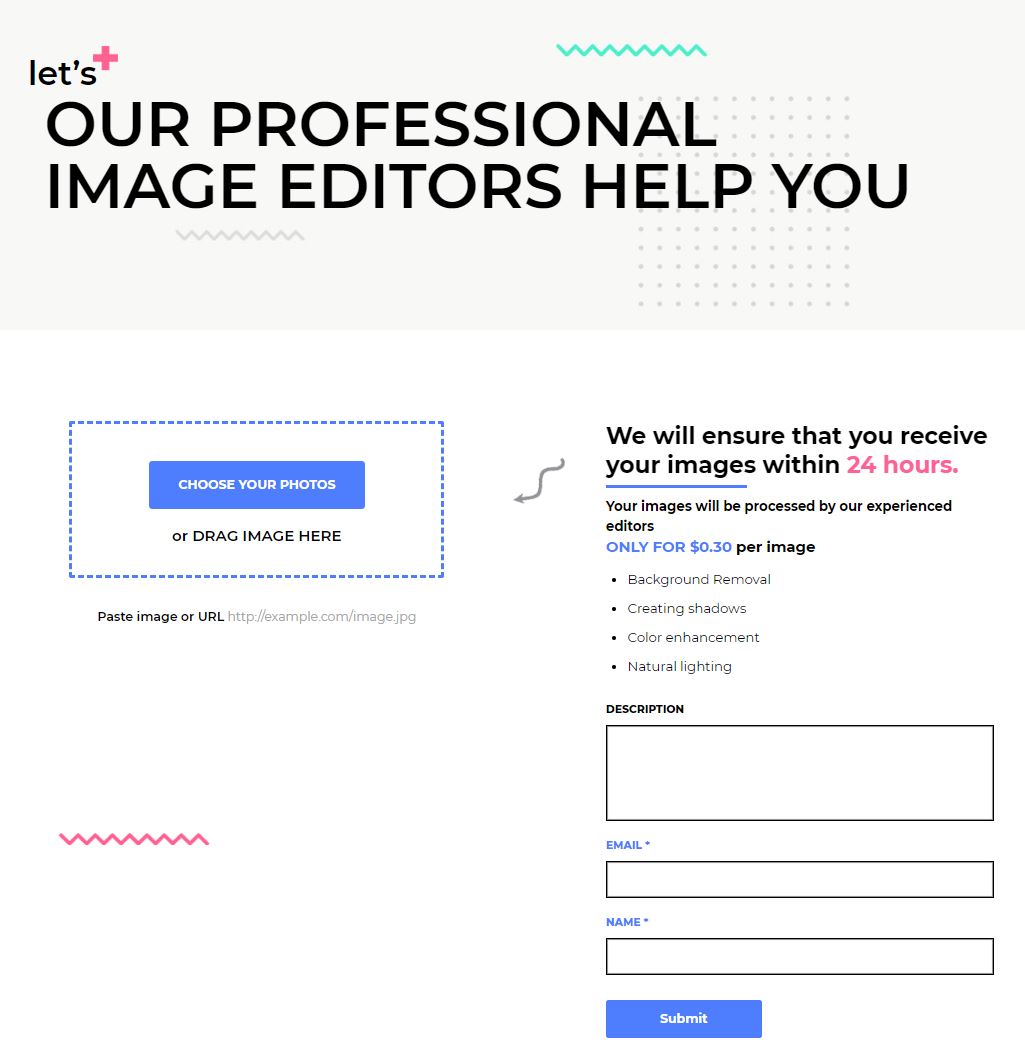 Taking off and starting our journey.
Today is the first day that Removal.ai is publicly rolled out. However, this product has been nurtured and tested in hundreds of days by our passionate development team. With the mission of providing the best background removal quality, we have effortlessly upgraded the cutting edge of our Artificial Intelligence and developed our user experience day by day. Therefore, we are looking forward to hearing your comments during using our tool. Because your feedback acts as our inspiration and motivation to build up the better quality of Removal.ai. In addition, we listed here frequent questions and answers that you may have. However, feel free to contact our customer service if you have any other questions.
So… what are you waiting for? Click here and change your way of making a transparent image background with Removal.ai.