14 Brand Marketing Automation Tools To Grow Your SaaS Business
As a business owner, the goal of brand marketing is always to grow. This is why modern business models call for numerous ways to attain business growth. The skyrocketing costs of branding, however, hold back small business owners and start-up companies.
Good thing there are automation tools that you can lean on for brand marketing. With the abundance of possible tools for all kinds of businesses, it would be confusing to choose which ones to have for your own enterprise.
Read along to find out more about brand marketing automation and take a peek on the top SaaS tools that will help grow your business.
Why Is Branding Expensive
Branding is the process of creating a unique name and image using a consistent theme. It aims to establish a distinctive presence that is not only attractive but also builds trust and loyalty. Leading brands are able to do this and their target clients know exactly who they are, what they stand for, and what their products and services are. 
But the road to successful branding is not easy. A lengthy process is involved and it demands both manpower and other resources. These factors typically make up the bulk of branding costs.
Typically, creating a brand involves putting up a design concept for identity. It includes designing a logo, choosing a color palette, creating fonts, etc., These elements would help customers to visualize your brand and is the start of the full brand experience that you want to establish. Hiring a designer for this purpose should cost a minimum of $300 and this quote is for logo design alone.
Aside from aesthetics, you also need to pay for marketing, an entirely different concept but is related to branding. While branding is more about making the customers recognize your brand, marketing is the process of ensuring that they get to see your brand. It is a set of activities that will get the word out about your products and services. And, just like branding, it will cost you a lot to pay for marketing.
How SaaS Tools Help With Branding and Marketing
So basically, there are two major points that you need to cover for both branding and marketing. First, you need someone to do it, and second, you need to have the resources to finance the process.
This is where Software as a Service (SaaS) tools become very valuable for small business owners and start-up companies. These are relatively inexpensive solutions that automate business processes. This means that you can afford to cut down on expenses for manpower because the tools will take care of certain tasks.
SaaS works using cloud storage which removes the need to spend for computers or pay for very expensive technology. Because SaaS can be customized to work with your current protocols, you get to avoid buying costly software that often has features that you do not need for your business.
There are a myriad of reasons why SaaS is beneficial to your company. Instead of having a lengthy discussion about its advantages, here is a list of SaaS tools that you must check out on. You will be able to recognize for sure how these tools are essential for your branding and marketing needs.
Tools for creating your branding materials
Appealing visuals are what instantly draw attention to your brand. These SaaS tools will allow you to create beautiful designs without the help of a professional designer:
Pixelied: Full-suite Graphic Design Editor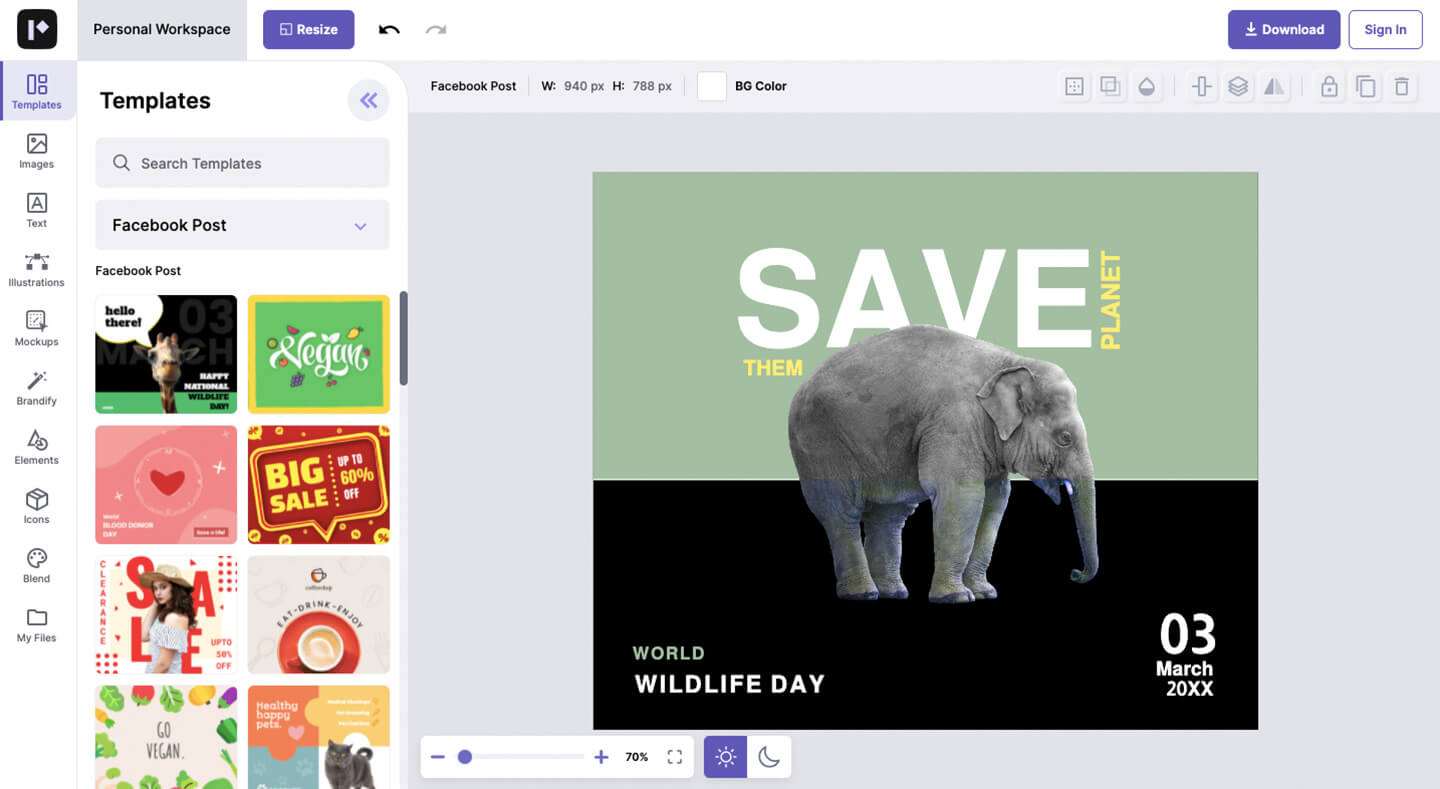 There are designing tasks that even a professional designer finds time-consuming and tiring. With Pixelied, you will have an online graphic editor that is all you need to create epic designs in just a few clicks.
Pixelied has a growing library of templates that you need to make striking thumbnails, header images, post graphics, and more. There are also thousands of icons to choose from so you can add more life to your designs.
You can get started right away without paying anything for Pixelied. The free plan, however, has its limitations and you can only fully appreciate its awesomeness with a pro plan at only $9.95 a month.
Pixelixe: Creating Social Media Visuals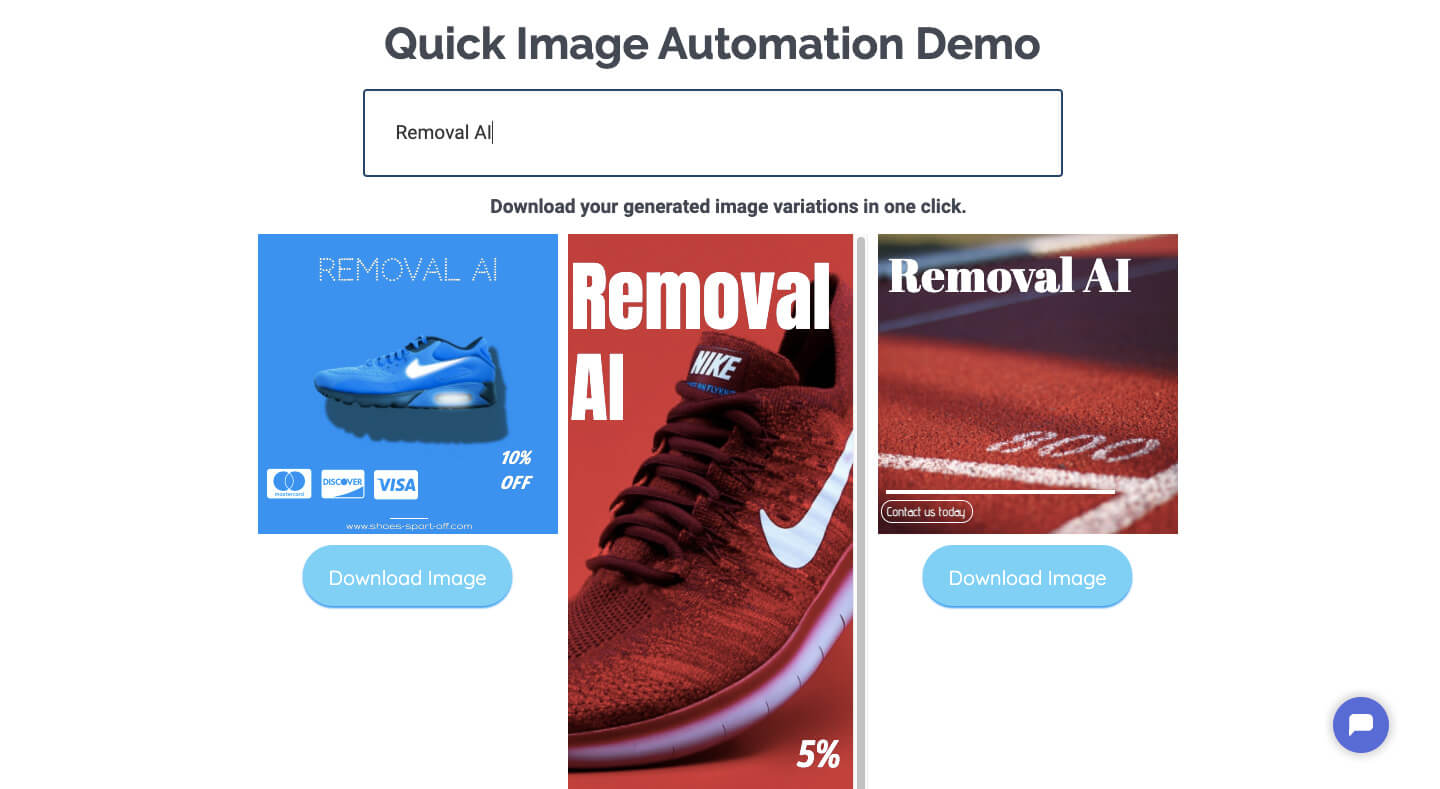 Working on images in bulk is not only tiring but can be very costly if you are going to hire someone to edit them. With Pixelixe, you can cut the time spent on creating multiple design formats with its image automation feature.
This is a great solution for when you need to create different design variants for social media posts. All you need is to integrate the Pixelixe API and it would auto-generate social media graphics in a click.
The automation feature on Pixelixe is available only for plans Automate, Scale, and Enterprise which starts at $49 a month.
Removal.AI: Background Remover and Photo Editor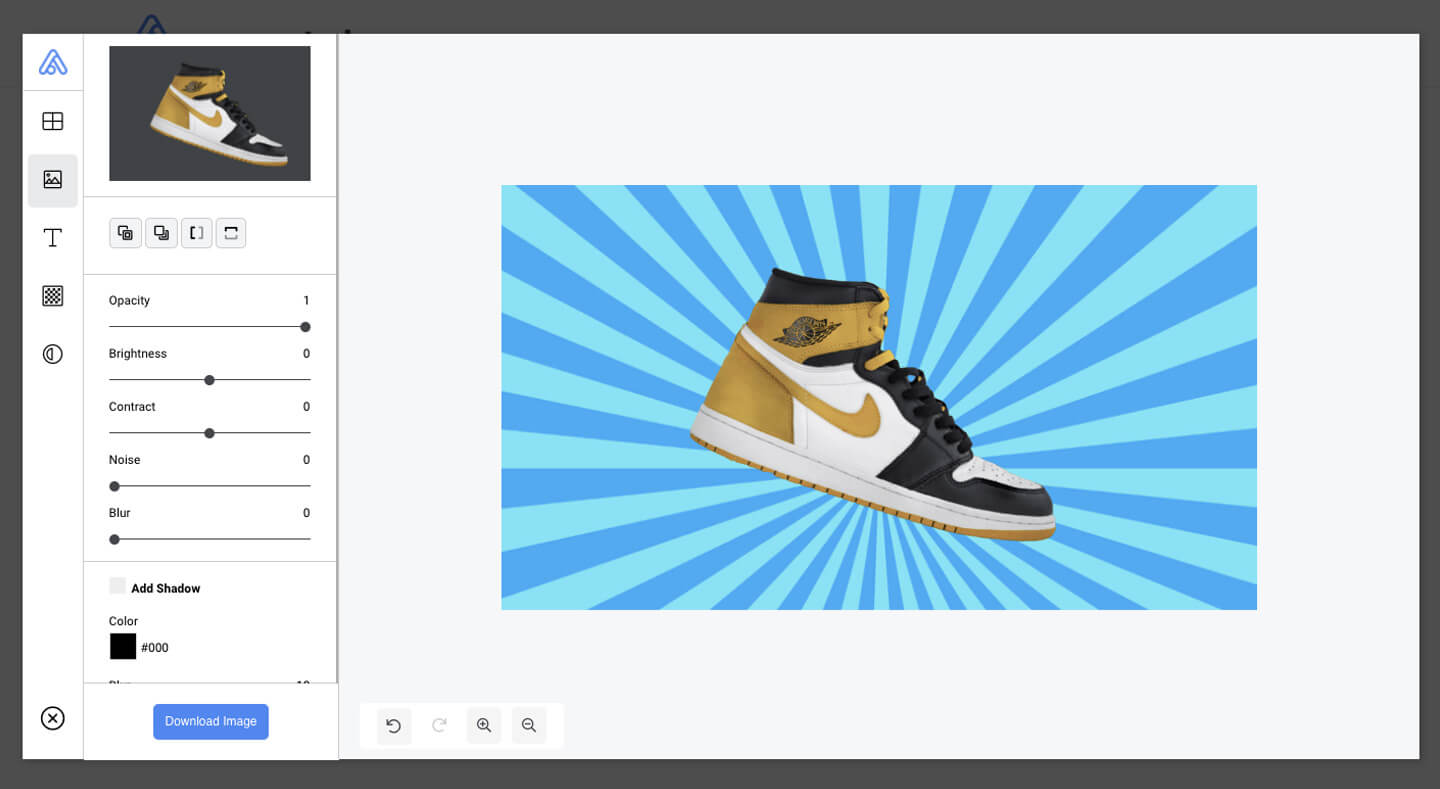 When it comes to preparing product photos for presentations and uploads, only Removal.AI is the best solution to turn to.
It is common knowledge that online selling sites have certain requirements before you can upload product photos. These are put up not only for uniformity but more on making the photos look extra-appealing to the customers. The thing with selling something online is that you need the customers to appreciate the products even by just looking at photos. One way to do this is to have a plain white background so that the whole focus is on the product.
Removal.AI is the best tool to use for product photos and other images that need their backgrounds removed. With just a click of a button, the background is removed in an instant. This would be very helpful if you are going to upload product photos for your online shopping portal.
Aside from removing background from images, Removal.AI is also great for enhancing photos with its online photo editor. You can even use it to swap a new background for your edited photos.
It is always free to use Removal.AI but you can download high resolution images for as low as $0.15 per image.
Want to hire a graphic designer, illustrator, and animator? Well, you can shelf that idea since Drawtify can be all that, for a fraction of the cost!
Drawtify is an online vector editor that lets you create exclusive graphics for your website. You can design your own logo and make stunning illustrations that you can use for all sorts of marketing materials. Not only that, Drawtify also has infographic templates that you can edit to make detailed and eye-catching presentations.
You can try this tool for free but you can unlock the premium features for as low as $8.33 a month.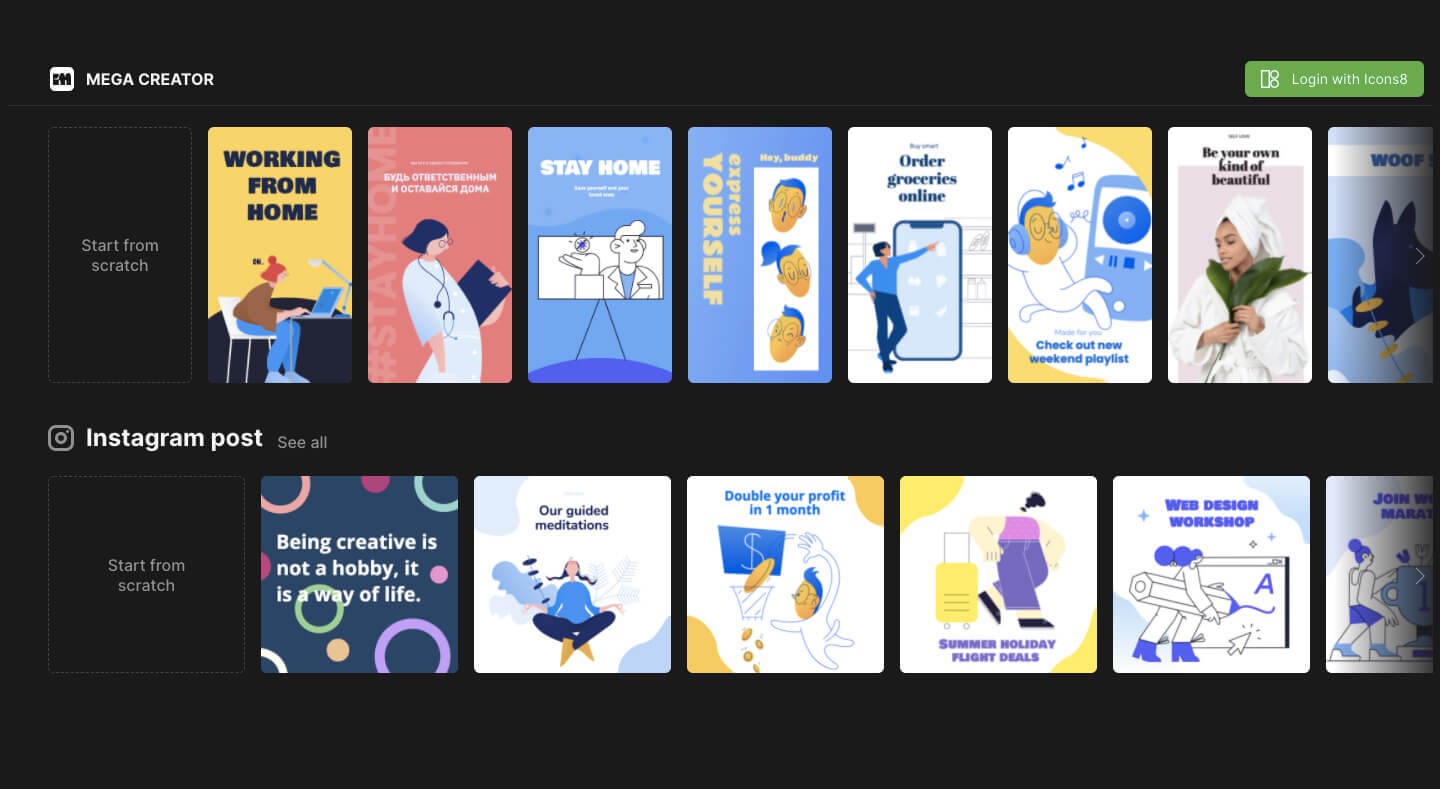 It can be pretty challenging to come up with design concepts on a regular basis. The Icons8 Mega Creator tool ensures that you will have a fresh perspective every single time.
Mega Creator has everything that you need to create astonishing graphics. You do not need to worry about drying out your creative juices because it has thousands of templates to spark brilliant ideas.
Mega Creator is free to use but you will have to pay for a subscription if you want to use their collection of icons, photos, illustrations, and music. You can get access to all of these assets as a set for only $29.
BrandCrowd: : Logo Maker and Business Card Maker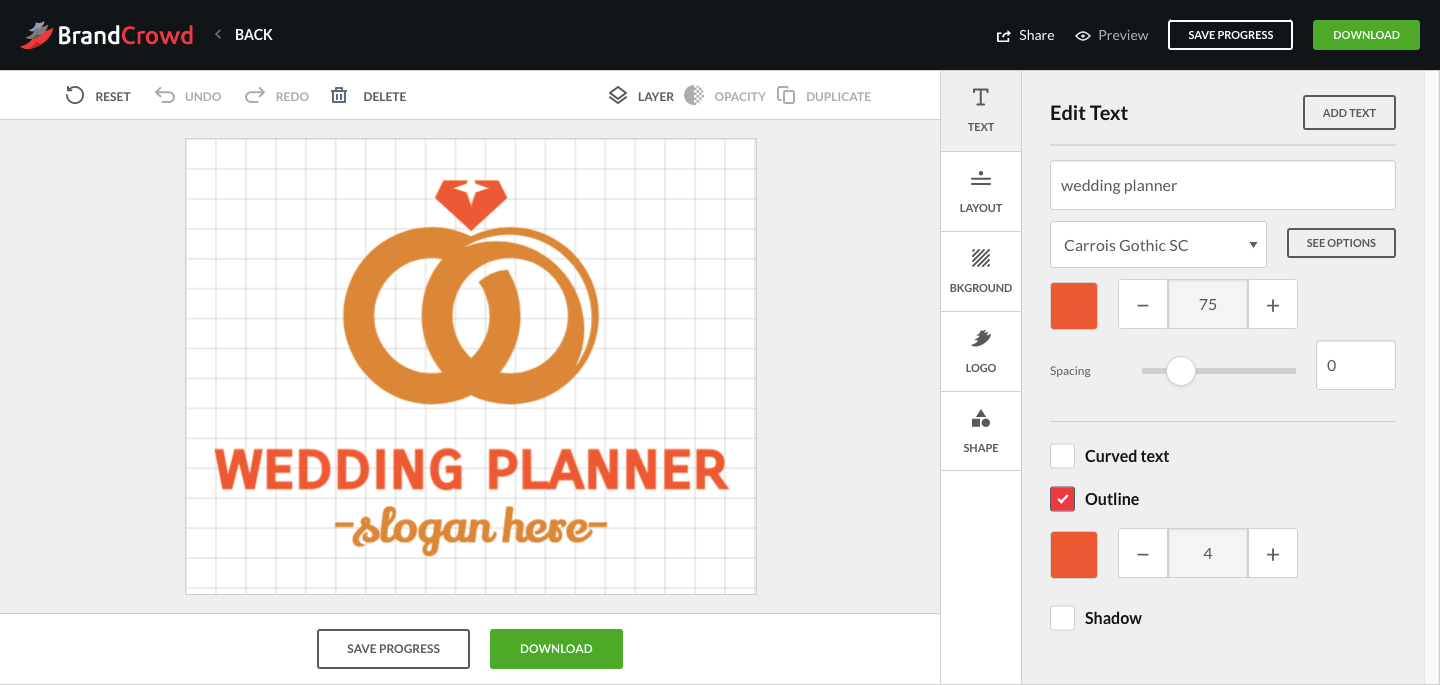 BrandCrowd is a DIY design software that lets you create lots of marketing and branding materials. Its most famous tool is the logo maker. You can create your very own logo even without prior design experience by using pre-made templates. BrandCrowd's tools let you customize the templates, enabling you to change the colors, size, font, and layout of the icons and words on the image.
The next most famous tool is the business card maker. Business cards are still essential nowadays. But it doesn't have to take long nor does it have to be expensive for you to create one. BrandCrowd's business card maker is where you can find thousands of professionally designed business cards. And like the logos, you can also re-imagine the templates until it suits your tastes.
BrandCrowd can also let you design some social media posts. Just hop on to their social media tab and you'll be presented with appealing templates for banners, cover pages, and regular posts.
Tools to manage and store your marketing assets
Managing and storing digital assets can be too much to handle. It is tiresome plus the cost of technology and equipment can also be a huge problem for new companies. This SaaS tool will let you handle digital assets with ease and with very minimal fees:
Filecamp: Digital Asset Management Tool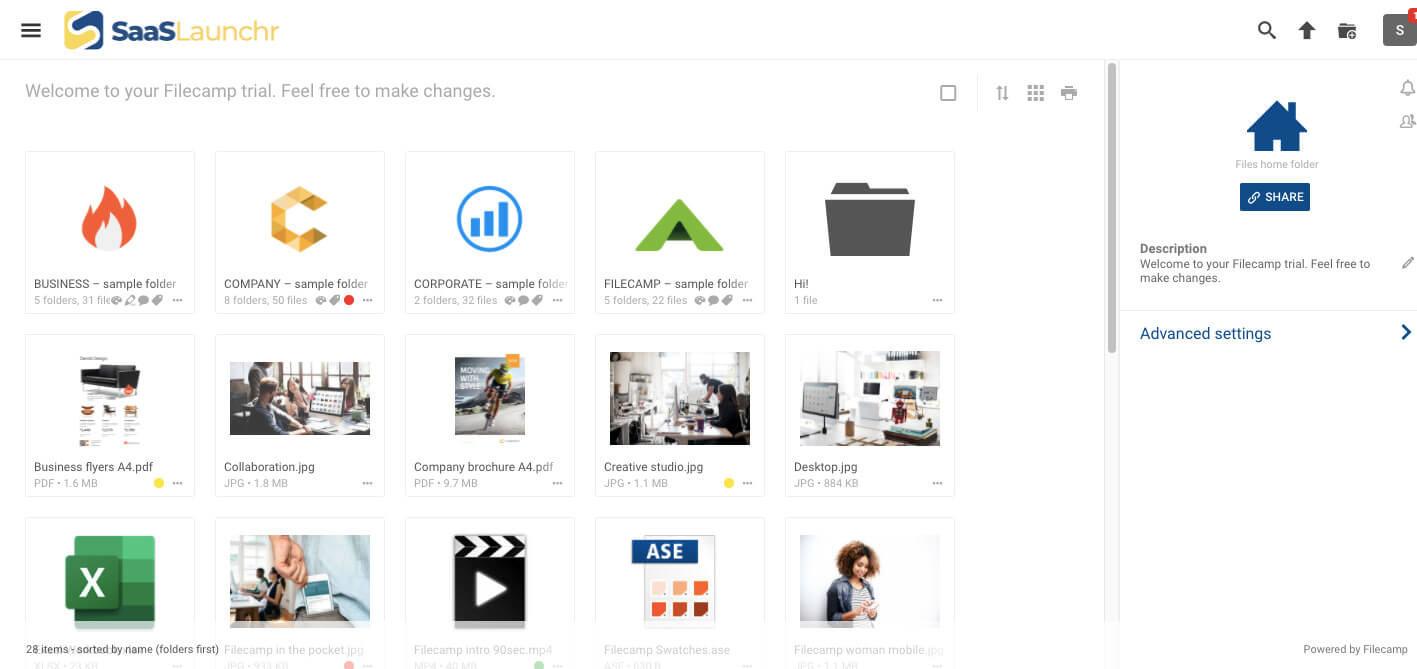 Filecamp is a low-cost digital asset management tool that would make organizing, sharing, and distribution of digital assets a breeze.
You can definitely benefit from having an organized filing system. You can boost productivity for one. It would also allow the whole team to collaborate with no difficulty because the UI is so simple to use.
The basic plan for a Filecamp subscription is only $29 per month. You can choose to upgrade for more features with the Advanced and Professional plans at $59 and $89 per month.
Tools for team collaboration
A better way to connect with your team is in order if you are looking forward to achieving your company goals. These SaaS tools are perfectly designed to help your team manage all communications easily: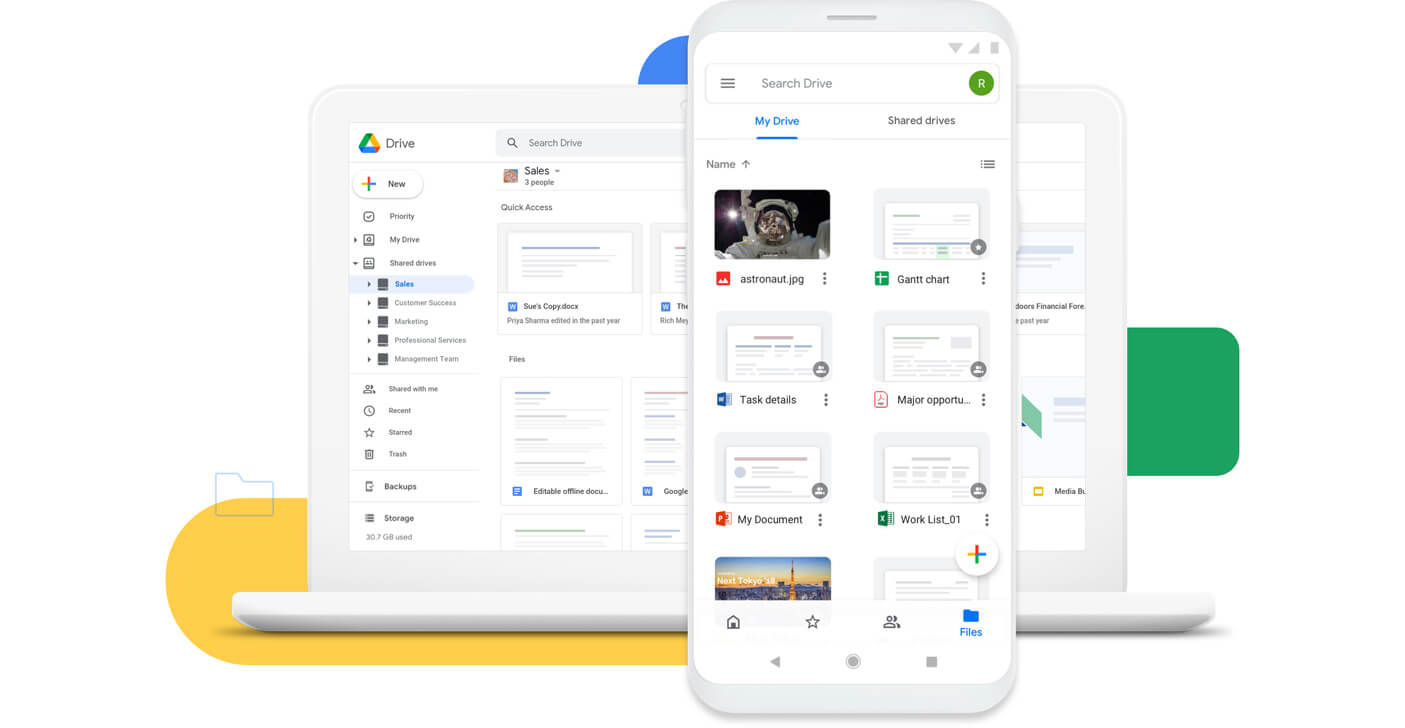 Google Drive is a popular choice for collaboration tools for a good reason. It has everything the team needs to make the process of sharing, storing, and accessing files a lot easier even without the need to be together in the same room. All you need is to set up a drive for the whole team and everything that needs to be done is shared to everyone.
Slack: Communication Tool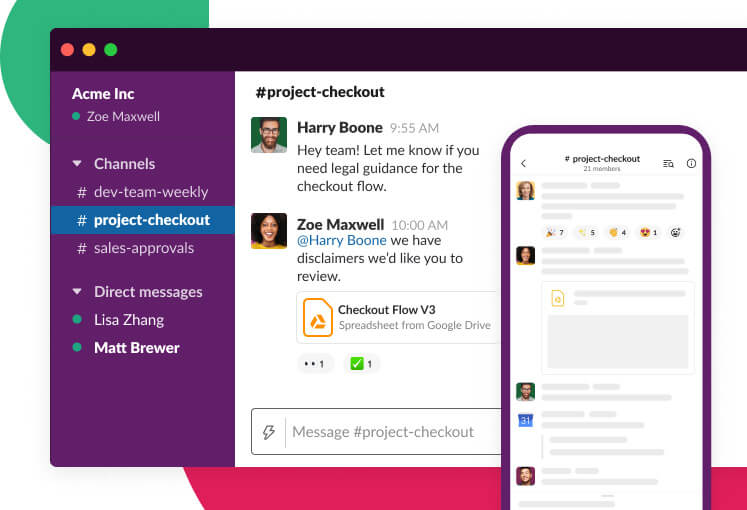 Miscommunication is a common struggle between team members. Slack minimizes this from happening with its revolutionary tool for archiving messages and all types of communications. What makes it so useful is that it can also be integrated with other productivity tools so you can streamline your work and automate all routine actions and communications.
Trello: Task Management Tool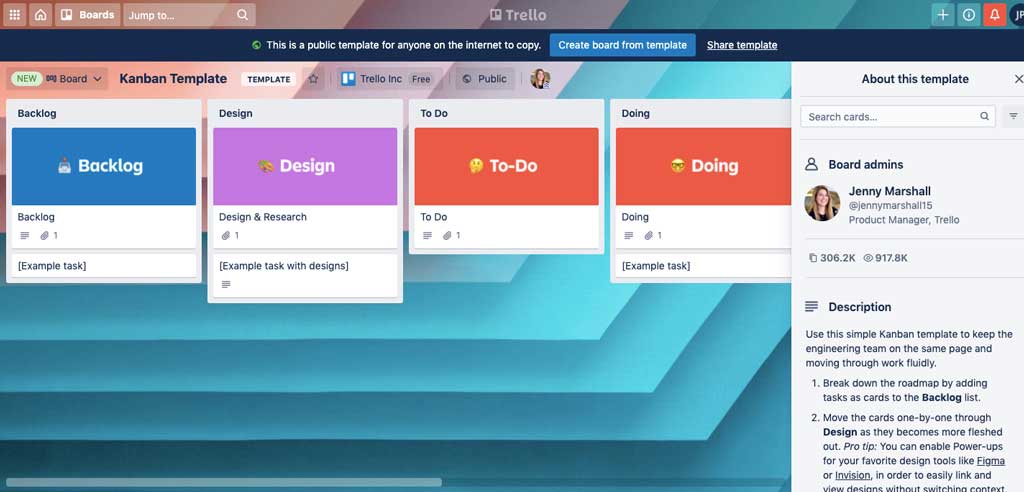 This tool is a whole new level of to-do lists for your team. There are plenty of features that guide the team to set up and customize workflows for new projects. Customize your own boards, lists, and task cards so you can effectively delegate work to everyone on the team.
Tools for content
Content has always been the king in today's marketing standards. This is why you must do everything in your power to make sure that you are able to offer quality and relevant content all the time. Here are two tools that will let you do that:
Text Blaze: Content Management & Text Templates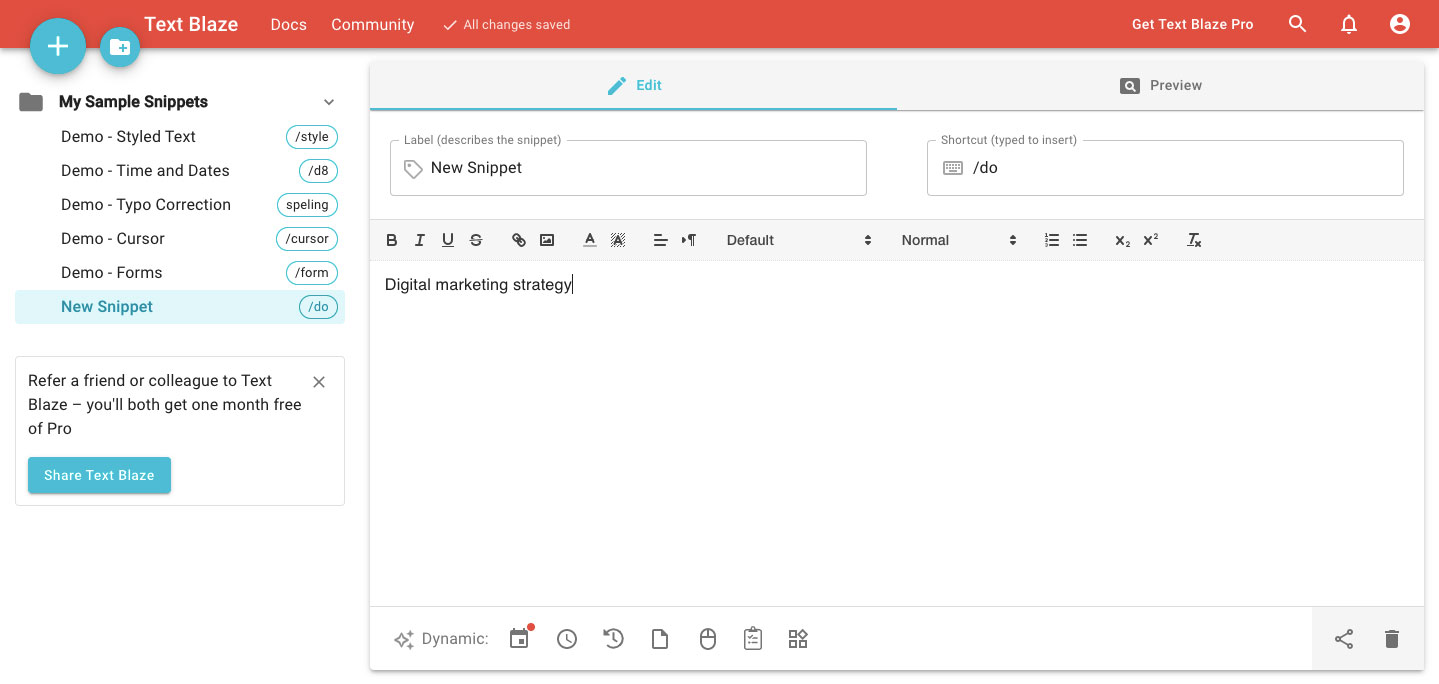 Aside from giving what the customers need, you must also be able to do it fast. This becomes a problem when creating content. Usually, errors crop up when you are hurrying up to finish by the deadline. When it comes to giving information, it is necessary that you have to be swift and accurate at the same time.
Text Blaze is a versatile tool that helps in two ways. First, it lets you speed type so you can get more done in less time. And second, it helps eliminate mistakes by providing dynamic templates that can be customized.
The advantage of using Text Blaze is that it would reduce the need to open a lot of tools to check your content. All you need to do is create templates, forms, and formulas so that repeatable processes are done consistently and in a fast manner.
Try this tool for free or unlock all of its useful features for a premium subscription that starts at $2.99 a month.
Baseline: Content Creation Automation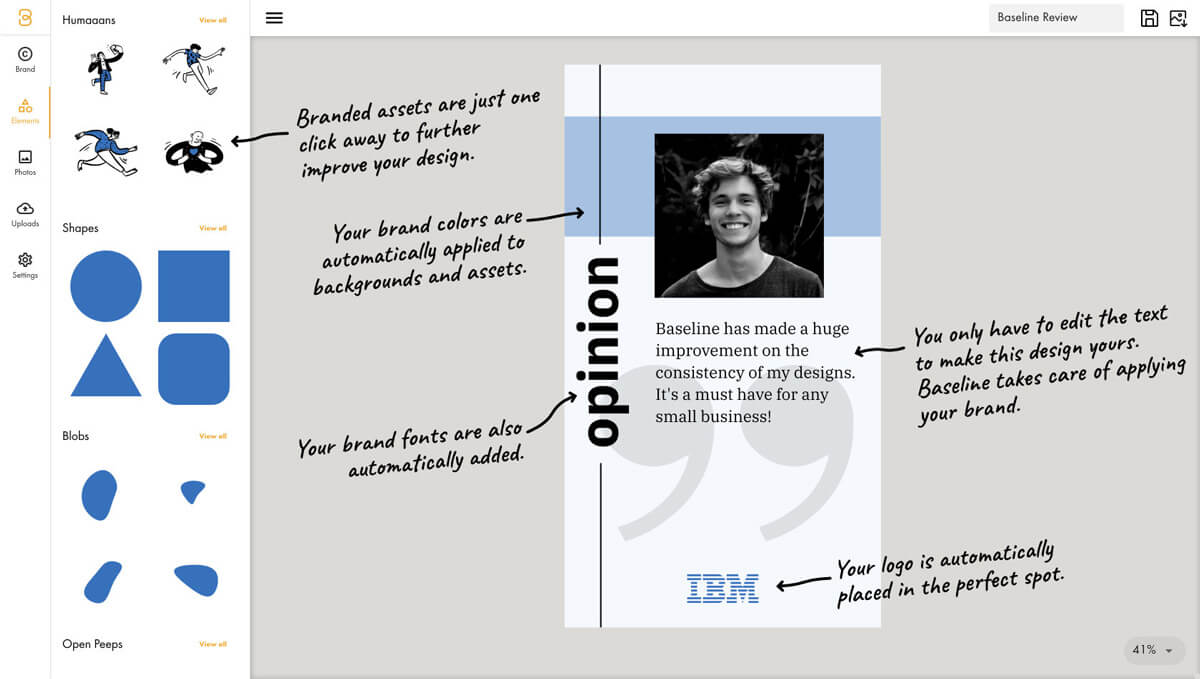 Smoothly creates consistent designs by automating content creation using Baseline.
This tool lets you create on-brand designs to boost your presence. It has hundreds of branded assets that you can edit and customize to fit your own brand. with its selection of cool effects and stock photos, you can enhance branded assets to make it your own design.
Premium plans for you to access and explore all of Baseline's assets starts at $12 a month.
Taggbox: The Most Trusted UGC Platform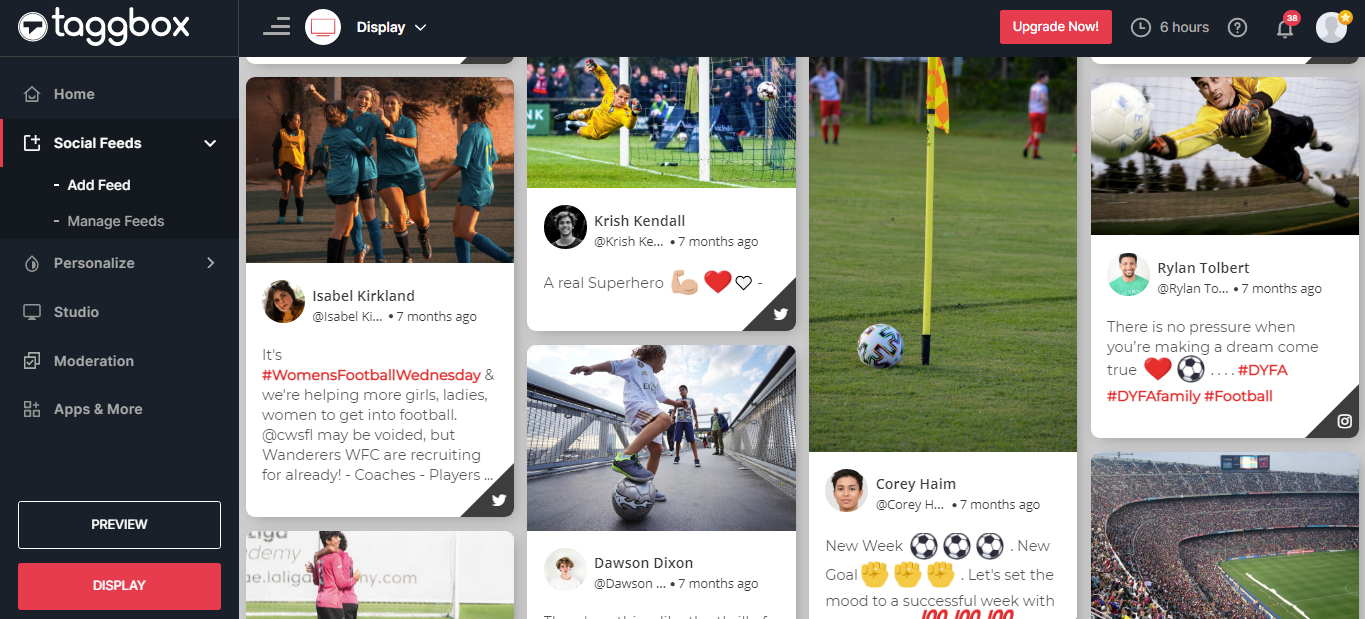 Taggbox is a result-driven UGC platform that has helped more than 10000 brands globally to counter their marketing setbacks with the most authentic form of content UGC. Brands can aggregate content, moderate, customize and publish it on multiple marketing touchpoints(webpages, digital screens, print media, social ads, eCommerce) to make your brand stand-out!
Their suite of products are designed to provide enterprise-ready solutions catering to any UGC marketing need that the brand might have! Using Taggbox Widget, you can collect content from 15+ social media platforms. Filter out irrelevant content from the relevant ones using its automated moderation panel and add customizations from amongst its 11+ high-end themes to enhance the look and feel of the feed.
What's the best part about it is the analytics feature provided by the platform, using which you can derive detailed insights about your performance and make adjustments to the content as and when needed.
Tools for video creation and editing
Video content is very popular these days because they are effective as marketing materials. Easily create and edit your own video content with this SaaS tool:
Pixteller: Video and Animation Maker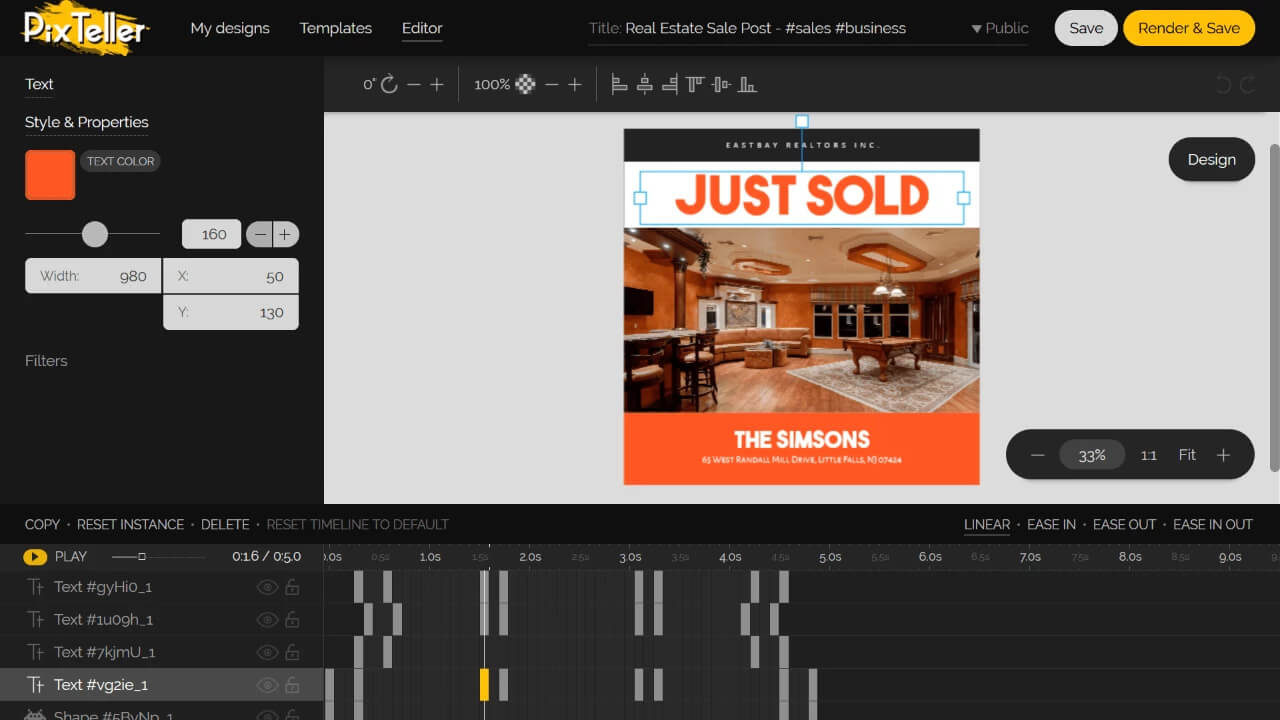 Inspire creativity, promote brand awareness, and bring your ideas to life with video content. Pixteller has all the features that you need to do all these and more. Start creating like a pro and pay only as low as $7.00 a month with Pixteller.
Your Turn…
As an aspiring modern entrepreneur, it is a must to factor in methods that would help lessen the burden of starting a business, especially when bringing it online. SaaS tools lets you work on the technical aspects of branding and marketing without actually getting stressed out of the complicated process.

It is smart to add these brand marketing automation tools to your business because they let you do more with fewer resources. It would allow you to explore all possibilities for your business without losing too much from unnecessary expenses.