5 Ways to Change the Background Image on Your Images
Photographic – or image editing – was previously a field reserved for professionals; Now, however, social networks have led practically any user to "get down to business" with their photos or images. This has also led to more developers making their apps and photo editing programs available to users or making them simpler and easier to use. If this is what we are looking for, we have 5 ways how you can do so.
Changing the background is one of the essential needs of every photographer, designer, marketer, and developer. Good images increase visual impact and changing the background will give it its intended effect.
There are many ways one can change background image. And today, you have at your fingertips a huge variety of capable applications and tools you can use. However, you are not limited to do everything all by yourself so here are more ways to change background from images:
5 Ways to Change Background Image
1. Use Removal.AI to Change Background Image
Removal.AI is an online tool that uses Artificial Intelligence(AI) technology to interpret images and remove the background from its foreground. And has been featured as one of the best background remover tools which was tested and received a lot of positive feedback from many marketing and development professionals.
The best thing about Removal.AI is that our application is continuously improving as it learns and captures process patterns everytime it is used. This means that over time, the removal process accuracy gets better and better.
So how it works? First, upload your image. The AI will generate an image with transparent background in few seconds.
Then, click on the edit red button to change the background image.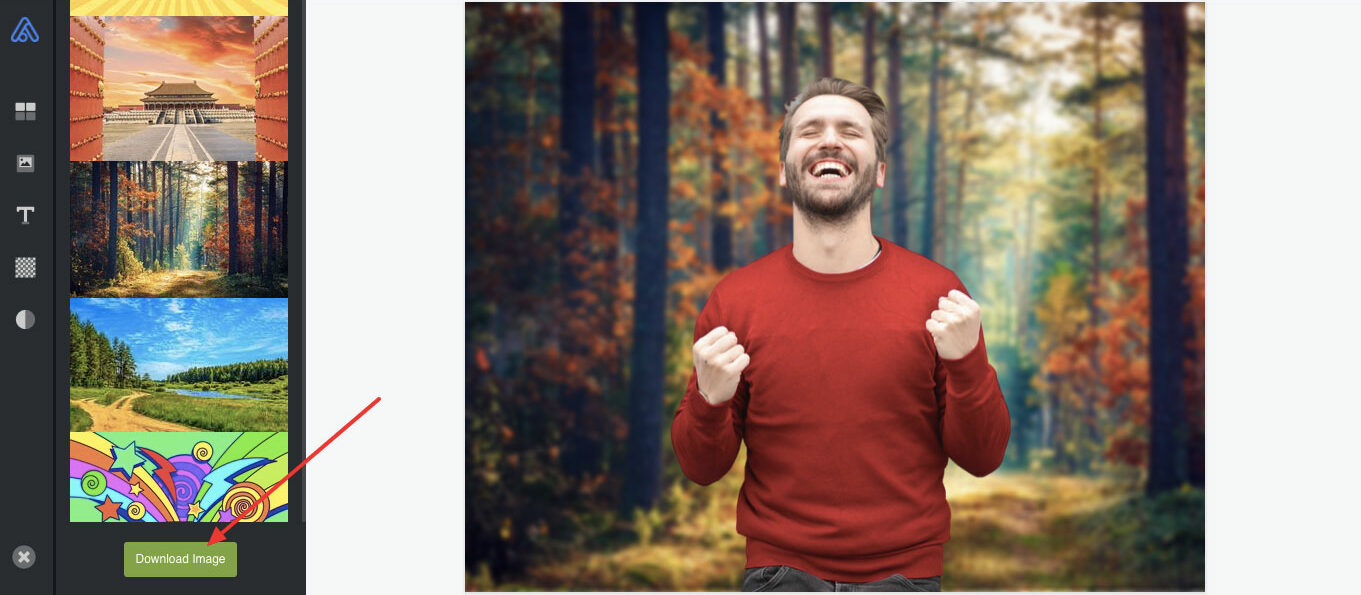 Aside from background removal, Removal.AI has a basic photo editor with color-correction features and background changer. With the basic editor, you can color-correct your images, add texts, and change background of your own choosing.
To use Removal.AI, just drag and drop your image and you will get the desired result in seconds. You can download an image resolution of up to 1500 x 1000 pixels for free.
Removal.AI offers affordable subscription plans that allow users to purchase credits, spend this credit to download high resolution images up to 6250 × 4000 pixels, 1 credit = 1 image.
2. Use a Photo Editing Software
Other than automatic background remover tools, one can use a photo editing software to accomplish background removing and changing tasks. And when it comes to photo editing, processing, and digital retouching, Photoshop is the flagship program. Using Photoshop's pen tool and even magic wand tool, you can remove the background from images and replace it with one of the background images you can get from stock photos or your own.
Using this procedure, you can remove background and change background image using the magic wand tool and change it with another image:
Open your Photoshop software.
Drag or Open (File -> Open) the image you need to edit.
Select the Layer
Select the Magic Wand tool
Adjust the Selection Settings
Make a Background Selection
Refine your selection
Remove the background by simply pressing delete.
Deselect the selection (Ctrl + D).
Save as a .png file.
The magic wand would be the easiest way to remove the background from Photoshop but if you need cleaner, finer edits, you need to use the pen tool instead.
However, depending on the images you need to remove background from. Using Photoshop might take more time and skills to accomplish a background removal task. Also, if a large volume of images needs to be processed, it might not be beneficial if you are a busy person with many other tasks, which leads us to another option:
Before getting quality visuals published on a website or used in marketing campaigns, a series of laborious and time-consuming tasks often need to be done: background removal, image retouching, image resizing, digital defect correction, etc. These operations require specific skills in their implementation and require a good command of image processing tools.
Most businesses are often required to carry out these photo processing operations to develop their business. So it is common for companies to opt for outsourcing the work of their image content, which is particularly profitable given the quality and conformity of the services.
In addition to having the guarantee of a professional job, outsourcing your photo processing work by entrusting it to offshore service providers like Ephotovn will allow you to obtain quality images optimized for the web, and to save money.
4. Hire A Freelancer
Did you know that in 2020, 40% of Americans have been working freelance? This transformation of work would not take place as quickly and continuously if the demand was not there. Employers are increasingly using freelance services to carry out one-off assignments that require specific skills or to help them when internal resources are no longer sufficient.
Freelancers are most probably not as costly as having to employ or outsource professionals to do the tasks for you. They are more flexible, and you can negotiate to hire them for a specific duration of time under an agreed budget. Other than that, freelancers can also bring an outside point of view to the project and new ideas, which can be very valuable to you and your business.
When it comes to quality, however, you might want to check first the portfolio and the capabilities of the freelancer before deciding to hire them. As an employer, you have every right to do so since many of them may not be as expert in the field as you expected.
You can go to freelancing sites such as: Fiverr, Freelancer, Upwork, and SimplyHired to look for photo editing freelancers. If you want to be more critical of one's work before hiring him/her, you can go to sites like Dribbble and Behance and look at the portfolios of these designers and editors.
5. Cut Photos By Hand
How about removing background from a non-digital material? Well for this, we always go back to the basics: you use a pair of scissors or a paper cutter. Besides, this is where the concept of these amazing digital tools come from.
Knowing how to manually cut an image is essential to "edit" a photo or figure, where you only keep a part that you want to work and dispense all or the rest. If you want to do it the old fashioned way, you may print two high quality images, one with the subject, and one with the preferred background of your choice. Manually cut the subject from the image with a pair of scissors, then with a bit of glue, stick the subject onto the image with the preferred background, then take a picture of it with a decent camera. This is a fix that not a lot of professionals would recommend, but you always have the freedom to do so especially if you have the skills arts and crafts skills.
Conclusion
If you want to change background image, crop a photo quickly and expect good results, the free online tools featured are a good choice, but you get even better results with the paid online services. What is most compelling about the tools available online is their high level of user-friendliness, but inevitably you have to hand over your image material for editing and uploading to a server from the Internet. In the case of private photos, the protection of your personal data is therefore not always guaranteed.

When it comes to desktop applications, Photoshop holds up the best. Photoshop has the most convenient tools for cutting objects out of difficult images, for example, when there is little contrast between the object to be cropped and the background. Whatever your choice, we hope we helped you with you with your endeavours.

Removal.AI can process your images in a few seconds. Not only we offer quality cutout results,  you're ensured that all of the photos that are uploaded into our system are deleted after 24 hours for your privacy and security.

Try now for Free!