38 SaaS Statistics That Will Change Your Perspective in 2022
Although Saas products have existed for a while now, many are still confused about what it is and how exactly one can benefit from it. Software as a Service (SaaS) also goes by the term ASP or Application Service Provider services and sometimes as software on demand. This type of  service runs through the Cloud which basically allows the user to access the infrastructure without locally installing it to a device.The main significance of SaaS software to modern businesses is that it delivers services remotely thus making it easier to manage the business using a preferred browser anytime and anywhere.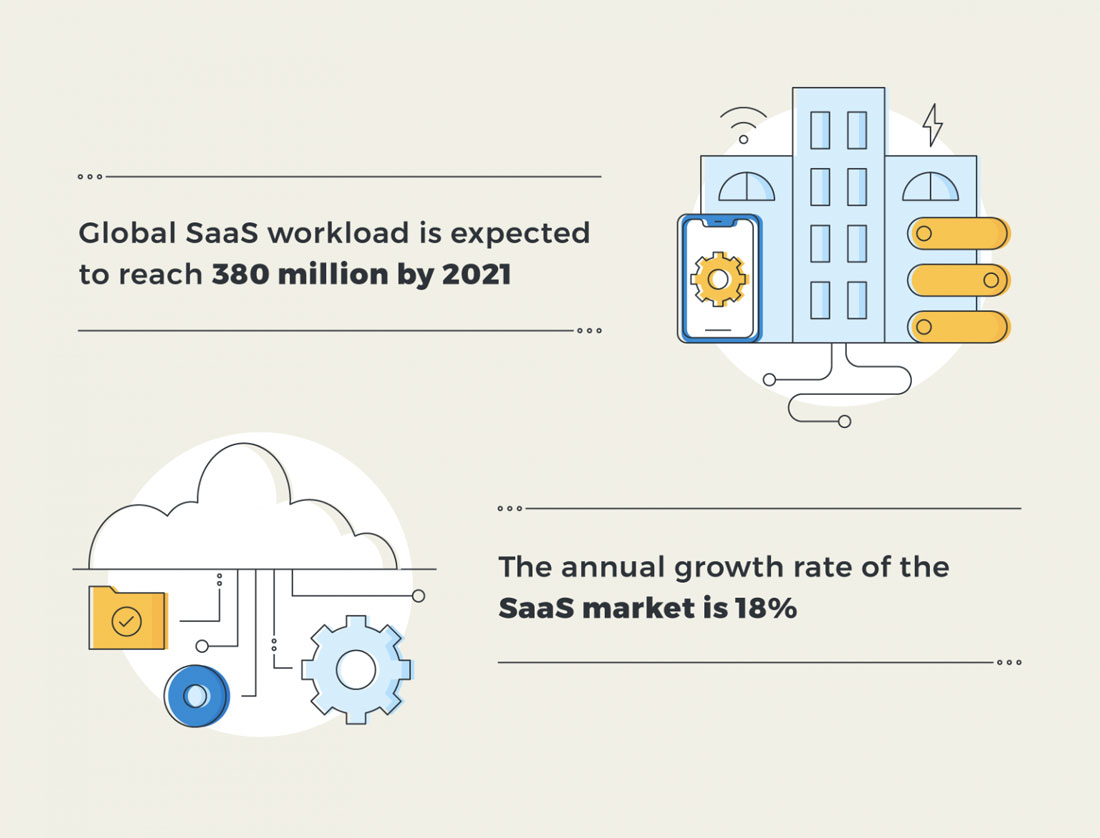 Image Source
Read along if you want to learn more about what SaaS is, its types, and how a SaaS platform can literally be a game changer for online businesses.
What are the types of SaaS?
SaaS products are typically distributed through the internet, giving users access even without a physical media or software installation. Because everything is hosted and maintained centrally by its provider, SaaS software is automatically updated. To better understand what is SaaS, here are its four types that are categorized according to its specific uses:
1. Vertical SaaS solutions
With this type of SaaS, the software is created in order to address specific needs. One example is for websites that offer photo editing services and background removal, like Removal.AI. With Removal.AI, users can use SaaS solutions to enhance photos without having to download a photo editing software. The website itself has a background remover that is powered by AI technology so the user basically has to only upload the picture and the SaaS products will do the rest of the editing.
2. Horizontal SaaS
Compared to Vertical SaaS that is focused on specific niches, Horizontal SaaS caters to a general business need. Accounting software is under this type because different industries can use it.
3. Packaged SaaS products
For businesses that are bent on achieving specific goals, packaged SaaS products are created as an all-in-one solution. It can be a bundle of different SaaS solutions that are designed to boost the marketing and at the same time improve customer satisfaction.
4. Collaborative SaaS applications
With this type of SaaS, the software is made with the purpose of connecting team members to be able to work on a single goal. It makes communication more effective especially when there is a need to collaborate with the documentations or manage a project.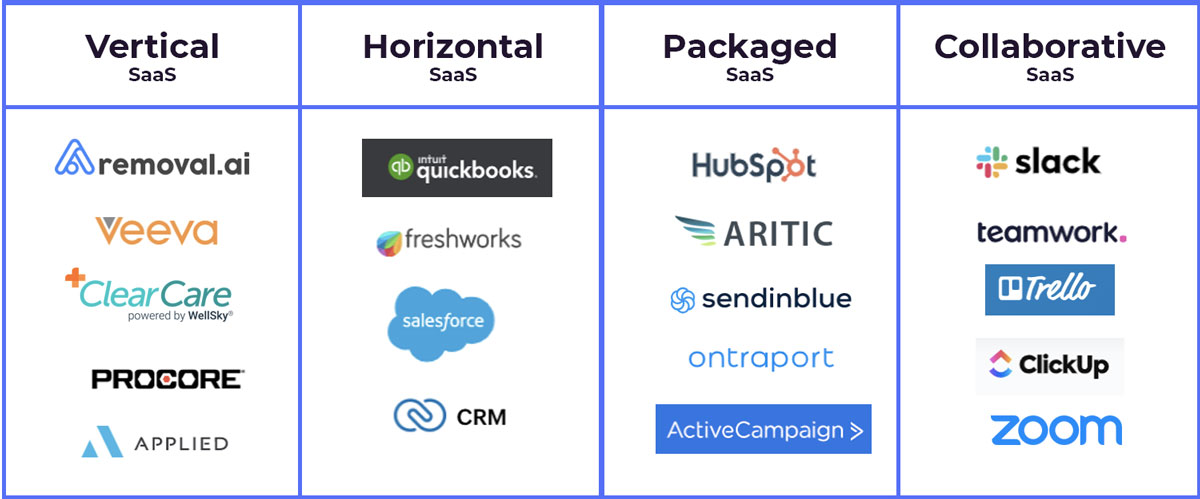 38 SaaS Statistics and Trends
It is valuable to know about performance metrics that can make a significant difference to the success of any business. These SaaS statistics will give you an overview about what is SaaS, the importance of using SaaS solutions, and how it can define business success.
SaaS Growth Statistics
SaaS companies are observed to grow faster compared to companies who do not use SaaS business solutions. These metrics show how SaaS influence a company's growth:
1 Median revenue growth rate in 2015 was 44% and the projected growth rate is at 48% for 2016. (Source)
2 Companies with at least $15MM GAAP revenue in 2015 accounted for 26% who are using SaaS products and had over 40% revenue growth rate and EBITDA margin. 
3 Fast growing SaaS companies are those who are among the $7.5 MM- $15 MM range. (Source) 
4 High-growth companies are more likely to achieve the $1 billion mark in revenues than those who grow less than 20%.
5 The increased revenue growth rate drives market-capitalization gain by at least twice than those companies with revenues of only less than $4 billion. (Source) 
6 SaaS companies use the increasing revenue per employee as a yardstick in measuring the efficiency of the business. 
7 There is a projected growth of $200 billion this year 2020 from 2018's $178 billion for the global public cloud service market. (Source) 
8 The global cloud computing market size (that includes service models like IaaS, PaaS and SaaS) is expected to grow from USD 371.4 billion in 2020 to USD 832.1 billion by 2025. (Source)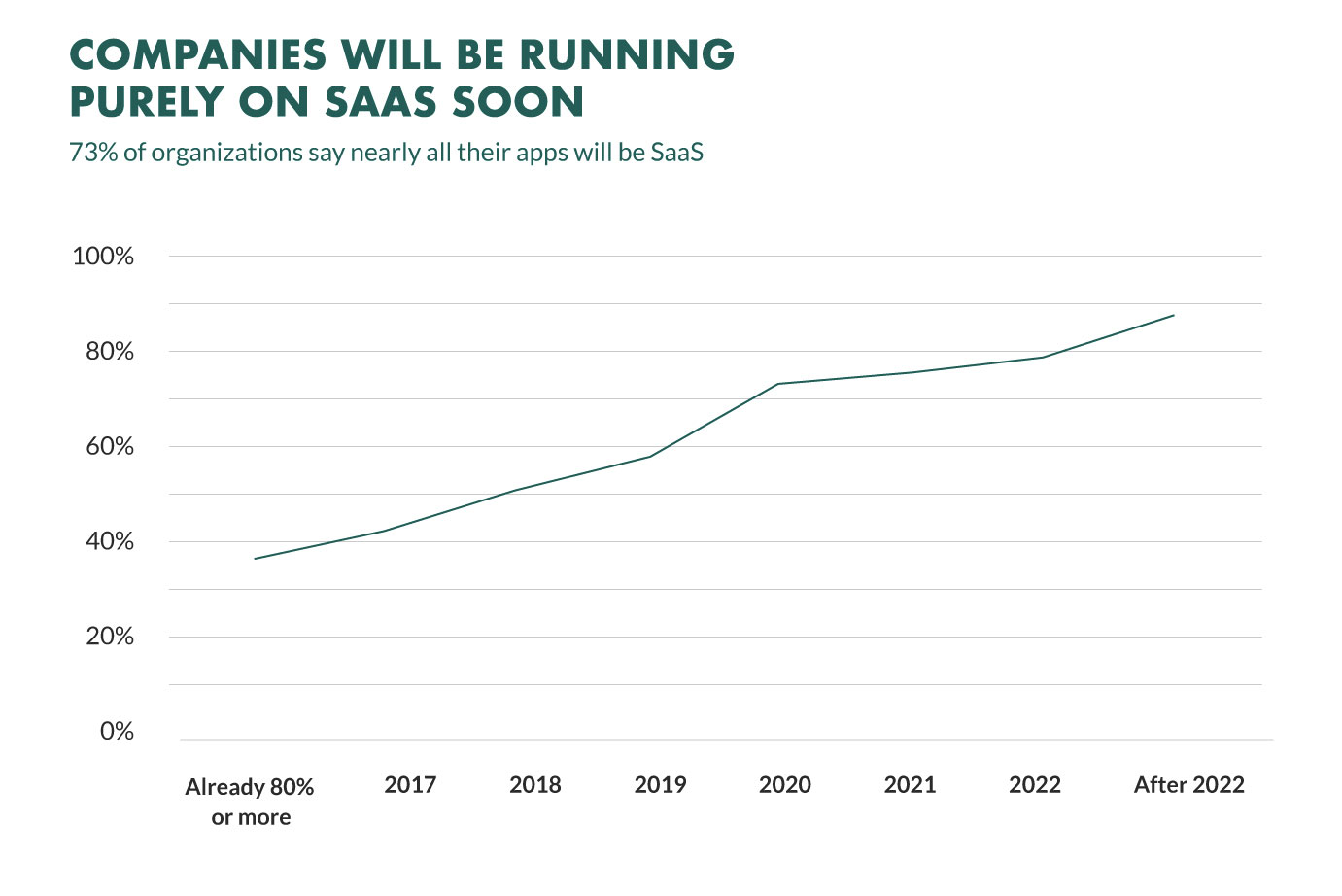 9 73% of organizations are thinking of migrating all apps to SaaS by 2021. (Source) 
10 Vanson Bourne found in a study that a business will grow by up to 19.63% if more workload is transferred to the cloud. (Source) 
SaaS Churn Statistics
Churn rates, or the rate by which customers no longer want to do business, can give you a definitive view of the overall health of business which is why you need to deeply understand these churn metrics:
11 2016 median annual unit churn was 10% for SaaS companies and more than 2/3 has churn rates of 5% or higher. (Source) 
12 A Net Revenue Churn of above 2% per month indicates bad business and can drag the growth rates. (Source) 
13 A large Average Contract Value improves net-revenue churn. (Source)
14 Companies with internet go-to-market strategies have a significant increase from 8% in their 2015 gross dollar churn. (Source)
15 Fast-growing SaaS companies only lose around 3.2% of the revenue due to churn. (Source)
16 The top SaaS companies maintain a monthly revenue churn at only 0.58% or roughly 7% annual revenue churn. (Source)
17 Top SaaS business will have a Dollar Retention Rate of as much as 100% if with a negative churn rate. (Source)
18Best SaaS companies suffer a loss of only $1 out of every $200 monthly revenue with their 5-7% annual revenue churn rate. (Source)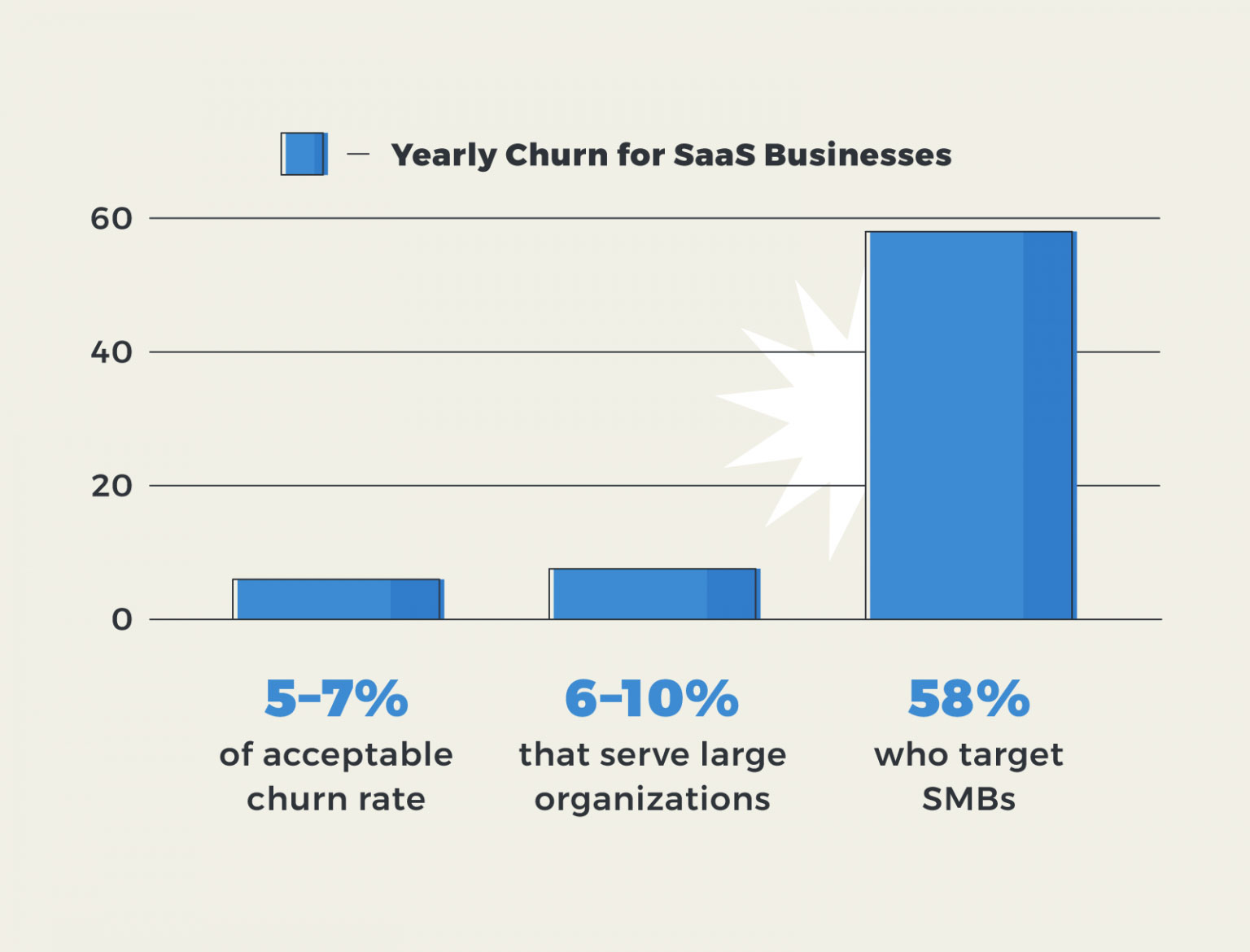 Marketing and Sales SaaS Statistics
Analyzing marketing and sales metrics when using SaaS can let you focus on marketing and sales strategies to stay ahead of the competition.
19 Companies who are spending more for sales and marketing efforts grow faster compared to those who spend less. 
20 Companies that have less than $2.5 MM revenue use inside sales as the major mode of distribution while those that have more than $2.5 MM revenue use field sales. (Source)
21 SaaS companies typically invest 80-120% of their revenue in the first 5 years for sales and SaaS marketing. (Source)
22 65% of the internet sales-driven company's CAC budget is allotted to marketing which shows how reliant they are on marketing. (Source)
23 SaaS companies that are attentive of their enterprise sales deliver higher levels of professional services. 
24 SaaS companies do not only track the number of visitors and the trial and closed deals but also conversion rates and have a goal to improve the numbers.
SaaS Customer and Business Success Stats
Compared to traditional business models, SaaS companies are designed towards achieving customer success. It is the foremost reason why performance metrics are significant since they give an overview on how the business is doing and if it is growing in a sustainable manner.
25 More than 50% of SaaS companies have spent more for customer retention last year. (Source)
26 16% of new Annual Contract Value is generated from upselling to the existing customers. (Source)
27 SaaS companies that have greater than $250k median ACV manage to retain at 3 years or longer almost 25% of their contracts. (Source)
28 Companies that are able to have at least more than 2 years of contracts have the lowest annual unit churn. 
29 Average SaaS companies only need 6 hours to determine an effective pricing strategy. (Source)
30 Charging $500 every month will let you spend up to 12x to acquire a new customer. (Source)
31 Smaller SaaS companies are more likely to have third-party providers for their application delivery while the larger companies have self-managed servers.
Stats that Back SaaS Benefits
Many good things have been said about how SaaS improves a business. These stats will show exactly how this cloud-based technology works like a charm:
32 Cloud-hosted applications have a 99% uptime.  
33 Moving to the cloud reduces IT spending up to 15% and up to 16.7% less for maintenance costs. (Source)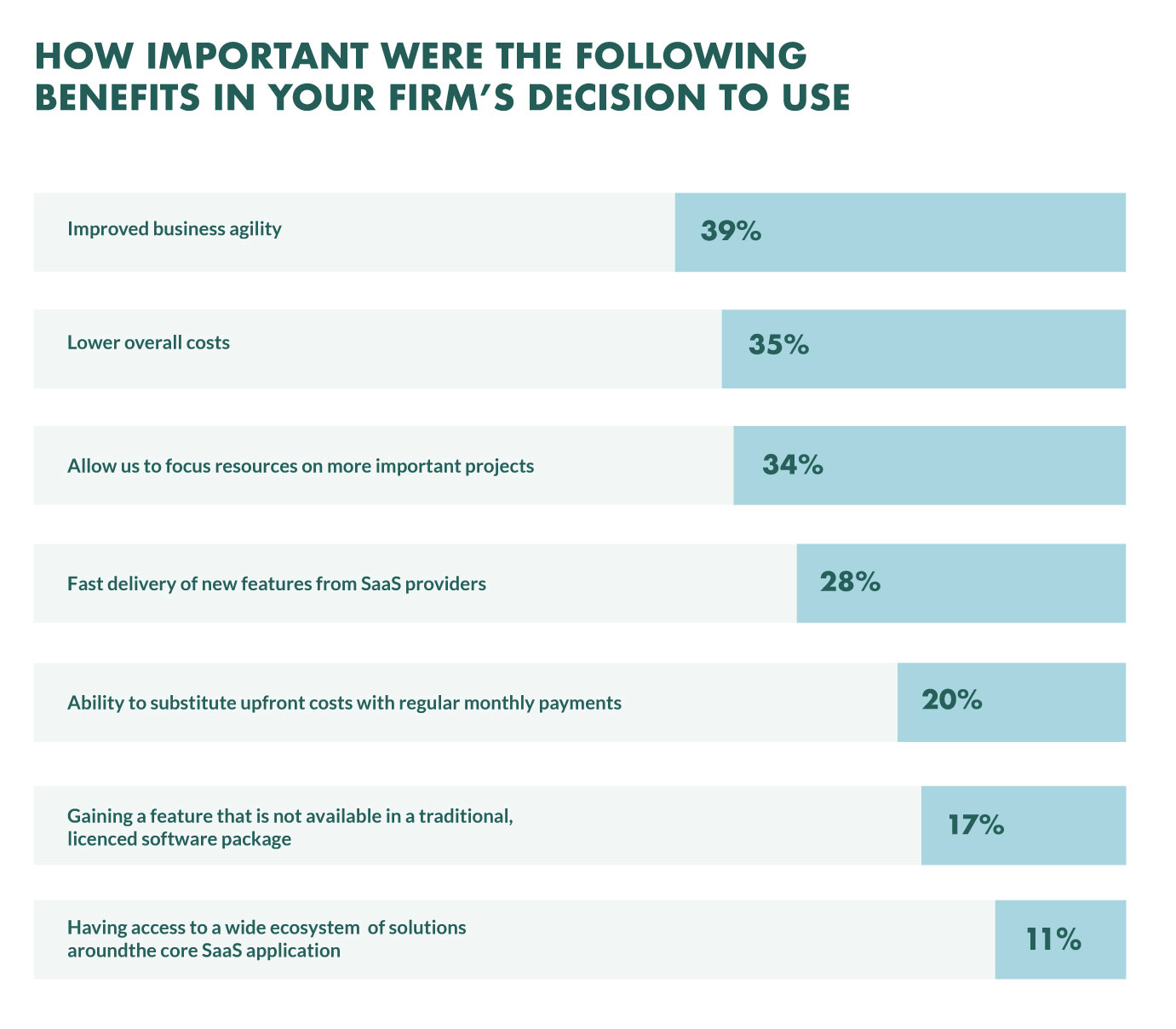 34 66% of IT professionals think that security is the topmost priority for cloud-based enterprise strategy. (Source)
35 SaaS solutions have the highest security features with 95% security failures due to human error and not because of the system. 
36 90% of the organizations that fail to control public cloud use will inappropriately share sensitive data in 2025. 99% of cloud security failures will be the customer's fault in 2025. (Source)
37 SaaS companies have an average of 20% improvement in time to market, showing how SaaS applications can help with faster scalability. (Source)
38 SaaS solutions cost lower for up to 35% of the overall costs when buying and installing software. (Source)

What these SaaS statistics only show is that there are multiple ways where a business can improve and grow with the help of SaaS software. SaaS does not only make the service and products more accessible to the users but it is also a significant factor to generating more sales and improving customer satisfaction. These parameters are far more important because it ultimately paves the way towards attaining business goals.