How to Remove BG from Product Photos?
Editing photos can be a very rewarding task. However, it can be repetitive and downright boring. This is particularly true when you have to remove bg all the time and crop out objects from product images.
A lot of professionals use Photoshop as it is powerful and can be versatile. However, it can be complicated for a lot of people and may take a while to learn. It's a comfort to know that there are tools out there that are easier to learn for hobbyists and efficient businesses.
When choosing from various background remover tools, Removal.AI should be at the top of your list.
What is Removal.AI?
Removal.AI is the long-awaited solution to image background removals as it is efficient as it is powerful. It uses Artificial Intelligence to detect and identify the background from the foreground and then removes the image's background efficiently.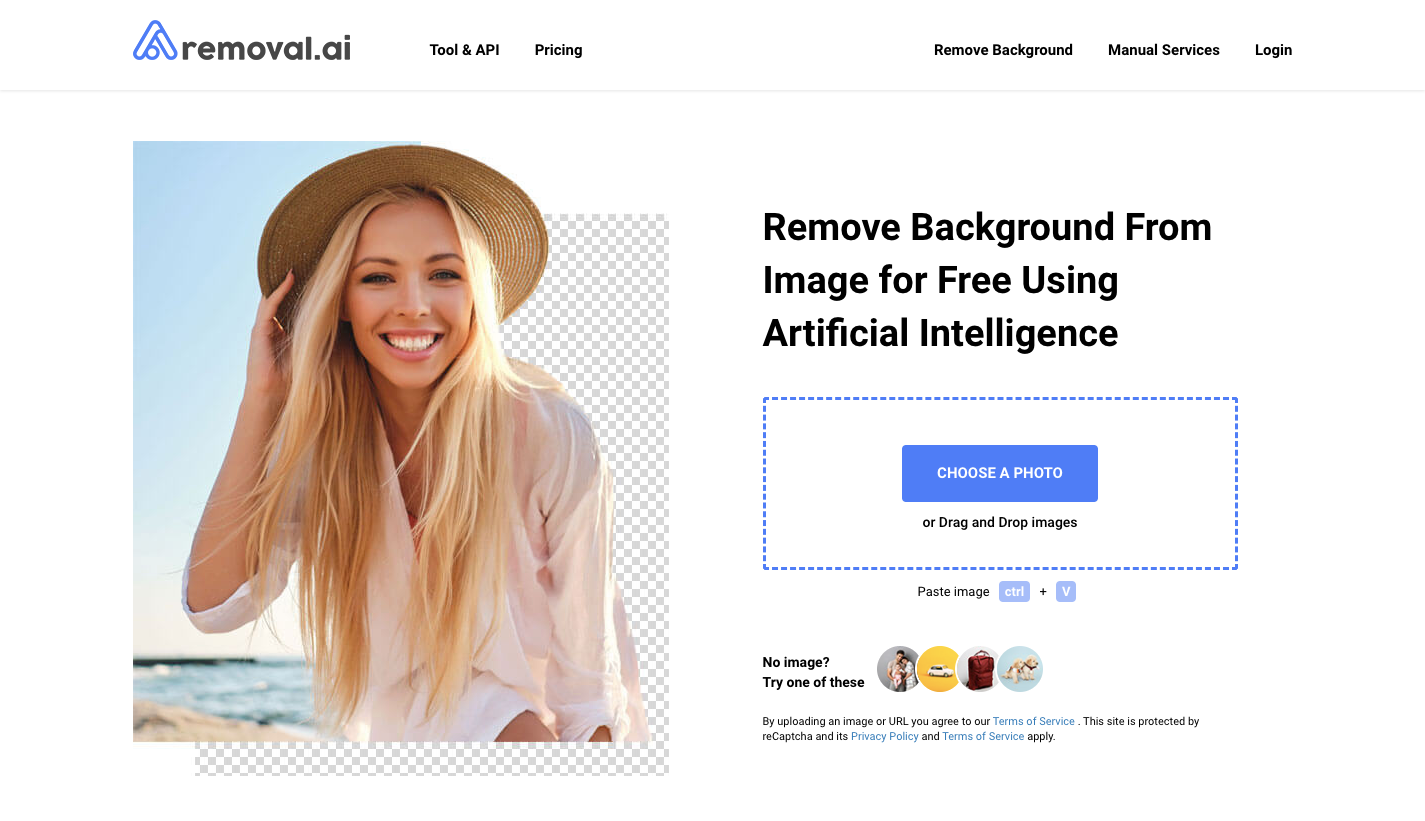 Removal.AI processes and gives you an image with a clean, plain white backgr0und without it looking like an odd cutout. So if you're a beginner and are looking for easy-to-use options, Removal.AI is all you need. Since it is free, you can save a lot of money and time as everything can be achieved in a few clicks.
How to Remove BG from Product Photos using Removal.AI?
Here's the step-by-step instruction on how to remove product backgrounds with Removal.AI in no time:
Step 1. Upload or drag-and-drop your product photo.

Step 2. Wait for Removal.AI to process the image for a few seconds.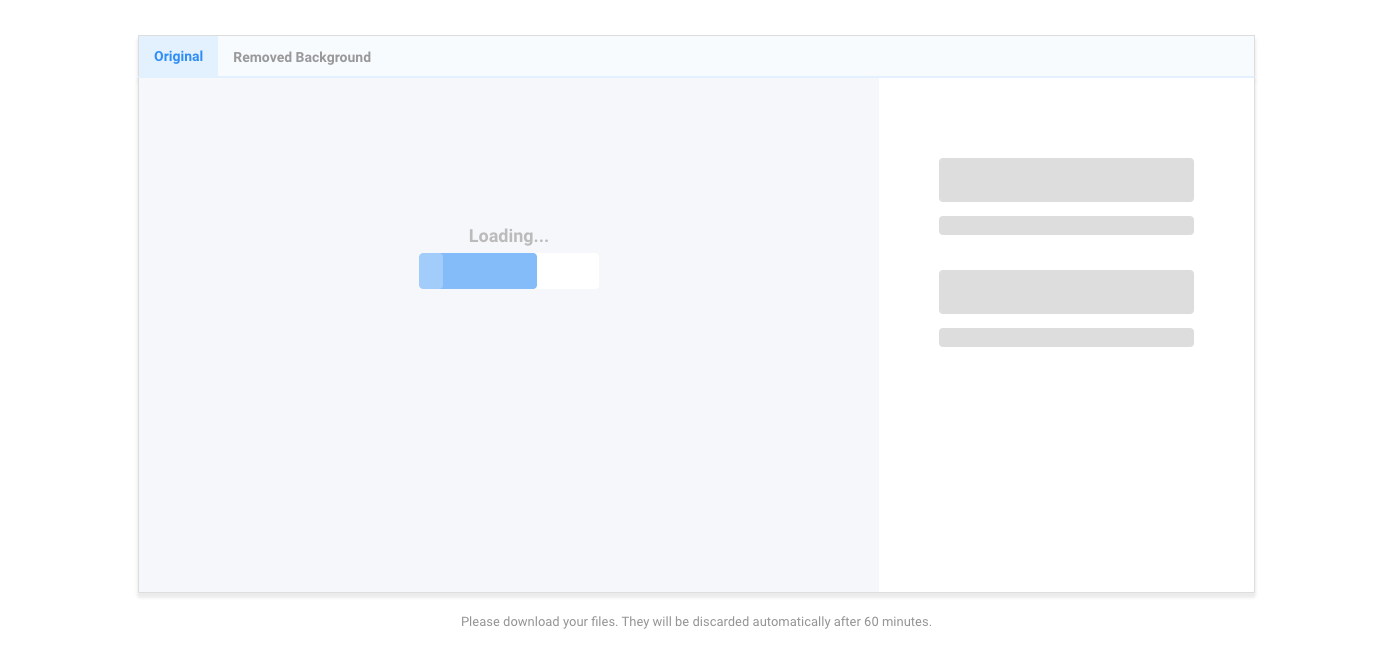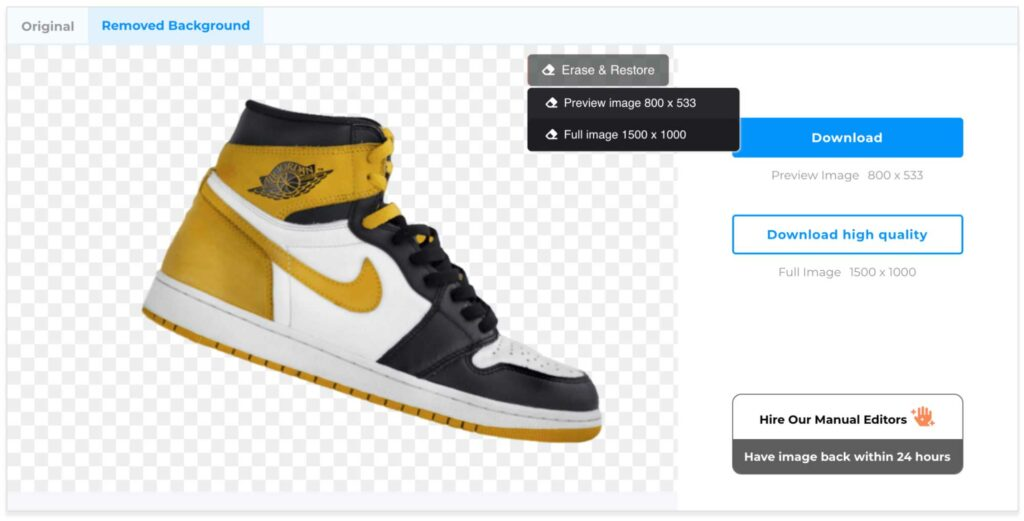 Removal.AI is a very fast tool when it comes to processing all your images.
The Benefits of Using Removal.AI Background Remover Tool
Here are the reasons why you should use Removal.AI
It uses advanced Artificial Intelligence(AI) and Machine Learning(ML).

Absolutely free and can be used by anyone.

Photos uploaded in the tool will be removed completely after a few hours for your privacy 

High-quality and speedy results

Highest resolution free preview images up to 0.25 megapixel or 1500px 

It's very easy to use in three simple steps.
Alternative: Photoshop
Adobe Photoshop is widely used by a lot of people, professionals, and amateurs alike. It is the leading photo editing software that is packed with a lot of powerful features.
One of the major advantages of using Adobe Photoshop is the availability of an extensive set of tools that can be used for photo editing. Photoshop gives its users control over image manipulation and editing. It is easy to use and learn and it offers benefits to users of all skill levels. 
To know how to use Photoshop, you always can learn from many resources and tutorials that you can find on the internet. 
Alternative: Remove BG
One alternative to crop photos or remove backgrounds regularly is using remove bg. This site can also automatically crop portrait photos in less than 5 seconds.
Cropping photos is a technical and complex activity. If it's about the hair, it can quickly take hours for a series of photos. Automatic solutions have not been very effective until now. With remove bg, cutting out the subject becomes much faster.
So How Do You Use Remove BG?
Remove BG can be used online directly. This means there is no software to install, and you can use it anywhere and on different devices.
Just go to the remove bg site and upload the photo you want to crop by clicking on the prominent blue button. It is also possible to enter a URL if the photo is not stored on your hard drive.
To sum it all up, using this tool to remove bg is:
Totally Free and is for everyone

It's automatic, so it can save you time and work

It is compatible with the workflow in your software due to the many plugins and tools.

This tool was designed for all kinds of users and their purposes

It keeps the original quality of the image

Only takes 5 seconds to work its magic
In ECommerce, You Need a Fast, Effective Background Remover Tool
Background removal tools are very useful for removing the background of an image representing a product or an illustration with simple shapes, especially if you're running an online business.
However, they quickly reach their limits when it comes to cropping a more abstract image or for complex graphic work. This is why it is better to call in a professional for all your graphic needs, whether it is a logo, a graphic charter, photographs.

But it is not to say that these tools won't save your life. Indeed, in the professional world, experts are always the best solution, but that doesn't mean that these tools can be the solution to an immediate problem or even a big one that's been bugging you for weeks.

Want to start your own eCommerce store? Read our article about How to Start A Successful Online Shoe Retail Store.