Tools to Remove Product Background for Shopify
Running a Shopify eCommerce website requires impeccable quality product photos. Indeed, it is essential to have spectacular visual content to make your product catalog look more appealing.
One of the best ways to improve your Shopify product photos is to place them on a plain white background or any solid background. Such background will keep your products looking clean, and at the same time, still looking attractive for the shop visitors to see.
Read More: Plain White Background Alternatives: Be Creative With Your Product Photos
Instantly Remove and Replace Background from ECommerce Product Images
Investing in tools that help optimize and remove background from your eCommerce product images comes with several advantages, you can:
SAVE TIME from removing the product background and replacing it with a new one.
SAVE MONEY from outsourcing professional editors and purchasing expensive image post-processing tools.
SAVE EFFORT from doing the background removal yourself and,
OPTIMIZE YOUR TASKS by integrating the tool into your workflow
You don't need to be an expert to use a background remover tool for eCommerce. You can easily achieve satisfactory results just by uploading your images and waiting for the tool to get it done.
5 Tools to Remove Product Background for Shopify
Removal.AI is a free background remover tool that is efficient in automatically removing backgrounds from any photo. It uses the power of Artificial Intelligence to detect and identify the foreground from the background. Removal.AI is also a fast tool that can process images in seconds.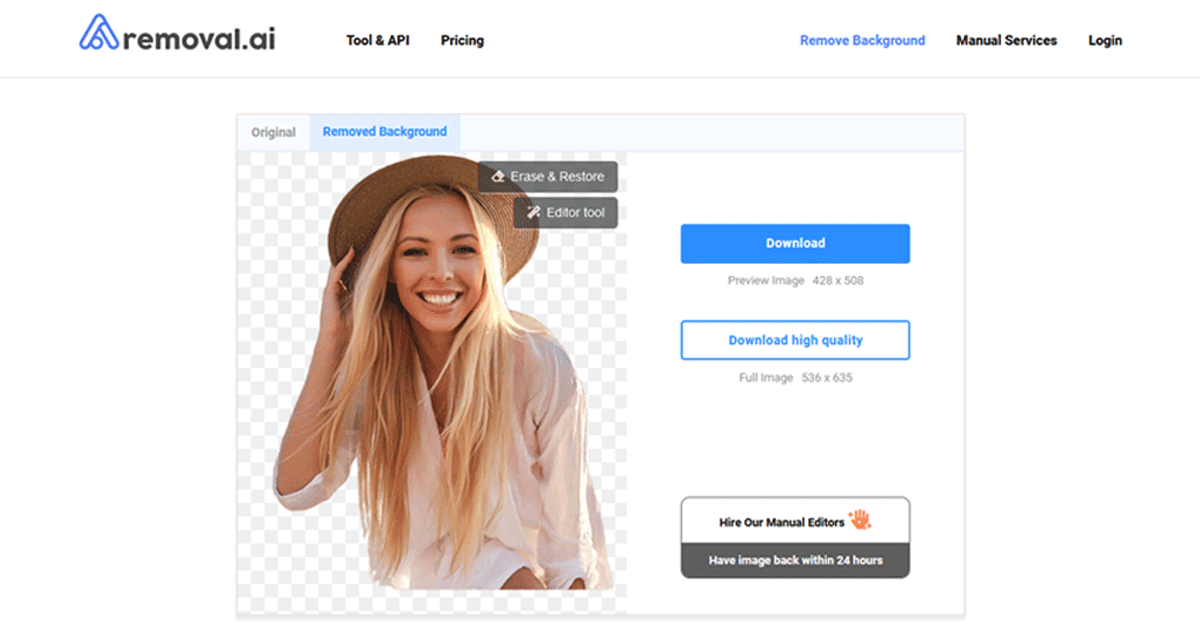 Removal.AI also has a bulk background remover tool that can be downloaded and used to remove background from hundreds to thousands of images at once. Cool, right? This is the perfect tool for eCommerce images. With just a few clicks, you can instantly achieve desirable results that are perfect for your product image listings.
Watch: Tutorials on How to Use Removal.AI Bulk Background Remover Tool
Removal.AI also comes with various exceptional features which are fully customizable depending on your needs. You can edit your photos by adding text and effects, enhancing color, and making any other adjustments related to your desired output. This innovative AI technology is user-friendly and less complicated to use. All you have to do is just drag and drop your photos, and everything follows. It will not damage the quality of your photos. Hence it will be improved while removing everything in the backdrop.
You can enjoy the free version with a limitless number of low-resolution images and a one-credit limit per user for high-resolution photos. You can avail of their monthly subscriptions that cost $0.07 per image or the lifetime subscription for $0.45.
Adobe Photoshop has been a popular image editing software for graphic designers. Its features vary from full-featured editing of several photos to creating complex digital paintings and drawings that look sophisticating and real. It has become fundamental in diverse industries, including web designing, publishing, advertising, film, and many more. As computers and digital photography technology continuously grew, so did the demand for Photoshop. As a result of its popularity, e-commerce businesses have sprung up to provide Photoshop add-ons.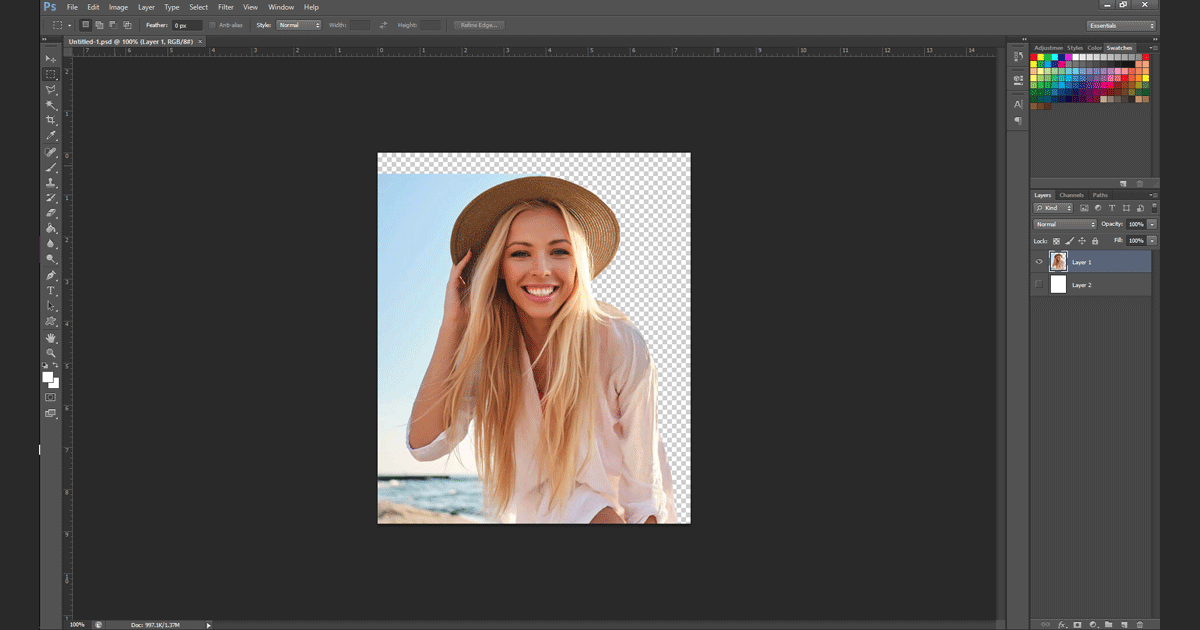 It offers features that give users greater control over their digital images. It paves the way to a new era of editing that allows the user to test a wide range of editing strategies without altering the original picture.
Another feature includes removing product backgrounds which appear great if you want to get clean edges on your subject. You can choose from its array of tools and colors to allow its users more artistry. The Quick Selection Tool will and Background Eraser tools both work in removing product backgrounds in images.
You can be creative as possible in utilizing this background remover for e-commerce. Because it will provide everything that you will need to create the images you want, combining speed and precision. Yes, you can use these options for free but with lighter features. However, you can enjoy its full features if you avail of the subscription. Hence, giving you all the power a professional graphic designer needs.
Cutout Pro is an online editing platform that enables its users to utilize various photo-editing methods. It has a background removal feature that instantly processes batch images. It also allows you to change the background of your photo right after you have removed it. You can play with your product display background by customizing it based on your preference. You can have your own choice of backdrop, be it hand-drawn or grabbed photos and color background as well. It's a great background remover for your Shopify product listings!
Aside from editing images and videos, you can also do face cutouts for further editing. You can remove unwanted details by eliminating parts of the photos you would like to repair or improve.
Access this free editing tool by signing up your email address, and you're good to go. It comes with one credit which means you get one photo edit. It will only cost you $5 to avail of its subscription plan, including 40 credits per month.
Remove.BG is a background removal tool primarily built to make the usual photo editing workflows faster than the usual manner and less complicated for its users. It is an AI technology that only works on photos of humans for the time being. And just like any other background removal app, it works in quickly removing the background of an image without any editing hassle required. Clean up your photos to fulfill the image specification prerequisite for your product listings.
Turn your e-commerce photos into something by creating/clearing photo backgrounds in just seconds with a single click. Learn to remove unnecessary objects from your product image that will puzzle the attention of your potential customers. Remove.BG will help you level up image capturing efficiency while lowering your data preparation cost. It will surely end up increasing your sales and having more customer purchases. Start integrating it into your workflow and see it for yourself.
Clipping Magic Auto-Clip Background Remover is a fully automatic AI that incorporates all the valuable training data from real-world usage on actual images. It can amazingly handle so much more photo editing and background removal specifications more seamlessly. As it continually been exposed to more and more photos, it continuously improves. Hence, giving users precise clipping and cutouts. It offers something different like touch-ups, photo-straightening, and perfectly framed results.
It lets you automatically separate hair from clean and distinct backgrounds. This tool can provide the best-in-class real-time hair background removal that is fully editable, and with its background removal feature, you can clear out the background from your images right away whenever you need it. You are directly in control over a professionally satisfying result with minimal errors when subjected to real-world images.
Clipping Magic makes it an even easier task to handle the edge between the foreground and mainly the background. Your perfect clip-out photo will go along over a white background or with a completely different color.
What Types of Product Photos Can Removal.AI Background Remover Process?
1. Products With Hair or Fur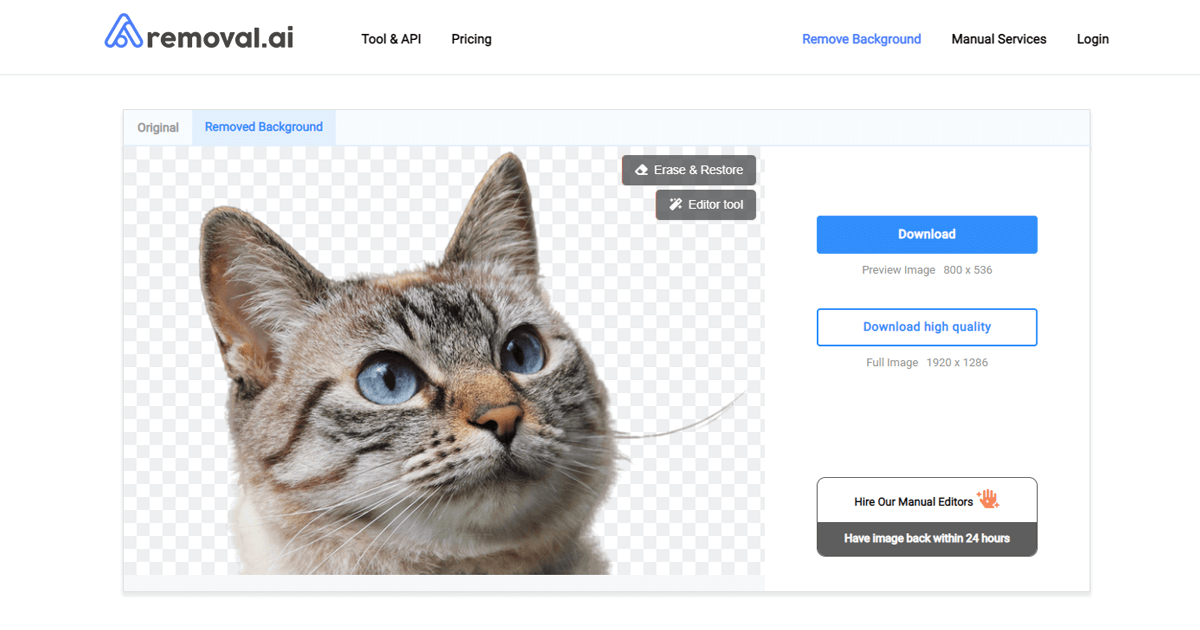 Editing products with hair or fur is one of the most complicated things because it requires a realistic result. Removal.AI can remove product background with hair or fur precisely so the results look natural One must be careful since the object's edges can vary widely in how sharp they appear. You don't have to worry about this because Removal.AI Background remover can effortlessly do the job that will give you an ideal result.
2. Furniture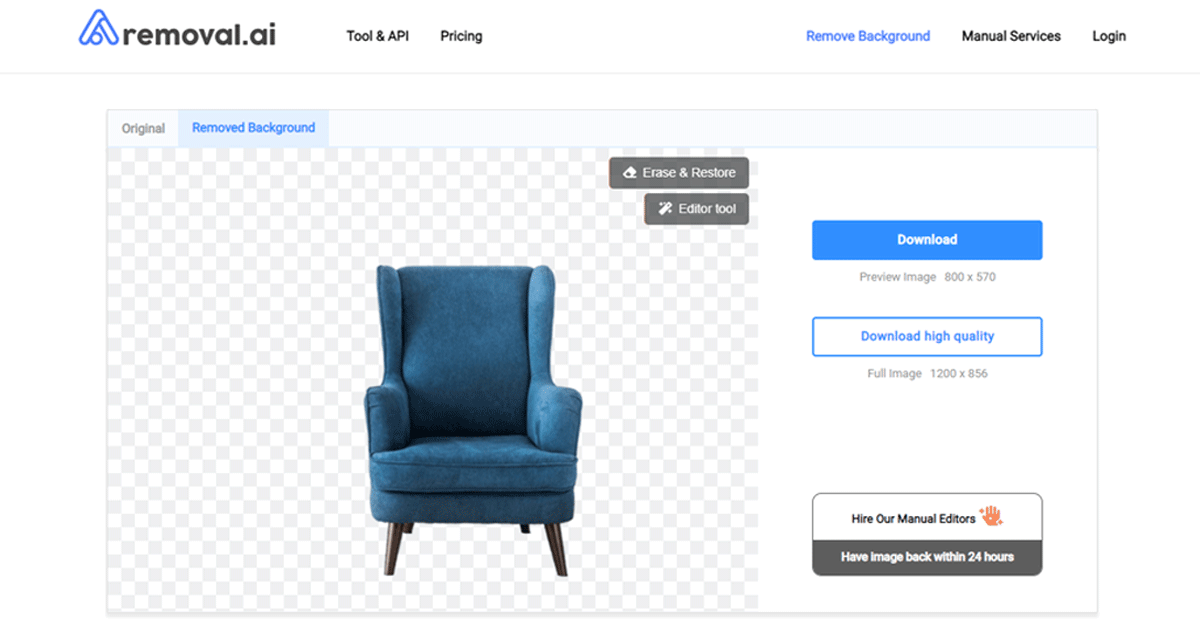 Ecommerce companies use image background removal services to isolate certain products like furniture and get rid of distractions that often appear along with the whole picture. It is ideal to have a clean and simple image that helps emphasize the main subject once its position is in the preferred product background. Removal.AI creates a consistent look for all product photos available on the site. It brings out a uniform pattern that can help consumers purchase your products.
3. Cosmetics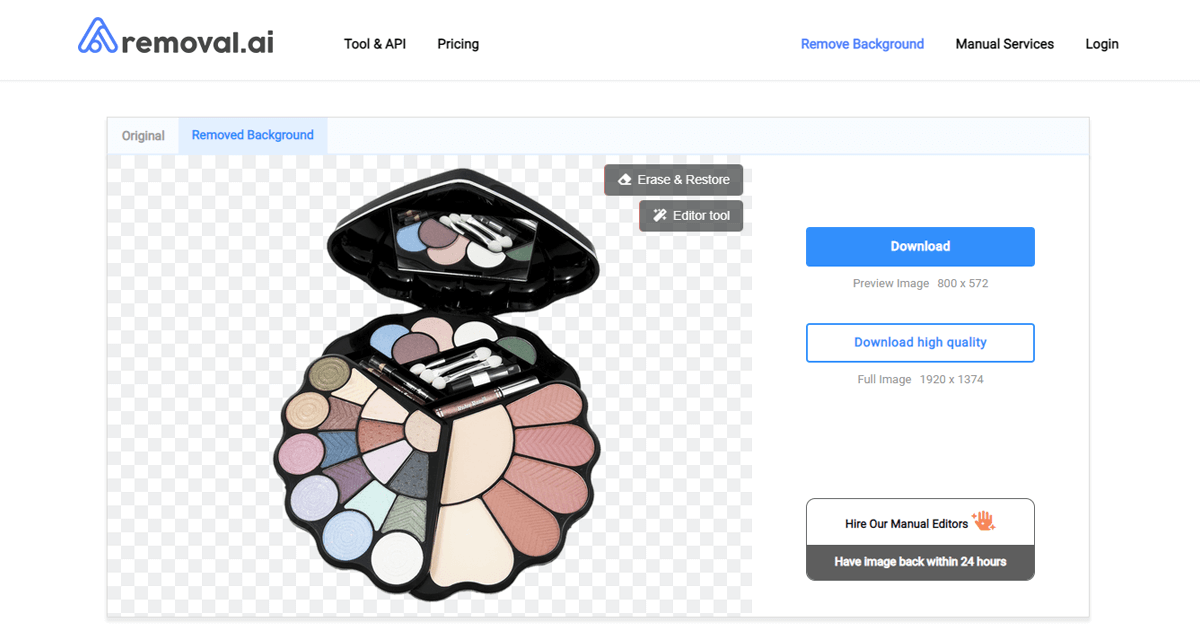 Cosmetics advertising has experienced a remarkable shift from physical stores to going online. The pandemic
There are several free background removal tools that you can use instantly to create the best product image listings. Let AI do the job in a much lesser time and less complicated way. Well, it will certainly allow you to work the details to your heart's delight.
did not stop the rise of the beauty industry. Entrepreneurs have taken a leap of faith in using social media as digital channels to entice more customers to prioritize their products. The need for a reliable and flexible photo-editing tool makes Removal. AI is a preferable choice to enhance the quality of online product listings. Digital marketers must think of a way to digitally sell their products more creatively.
4. Food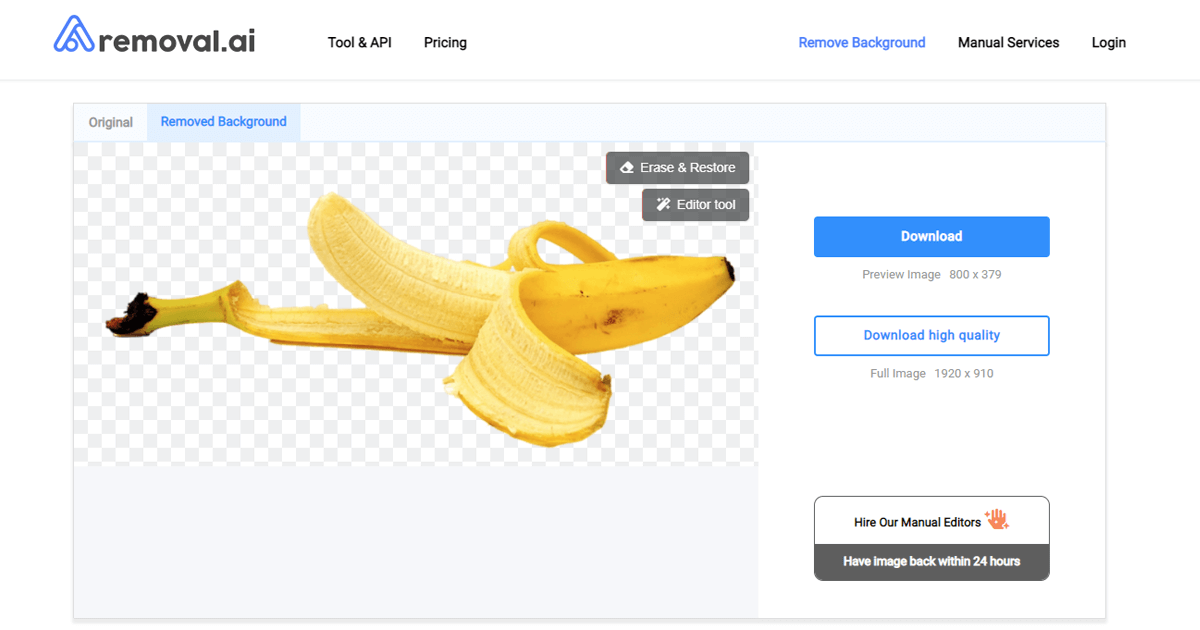 Food photography is essential in creating impact in one's marketing approach. Visual marketing helps people decide and influence their purchasing decisions, especially in buying a dish online. They would likely purchase something based on how it looks in the picture. Removal.AI helps you create mouth-watering photos to trigger visual hunger and draw the attention of the buyers. Let your product images communicate for themselves.
5. Apparel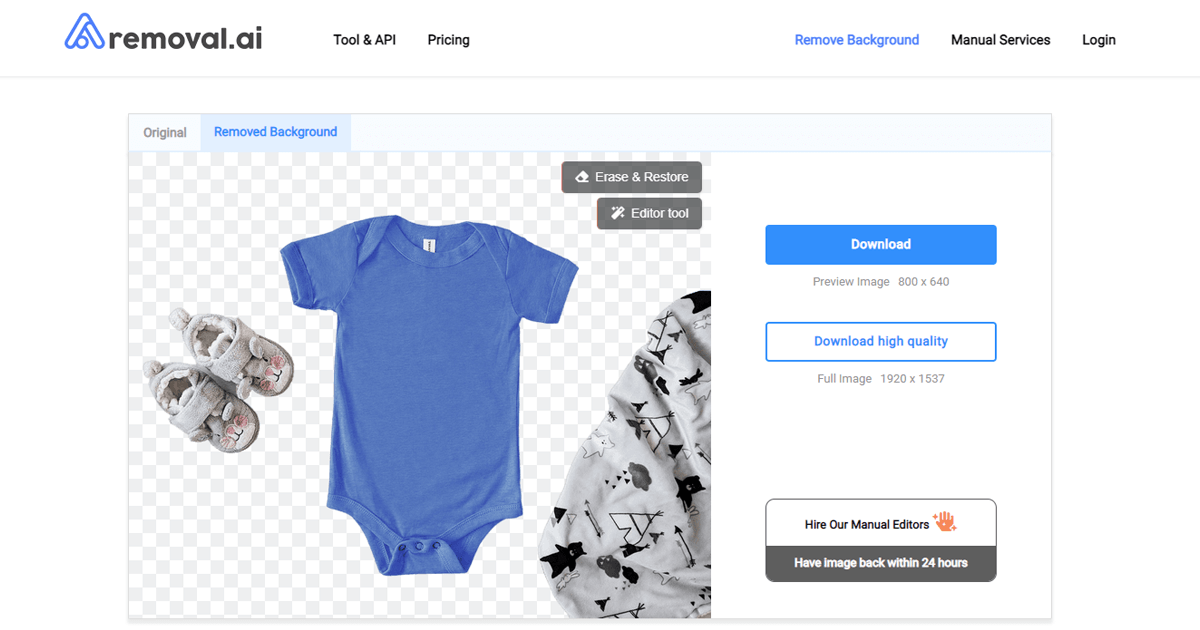 Removal.AI is one of the most valued photo editing services that you can maximize in creating your product listings for your eCommerce site. Through this platform, people cannot touch and look at the products closely, so you must present your product photos in such a way that will keep them interested. The images of your products require a good deal of editing you can achieve and adjust the color tone or unnecessary objects in the photos with the assistance of Removal.Ai.
Remove Product Background For Shopify With Removal.AI
Start creating the perfect image for your Shopify store products with less hassle and more achievable results from the beginning of the process to post-production. With just a few clicks, you can optimize your Shopify image, which will give your product an authentic look. It will surely add extraordinary features and remarkable attributes leading to more customer sales.

Removing Product Background using Removal.AI will create the perfect image for your Shopify store products. Turn your product photos into stunning ones, helping you save money and time in the best possible way. What a great deal!

Remove product background with Removal.AI! Sign-up to get 1 FREE credit!

Get Free Credit