41 ECommerce Statistics for Your Online Business in 2022
E-commerce is any of the various transactions that are conducted online, such as online shopping, online auctions, internet banking, online ticketing, and more. It is the fastest growing retail market mainly because of the influence of smartphones and faster internet technology.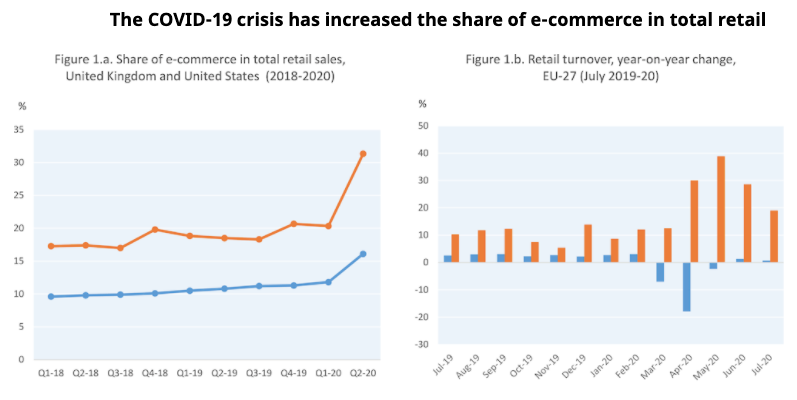 The
COVID-19 crisis
has increased the share of e-commerce in total retailE-commerce has become one of the essentials during the worldwide pandemic brought about by the COVID-19 virus. About
62% of consumers buy online
more than before the pandemic. With the modern ways to shop, it has given many people an option to conveniently access goods at the comfort of their homes. This has significantly changed the business world with many industries shifting to online business models.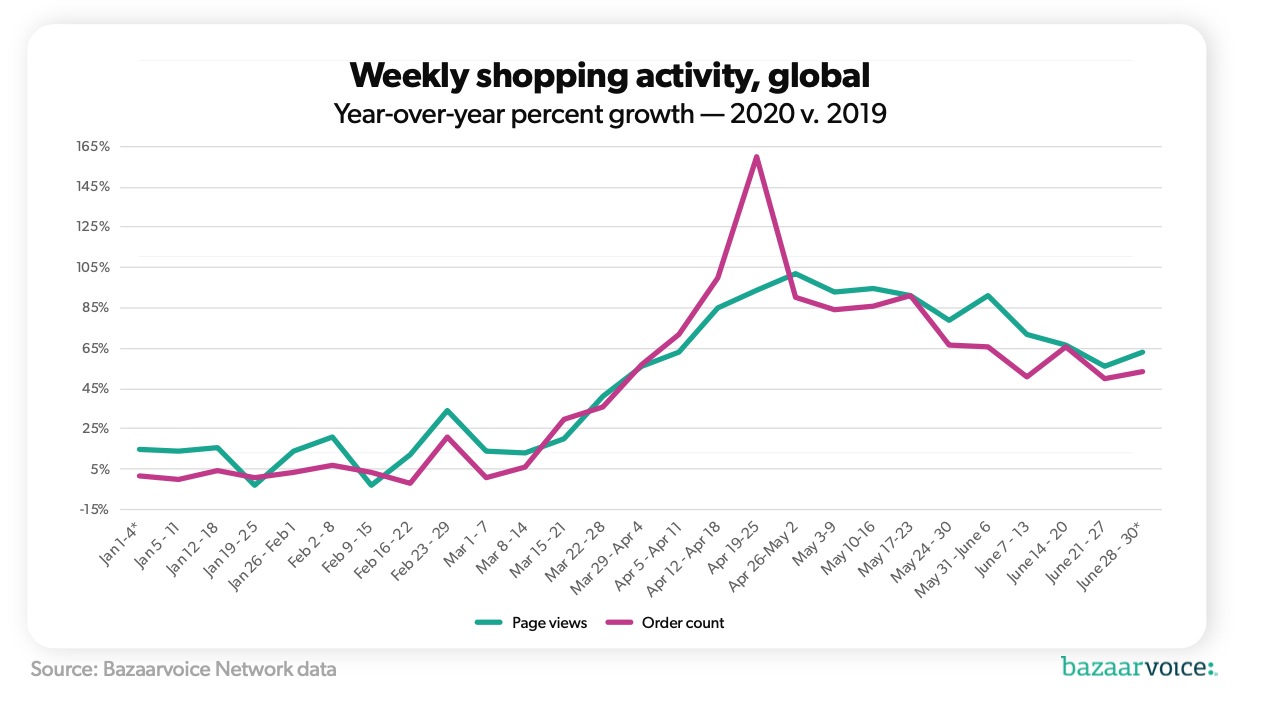 Because e-commerce has demonstrated a huge growth, it is a good idea to take advantage of its numerous benefits. It would be helpful to be aware of the significant
ecommerce statistics
that would serve as a guide if you are planning to engage in the e-commerce industry in 2021.
General Ecommerce Stats
To start the list, here is 99Firms' Ecommerce Statistics for 2020. The report shows how e-commerce has grown steadily for the past years. Experts also forecasted that ecommerce sales are projected to reach as much as $4.13 trillion this year to $5.4 trillion in 2022.
1 95% of all shopping sales will be through e-commerce channels by 2040. (source)
2 China has estimated $672 billion e-commerce revenue in 2017 making them the world's fastest-growing ecommerce market. The USA is the second with a market value of $340 billion in the same year. And third, the UK with a market value of $99 billion. (source)
3 80% of the US internet users make at least one online purchase, which makes them rate the highest in terms of ecommerce penetration rates. (source)
4 The convenience to shop anywhere and anytime (24/7) is the foremost reason why ecommerce is such a hit among online shoppers. (source)
5 Organic Google search accounts for nearly 43% of ecommerce traffic. (source)


Consumer Ecommerce Statistics
According to the Global Consumer Survey Report 2019, it is essential to invest in customer experience in order to succeed in the business. It is as vital to measure Return on Experience (ROX) and Customer
Experience (CX) as it is to measure ROI or Return on Investment. The results would help determine how the company can increase customer satisfaction which will significantly affect the business.
6 The online shopping population is split into four groups where 34% are from the Generation X, Boomers at 31% and the Millenials at 30%. (Source)
7 Smartphones are what 51% of digital buyers use when making online purchases. (Source)
8 79% of US consumers  would shop more online given a free shipping offer (Source). Free shipping offers influence the spending habits of online shoppers (Source).
9 93% of those who shop online take account of the visual appearance of the ecommerce site and consider it as a deciding factor when closing sales. (Source)
10 80% of ecommerce buyers check the return policies on the website before making a purchase. Repeated purchases (ROX/CR) mostly come from 50% good customer support and 46% from easy returns policy. (Source) 
11 A $3.5 trillion retail sales projection is foreseen for mobile ecommerce by 2021. (Source)
12 A 2017 study shows that 42% of online shoppers are comfortable with using credit cards as their primary payment option. (Source)
13 35% of product searches on Google convert into purchases in as fast as five days. (Source)
14 Online product reviews affect the buying decisions of online shoppers by up to 55%. (Source)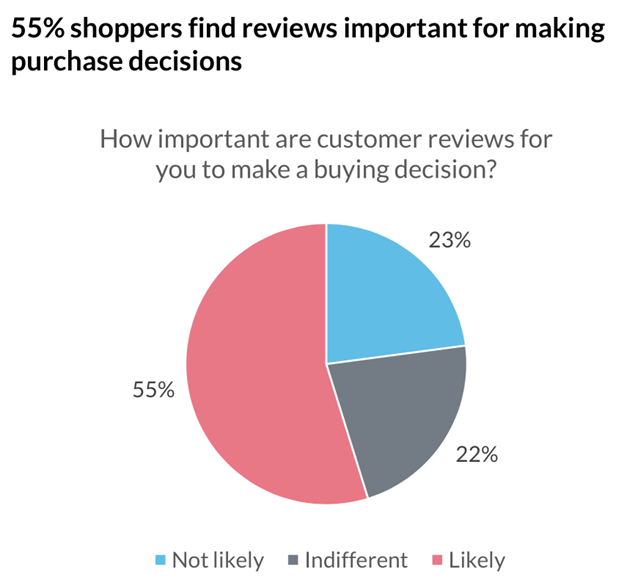 15 Products described with accurate information like colors, sizing and materials (48%), presented with photos of the exact product (42%) and provided with an accurate description (42%) can reduce shopping purchased returns. (Source)
Get your product photos ready for eCommerce. Removal.AI can process background removal for bulk images – up to 1000s of photos – in a matter of hours. You can also change the background into white or solid colors instantly. We also offer eCommerce photo editing done manually by our skilled photo editors completed within 24 hours.
Contact Us
Social Media Statistics
Absolunet made a 2019 study about 10 Economic Trends and the ecommerce statistics  determined that there is a rise in social buying where more than 55% of China online shoppers are buying goods using social apps. Furthermoroth Gen Z and Millenials depend on social media over their purchasing decisions.
16 Social media platforms help online stores to make more sales at up to 32%. (Source)
17 Facebook is used as a selling platform by at least 1 in 4 companies. 85% of all estimated products purchased via social media platforms come from Facebook. (Source)
18 Most of those who buy online agree that social media platforms earn from their purchasing decisions. 74% of online shoppers rely on social networks to guide and decide what to buy. (Source)
19 71% of customers are more likely to purchase products based on social media referrals. (Source)
20 31% of customers use social media to browse for new products to buy. (Source)
21 78% of customers are impacted and influenced by brands' social media posts. (Source)
22 40% of retailers use social media as a part of their marketing strategies for increasing sales.
23 30% of online shoppers in a survey revealed to most likely order from social media platforms when they are interested over a product. 
24 More sales of up to 32% are enjoyed by online retailers who are active on at least one social media account compared to other sellers who don't. (Source)
25 Gen Z users are highly influenced by what they see on social media with around 55% saying to make their clothing purchases from different platforms. (Source)
26  Ecommerce links may be added by TikTok users on their biography. (Source) 
Ecommerce Web Statistics
Over 12-24 million ecommerce sites have been launched and operating currently across the world, and more are being created everyday. In order for you to stand out of this competitive market without having the extensive resources that most big ecommerce do, there are still a lot of available options for you to make the most of your online business.
By using the ideal ecommerce platform for your needs, you can come up with an e-commerce business plan and build an online store to showcase and sell your products or services. Here are some facts to guide you in creating a high-converting storefront for your ecommerce business.
27 48% of online item searches in the U.S. begin on Amazon (Source). 44% of all US retail sales came from Amazon in 2017. (Source) 
28 61% of online consumers in the US had purchased from blog recommendations. (Source) 
29 In the top 1 million ecommerce sites – 19% of the ecommerce market is powered by Shopify (with over 3,563,166 websites running today), 28% using WordPress WooCommerce Checkout, 10% using Magento and 43% using other platforms. (Source)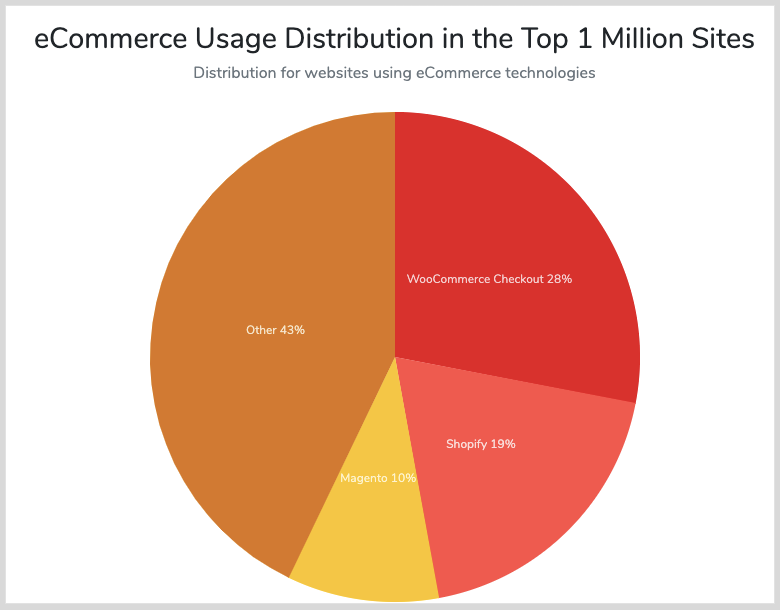 30 75% of users are most likely to abandon websites that are too slow to respond and in loading pages. (Source)
31 There are only about a 2.86% conversion rate when shoppers visit an ecommerce website. (Source)
32 62% of those who have a negative experience when shopping through a mobile website will never purchase again from the same site. (Source)


33 A complicated checking out process causes about 21% of cart abandonment. (Source)
34 On the other hand, a good design on the checkout can increase the conversion rate by up to 35.26%. (Source)
35 A potential purchase is decided based on product photos for up to 75% of online shoppers. (Source)
36 Unsatisfying product appearance upon arrival accounts to 22% of returns. (Source)
37 In 2019, $756 billion was lost by businesses because of poor eCommerce personalization. (Source)
38 Navigation and search bar are the most important website elements for shoppers. (Source)
39 61% of online customers abandon their purchase from a website with missing trust logos. (Source)
40 Apple Pay and Paypal are the commonly used mobile wallets for ecommerce. (Source)
41 80% of online customers and 64% of mobile users conclude new technologies help improve their ecommerce experiences. (Source)
How to Start an Ecommerce Business
Even though it seems easier to start an online business compared to the traditional brick and mortar approach, the process is still as complicated. But because of the growth that ecommerce has seen in the past years, anyone can learn how to put up an online business. There are plenty of online resources that would serve as a guide.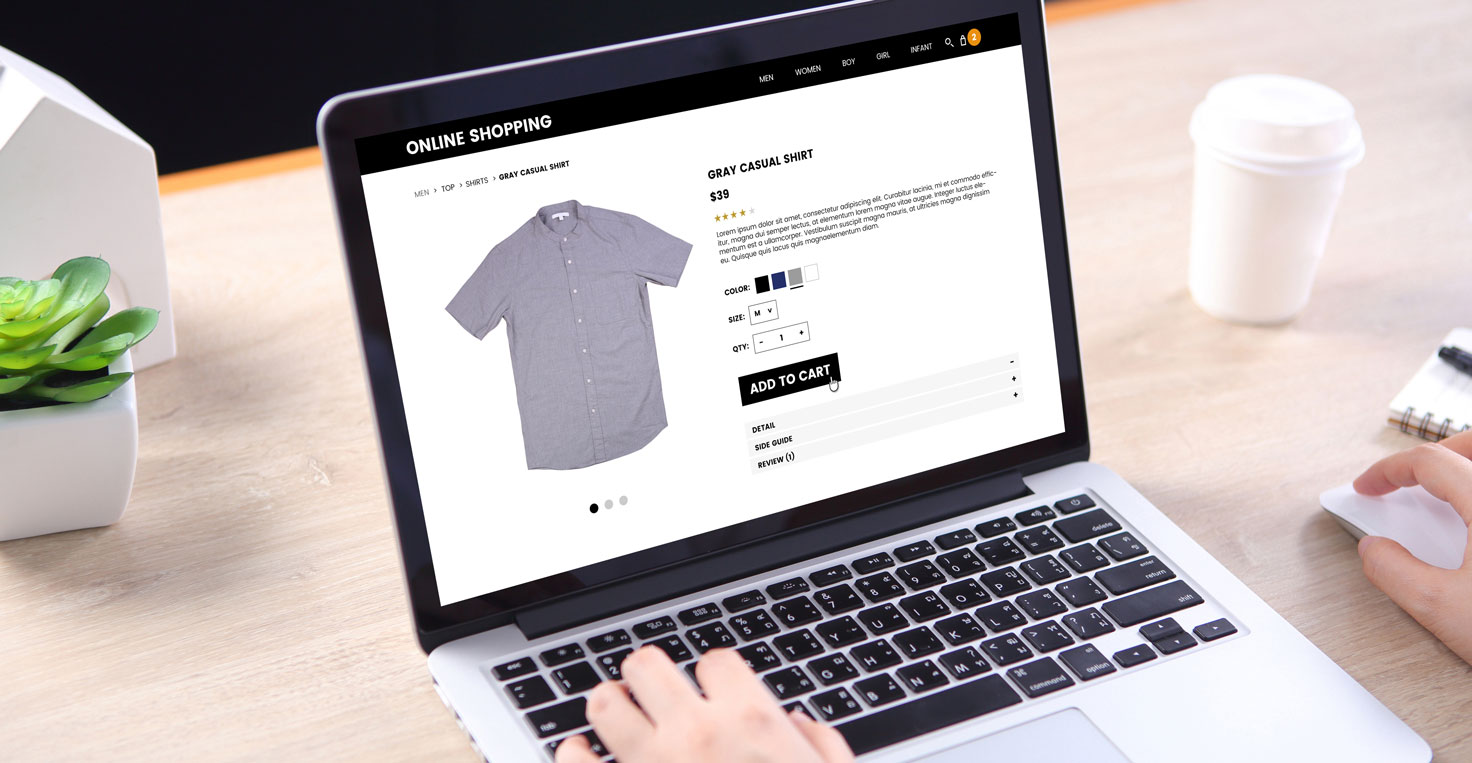 The above ecommerce statistics alone are a huge factor in guiding you towards the different approaches you can do. It gives you an idea about how the marketing load is also somehow lighter with the help of social media.
If you are planning to start an ecommerce business, you have to mind the current ecommerce statistics and make sure to thoroughly make a research on how you can ace each of these steps: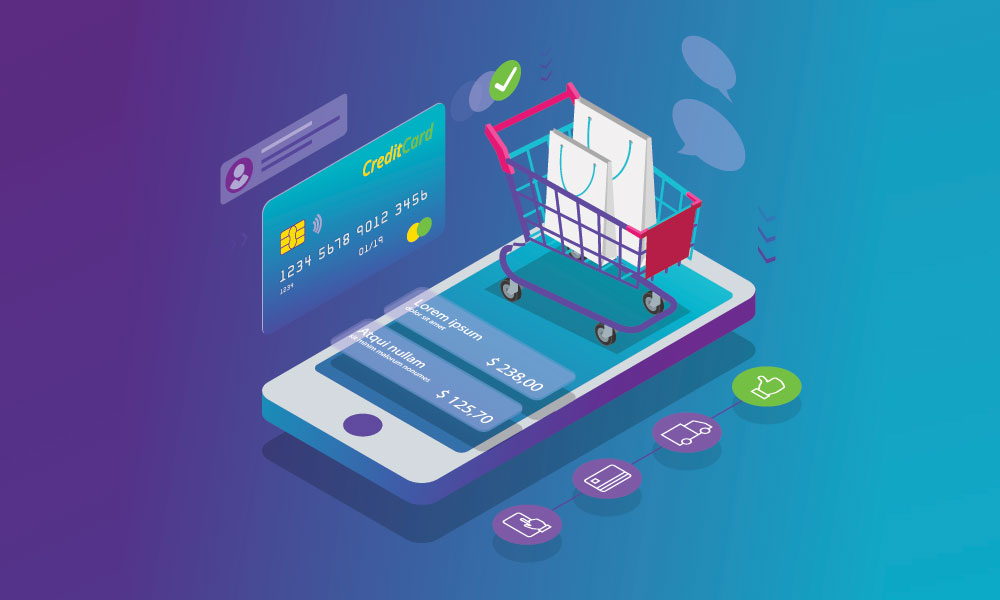 Ecommerce Statistics Recap (Conclusion)
These strategic ecommerce statistics are very helpful in guiding you towards a fruitful online business journey. Take these nuggets to give you an idea how these ecommerce statistics can ignite success for your online business:
Now is the best time to start an online business.
Businesses must start a website ASAP.
Setting up a Facebook Shop or any social media account will help optimize the shopping experience for its convenience.
Setting up a Google Shopping account is great especially for shoppers who like to compare prices before purchasing.
Product pages must be very detailed and accurately answers all the inquiries that potential customers might have.
Build trust and increase revenues by harnessing the power of social media.
Prioritizing a good customer service can help build strong customer relationships.
It is a must to always seek for ways to increase the conversion rate.
Reduce abandoned carts by optimizing a seamless checkout process.
Look into how you can give free shipping and avoid springing up fees upon checkout.
Have an email campaign that is designed to follow up customers who abandoned their carts.
Give the customers a personalized shopping experience that is memorable.
Design amazing ad designs that capture attention.
Instill trust in visitors by optimizing the design of your website.
Have a website theme that is optimized for mobile devices.
Optimize images to make page loading faster on the website, use a plain white background or make background transparent for this purpose.
Identify the target market that you should work on.
An engaging visual content delivers better conversion rate so you have to invest in making visual elements look their best. Using a free background remover to remove background from image is one of the ways to do the trick.
Everything happens quickly with ecommerce which is why it is a must for you to act now. The ecommerce statistics show how online businesses are steadily trending. It is your job to develop a strategy that will boost your online presence. Based on these ecommerce statistics, the strategies must be focused on creating a website, putting up an online marketplace, and being active in social media in order to be competitive in the digital business model.

These ecommerce statistics reveal how the global marketplace has been opened for everyone. You only need to be diligent at pursuing your goals so that you can thrive in the modern world of the online shopping industry.